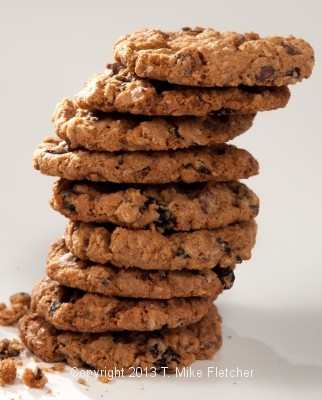 Oatmeal cookies have always been my favorite. It's something about the spices and texture of this oatmeal cookie. It's particularly difficult to describe. It's crispy on the outside with a center that is loaded with the add ins of your choice. It almost has a lacey quality to it. I wish I had a nickel for every time someone told me how much they loved this oatmeal cookie. It is not your usual oatmeal cookie which probably explains the response. This is a chocolate chip version that is not shy on spices.
I have not included how to pics with this as it is a really basic cookie and I don't think anyone will have a problem with it.
One thing you will notice is the enormous amount of add ins. You can use chocolate chips, dried fruit, nuts - whatever you want to make these yours. I think the large amount of add ins gives this oatmeal cookie its lacy quality since there is just enough dough to hold the add ins together.
Because I didn't want the cookies to spread too much, I use part crisco and part butter. The large amount of add ins also keep the cookies from spreading.
This makes a lot of cookies. If you don't want to bake off all of these, I would drop the cookies, freeze them and then thaw them on cookie sheets when you want to use them. Alternatively, cut the recipe in half.
If you love oatmeal cookies as much as I do or even if you don't I hope you will try these unusual cookies.
Oatmeal Cookies
3 cups Old Fashioned Quaker Oats (Do not use Quick Oats)
1 cup + 2 tablespoons flour (160 grams or 5 ⅔ ounces)
1 teaspoon baking soda
1 teaspoon baking powder
1 tablespoon cinnamon
¾ teaspoon nutmeg
½ teaspoon cloves
½ teaspoon salt
1 ¼ cups packed brown sugar (225 grams or 8 ounces)
1 cup sugar (200 grams or 7 ounces)
½ cup unsalted butter (114 grams, 4 ounces or 1 stick)
½ cup shortening (like Crisco) (114 grams or 4 ounces)
2 eggs
1 teaspoon vanilla
1 pound total chocolate chips, raisins, dried fruit or nuts in any combination (454 grams)
Preheat the oven to 350 degrees.
Whisk together the oats, flour, baking soda, baking powder, cinnamon, nutmeg, cloves and salt. Set aside.
Cream the sugars, butter and shortening until light and fluffy. Add the eggs one at a time, beating until combined. Add the vanilla. If the mixture curdles, don't worry about it.
Add the flour mixture half at a time, beating on low until completely combined. Lastly, add the nuts, chips or whatever you are adding in.
Line a baking sheet with parchment paper. Drop the cookies using a #40 disher or 2 tablespoons spacing them apart. Double pan and bake for 9 minutes, turn and bake 8 to 9 more. They should still be puffy when you pull them out. They will drop and finish baking on the baking sheet as they cool. Cool for about 8 to 10 minutes and remove to a cooling rack with a spatula. Cool completely. Store in a canister.
Yield: Approximately 50 – 3 inch cookies.