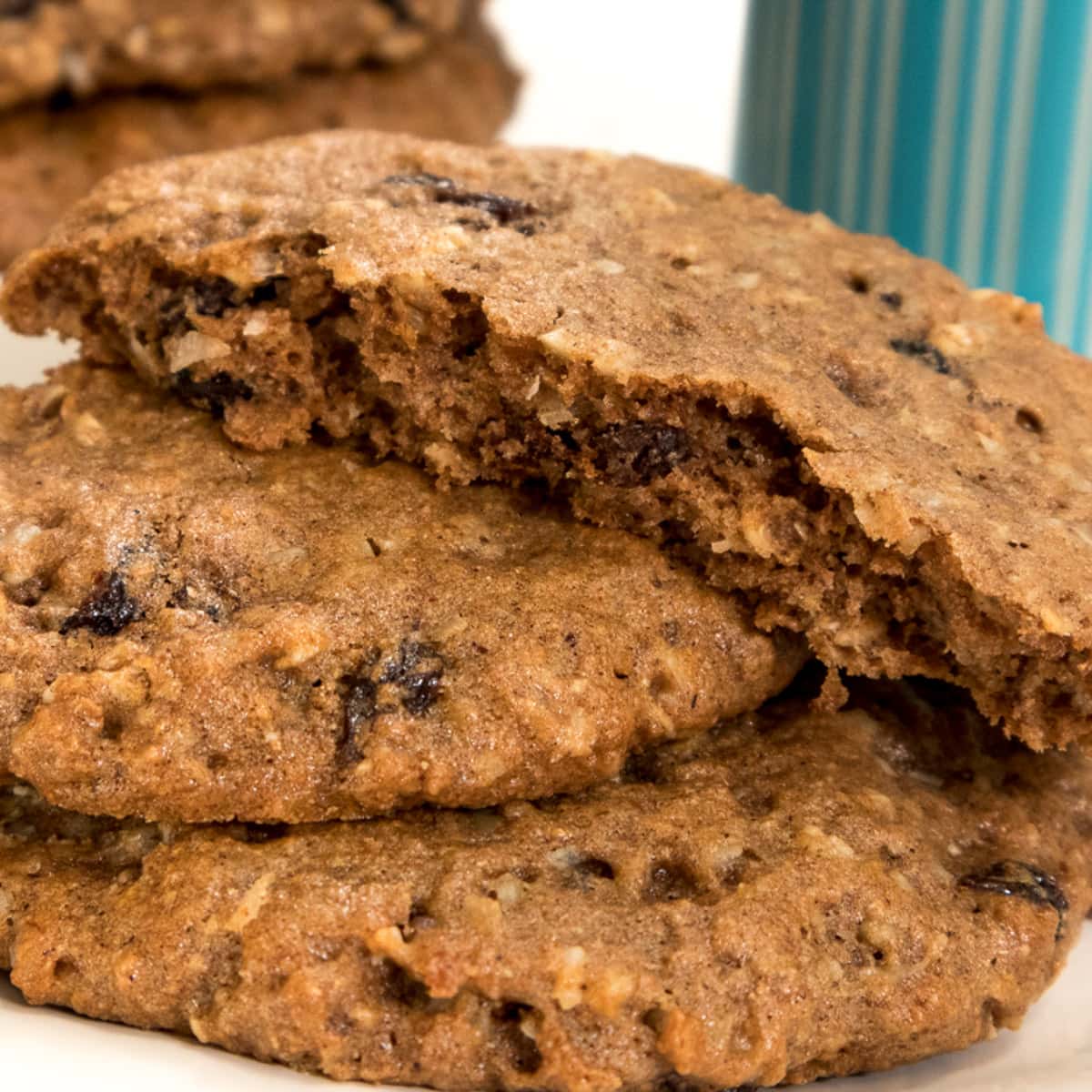 Breakfast cookies were huge in the '70's. They were also called ranger cookies. Basically, the cookies were loaded with fruit, wheat, oats, and nuts providing protein and fiber to keep you going and filled up for a while.
Many of the modern versions of breakfast cookies feature peanut butter. While I like a peanut butter cookie, or a PBJ sandwich I'm not in the same league as my husband, son and grandson. They can eat peanut butter straight out of the jar or on anything handy. It's more of an occasional indulgence for me.
Canola oil, applesauce and brown sugar all help keep the cookie soft and moist. Reducing the sugar and using whole grains keeps them on the healthier side without reducing the flavor.
One of the best thing about this cookie is its versatility Don't care for all whole wheat flour? Use white whole wheat which isn't as strong tasting, use half whole wheat and half all purpose flour or all purpose flour, although you will lose some the the more healthy benefits. The fruits and nuts can be changed out to those you most favor, just keep the measurements the same. Wheaties, Total or any flake cereal can be used.
While these Breakfast cookies are about 4 ½ inches and 3 ounces each, they can certainly be made smaller. Just use a smaller disher/scooper or spoon and reduce the baking time. But I'll bet you end up eating two.
These not too sweet Breakfast cookies are super easy to make and are great if you aren't big on breakfast or simply don't have time. You can grab 'em and go or sit and eat – either way they make an enjoyable start to the day. They're especially good with a glass of cold milk.
Versatile Breakfast Cookies
¾ cup raisins*
¾ cup shredded, sweetened coconut (50 grams or 1 ¾ ounces)
¾ cup whole wheat flakes, crushed (45 grams or 1 ½ ounces)
¾ cup oatmeal** (60 grams or 2 ounces)
¾ cup walnuts, coarsely chopped (85 grams or 3 ounces)
2 cups whole wheat flour (280 grams or 10 ounces)
1 teaspoon cinnamon
½ teaspoon nutmeg
¼ teaspoon cloves
1 teaspoon baking soda
½ teaspoon salt
1 cup packed brown sugar (200 grams or 7 ounces)
½ cup canola oil
½ cup unsweetened applesauce
2 eggs
2 teaspoons vanilla
*If the raisins are dry, soak them in really hot water while you make the dough. I did not add weights as they will differ if they are moist enough to use without soaking or if they were soaked and squeezed dry.
**I used old fashioned oatmeal, quick would probably be fine.
Preheat the oven to 350°F. Line three baking sheets with parchment paper.
If the raisins have been soaked, squeeze all the water from them. Combine the, coconut, wheat flakes, oatmeal and walnuts. Set aside.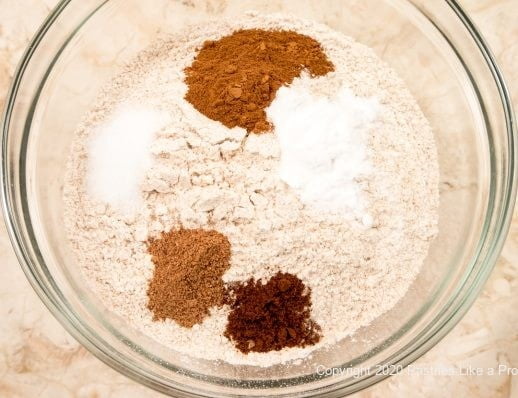 Whisk the flour, cinnamon, nutmeg, cloves, baking soda, and salt together. Set aside.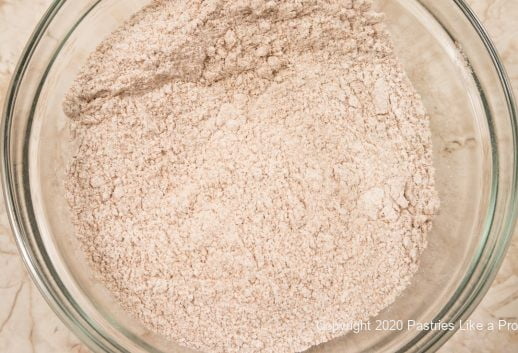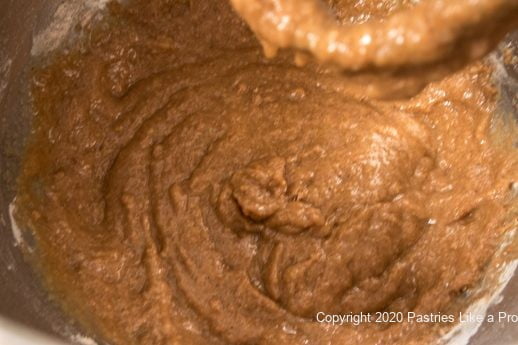 In the bowl of a mixer, combine the brown sugar, oil, applesauce, eggs and vanilla. Beat to combine. Add the flour mixture, followed by the fruit and nuts and raisins. Let the dough rest for about 10 minutes so any excess liquid will be absorbed by the flour and cereals.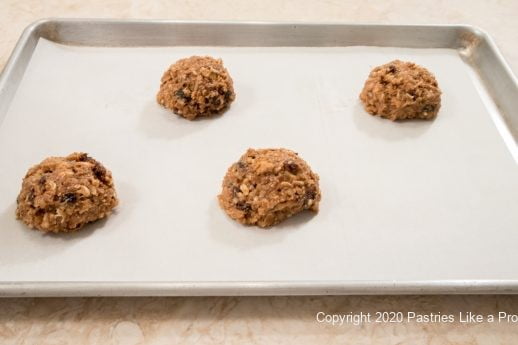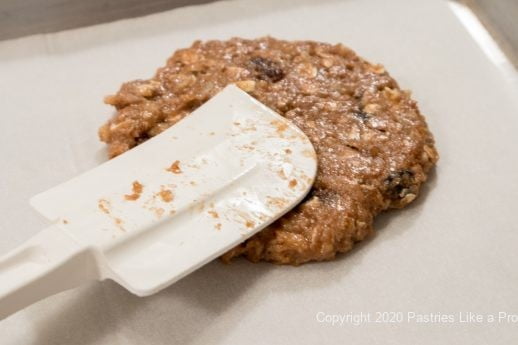 Using a # 10 disher/scooper or ⅓ cup measure, scoop out the dough. Stagger the cookies 4 to a baking sheet. Flatten them to about ¼"deep with a rubber spatula. The cookie will be about 4" wide.
Double Pan. Bake for 13 to 15 minutes. Cool completely. Store in a covered container.
Yield: 12 - 4 ½" Breakfast Cookies
Other recipes you might enjoy include:
Cookie Pops
S'Mores Revisited
The Importance of a Base Recipe in Baking