These Pumpkin Dinner Rolls Two Ways with their subtle spicing are an easy recipe that take no time to make but yield great taste. This make ahead, foolproof dough can go from dinner roll to breakfast roll with the addition of one ingredient.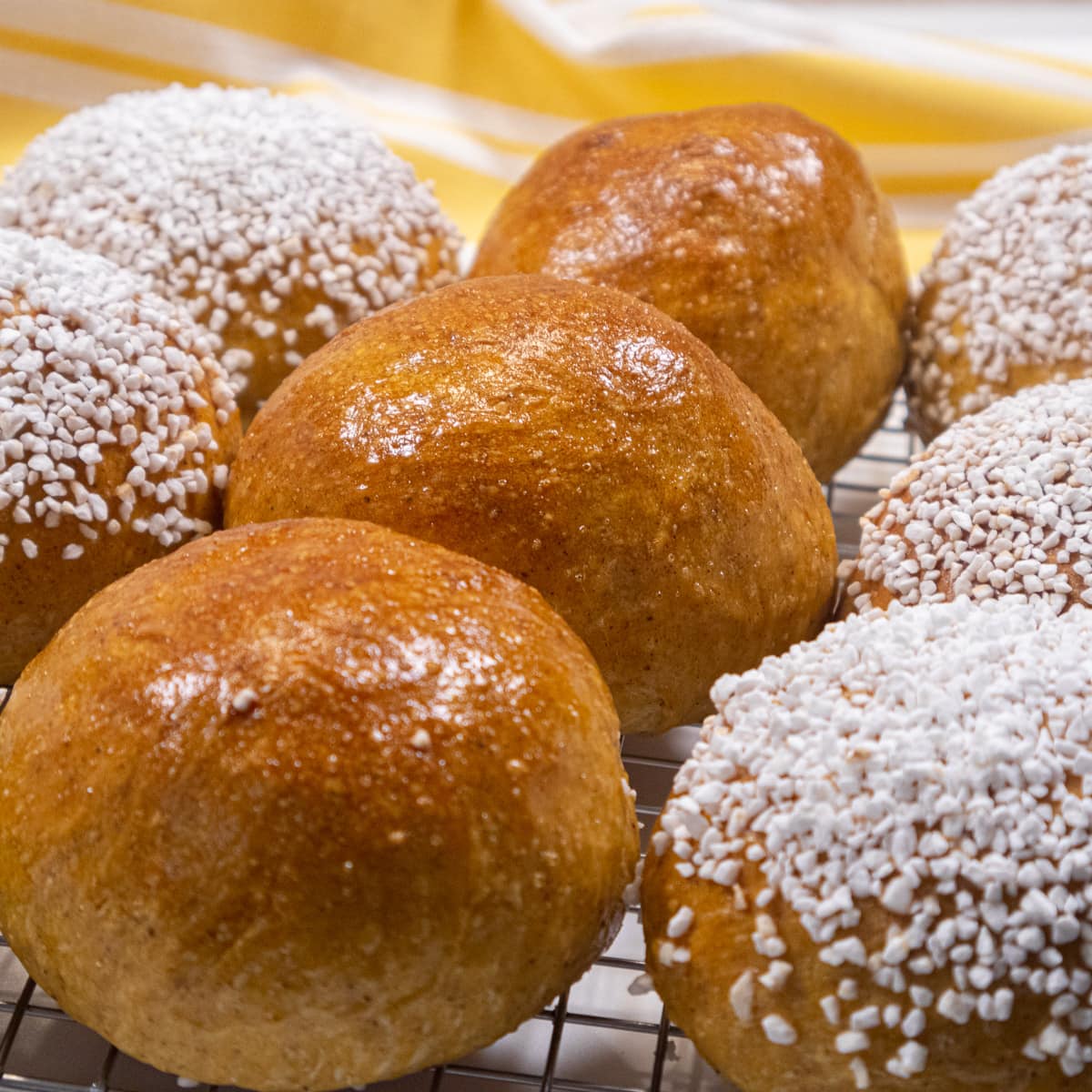 To make Thanksgiving easier, these golden, soft and fluffy pumpkin rolls can be made ahead and frozen.
Ingredients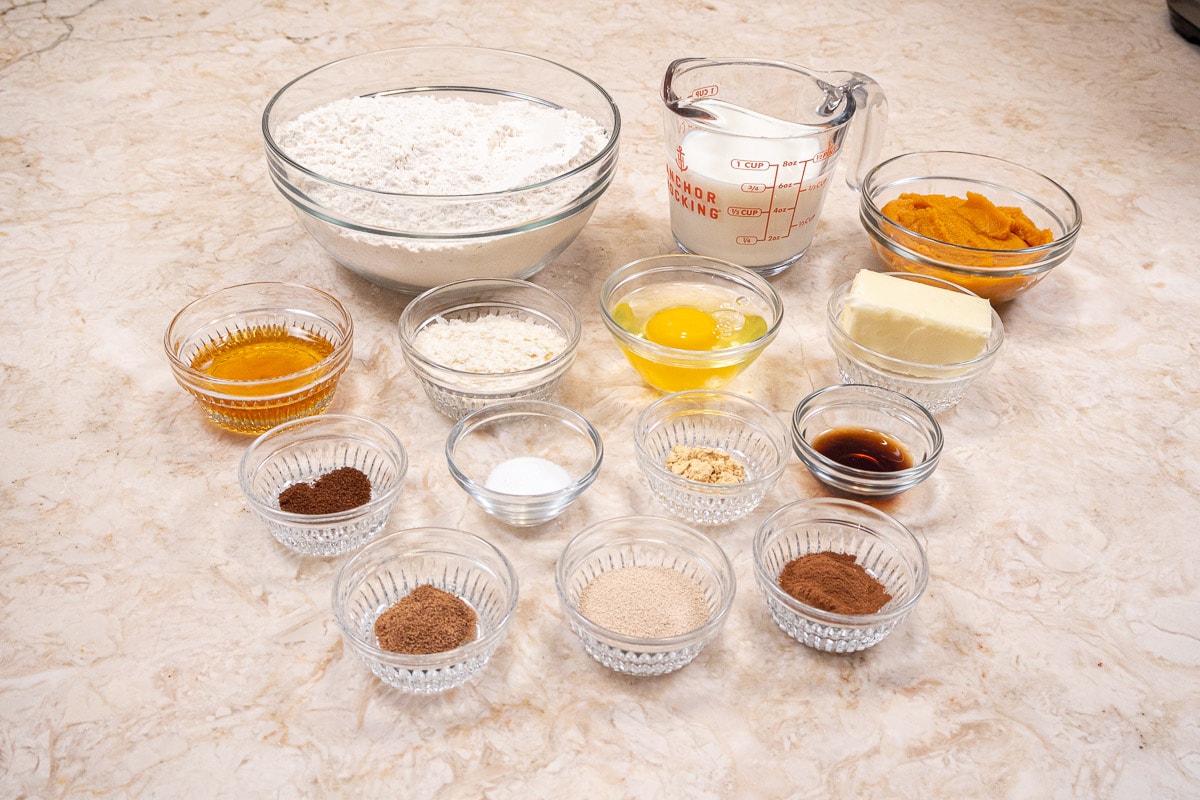 Back Row: Flour,milk and canned pumpkin. Second from Back Row: honey, instant mashed potato flakes, egg, butter. Third from Back Row: cloves, salt, ginger, vanilla. Front Row: nutmeg, instant yeast, cinnamon
Milk can be whole or 2%. Milk makes a softer yeast roll that remains soft.
Pumpkin is canned pumpkin but do not accidentally use pumpkin pie filling. They are different.
Instant Mashed Potato flakes are used because they add moisture and softness to the rolls and for this small amount it is a lot easier than cooking and mashing a potato.
Egg is size large
Butter is salted or unsalted. It makes no difference in this recipe. The salt in the recipe doesn't need to be adjusted.
Instant Yeast is specified but if not available and using active dry yeast, increase the yeast to 2 ¼ teaspoons. I use instant yeast in my yeasted recipes because it doesn't require dissolving in liquid and it acts a bit faster. The most important requirement of either yeast is to make sure it does not come in direct contact with salt. Yeast is a living organism and can be killed by contact with salt.
Swedish Pearl Sugar is a special sugar I love to use as a finish to sweet baked goods. It stays bone white and doesn't melt in the heat of the oven. It, of course, adds sweetness but also crunch. It can be found online.
See recipe for exact amounts of ingredients for the Pumpkin Dinner Rolls
Instructions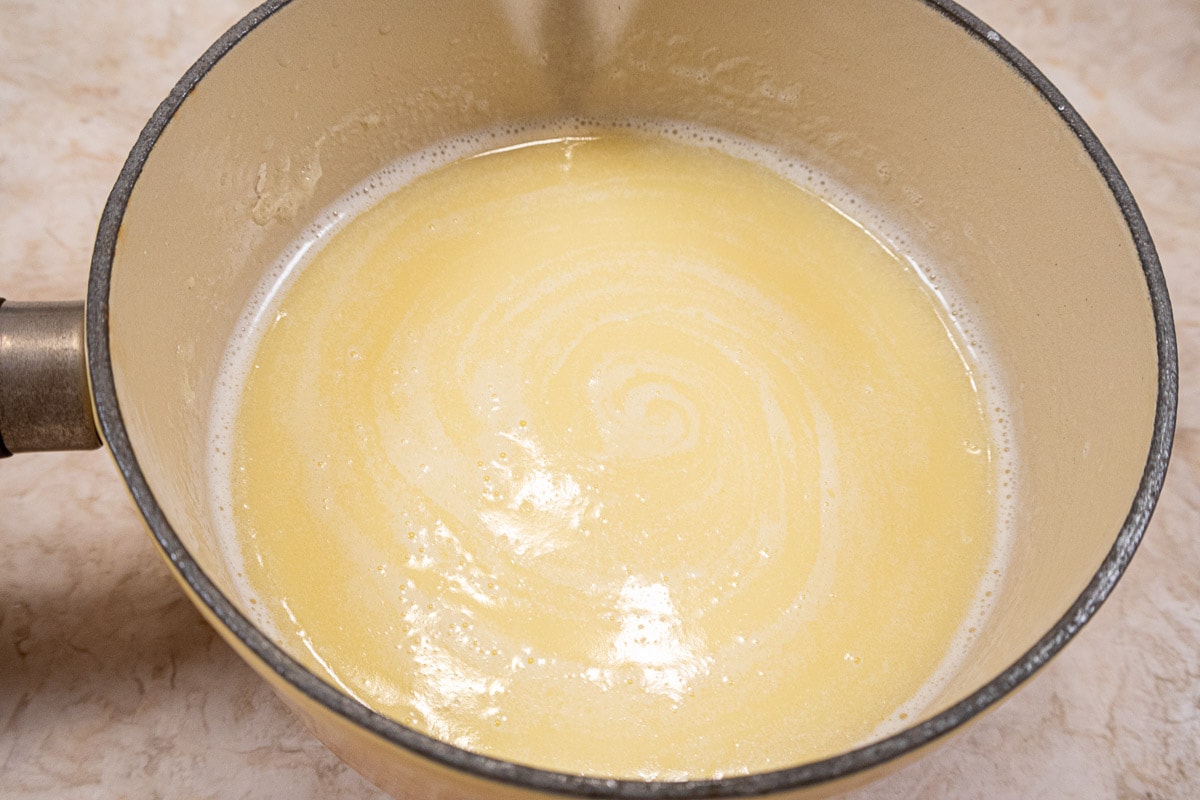 Step 1. The milk, butter, honey and instant mashed potato flakes in a saucepan after being heated together. They should be cooled to room temperature before using.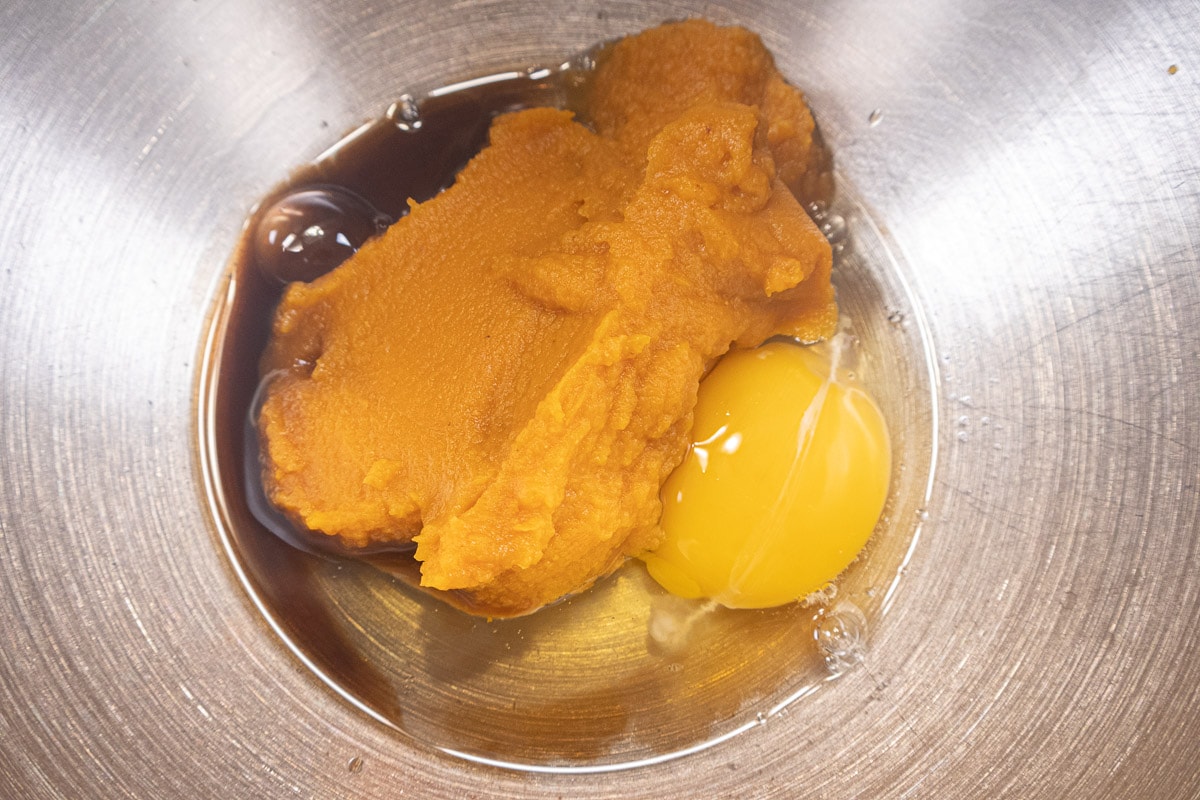 Step 2. The pumpkin, egg and vanilla in the mixing bowl.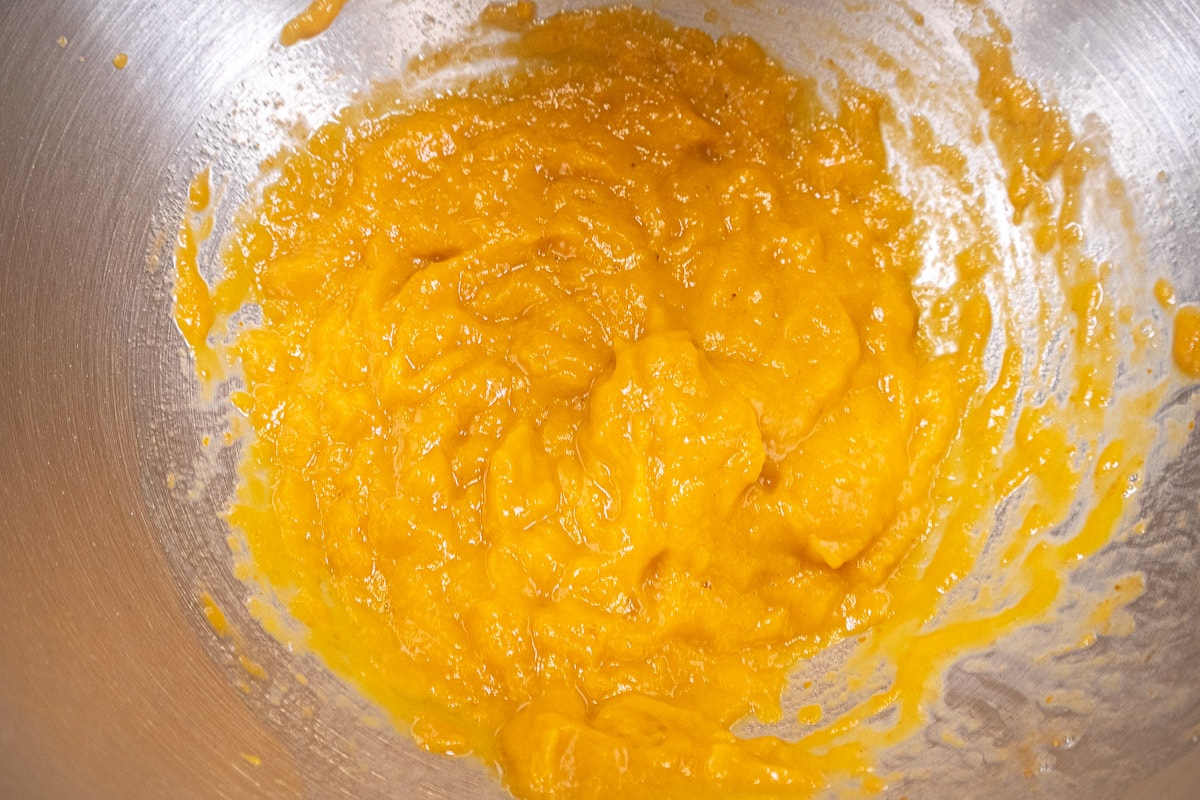 Step 3: The pumpkin, egg an vanilla are blended together in the mixing bowl.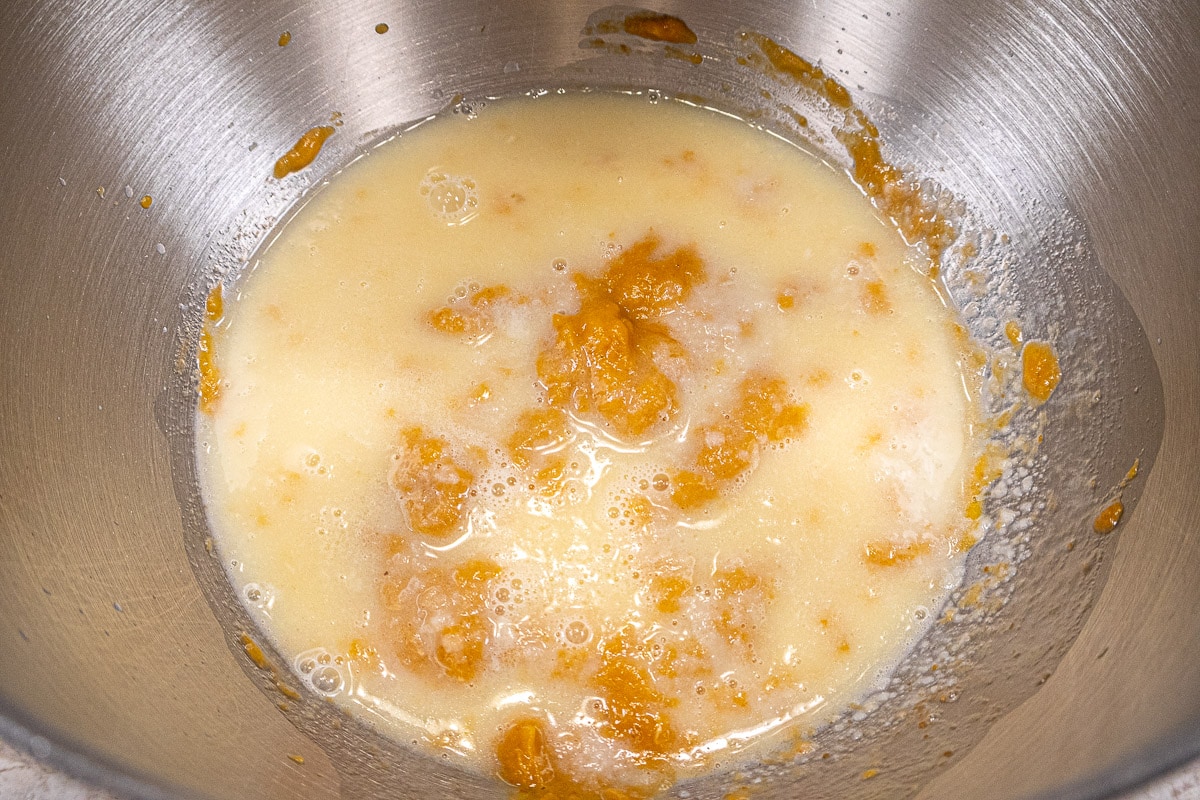 Step 4. The cooled milk mixture is added to the pumpkin mixture in the mixing bowl.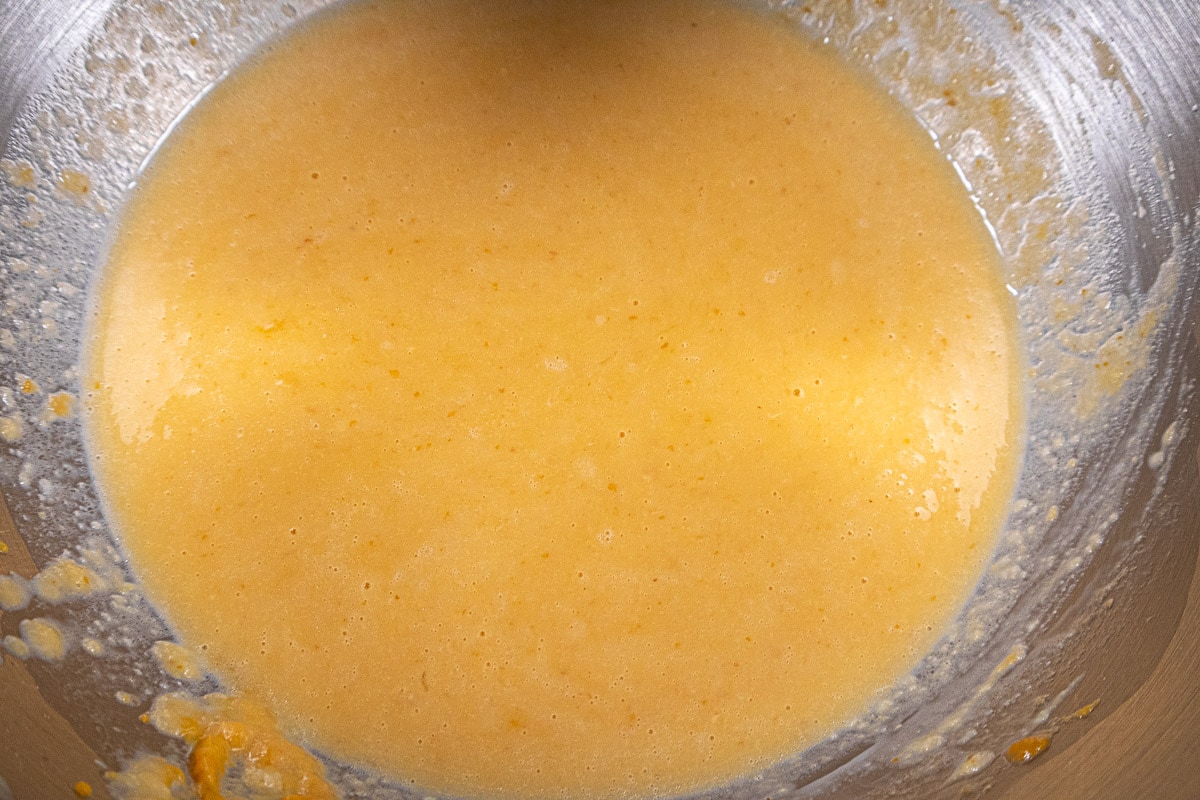 Step 5. The mixtures in steps 3 and 4 are combined in the mixing bowl.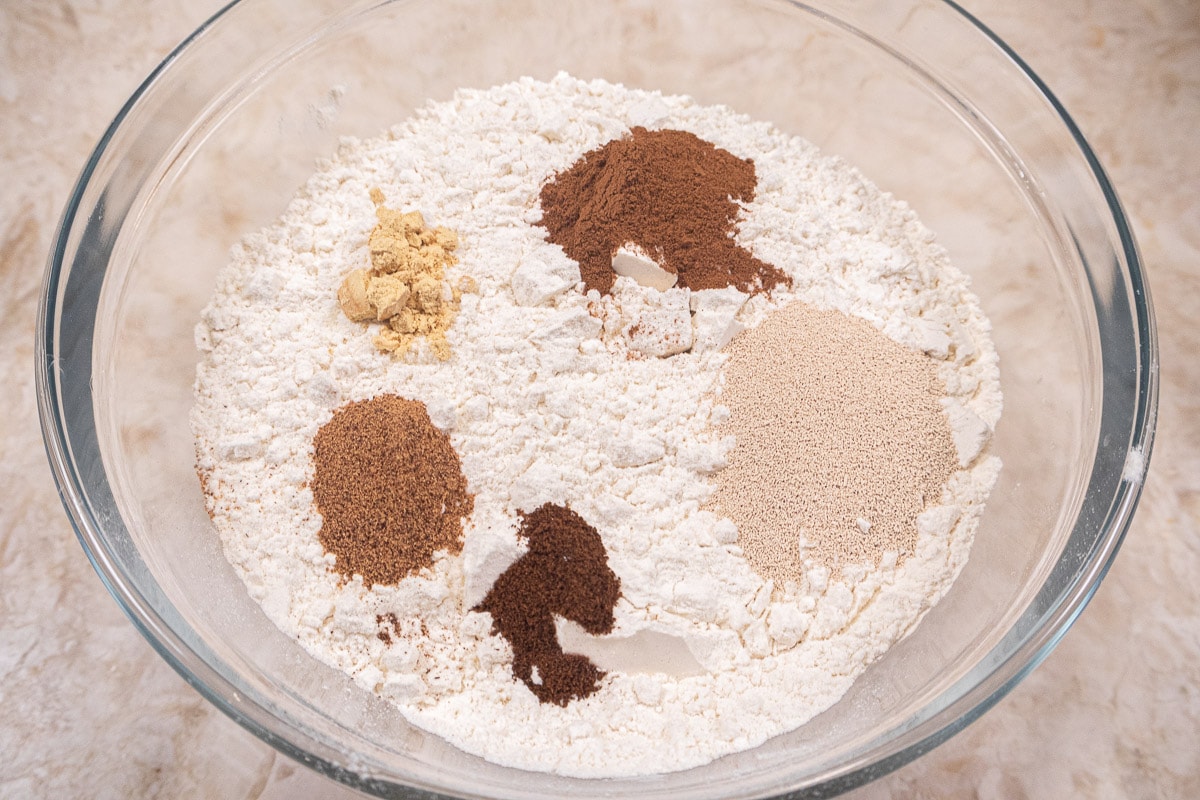 Step 6. The flour, spices, salt, and yeast should be whisked together before adding to the liquid in the mixing bowl.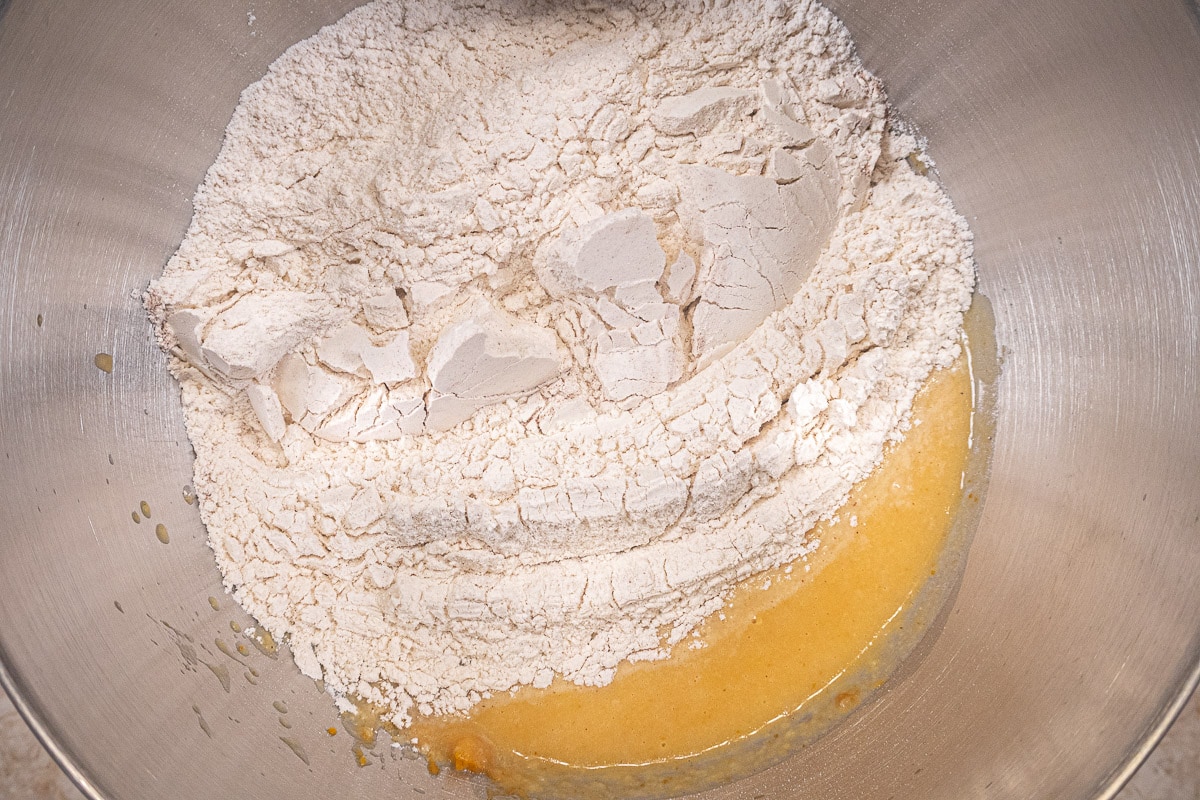 Step 7. The flour with spices and yeast are added to to the mixing bowl.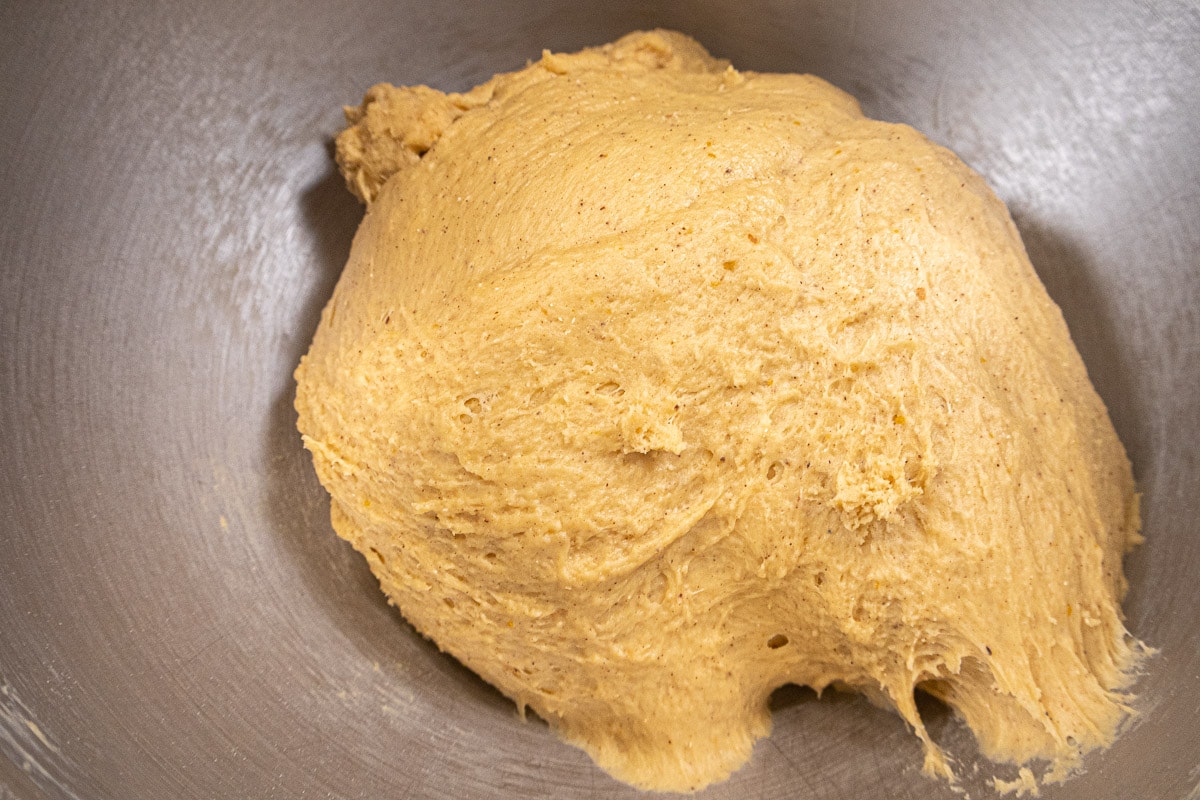 Step 8. The dough is completely mixed and cleans the bowl. It is soft and a bit sticky and that is how it should be.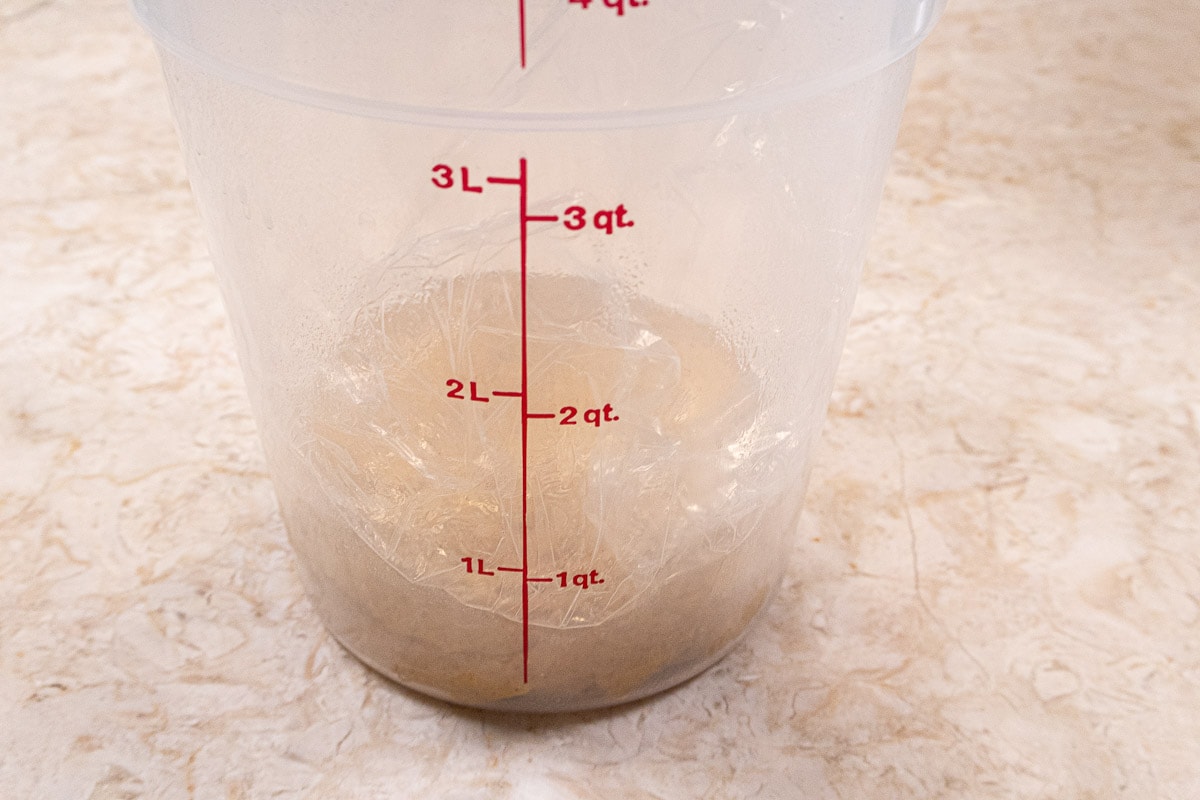 Step 9. The dough is place in a container that has been sprayed with a non-stick baking release. It is covered directly with plastic wrap and a lid. It will take 2 ½ to 3 hours to double in bulk. At this point refrigerate the dough for 5 to 6 hours, overnight or up to 3 days before shaping.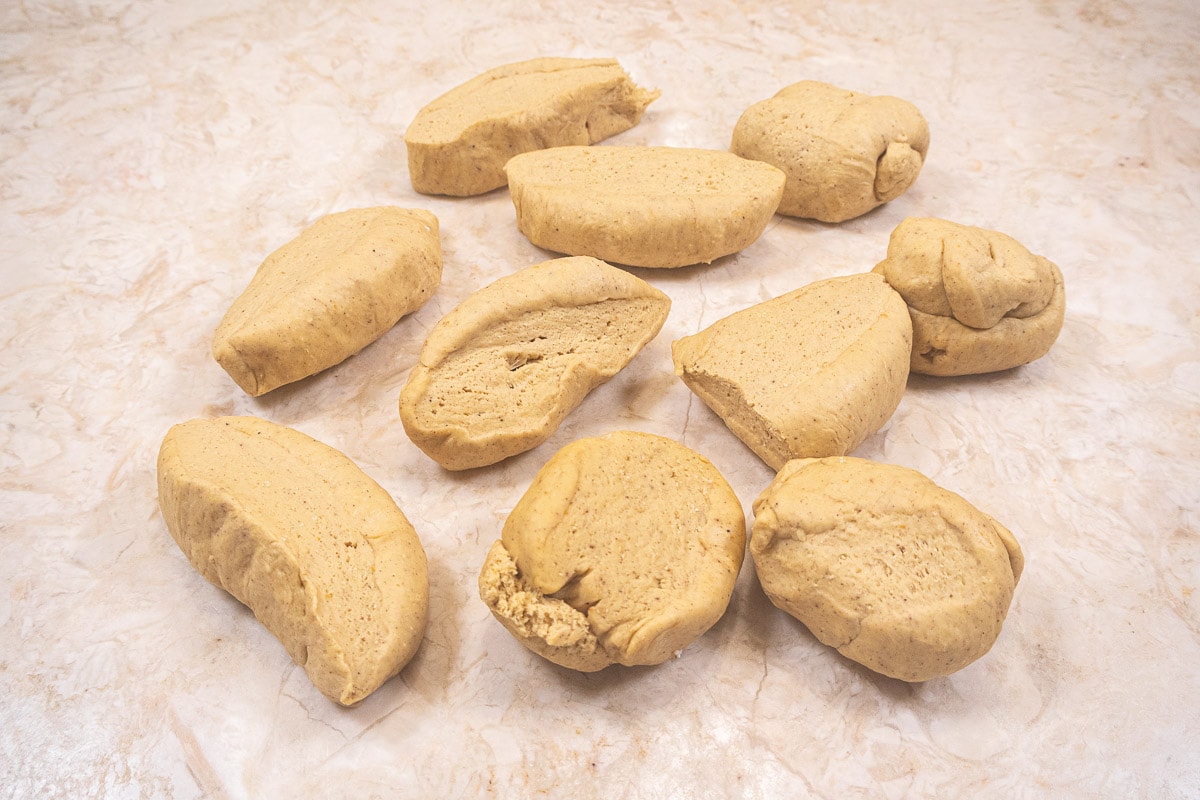 Step 10. After chilling, the dough is divided into 10 equal pieces by weight.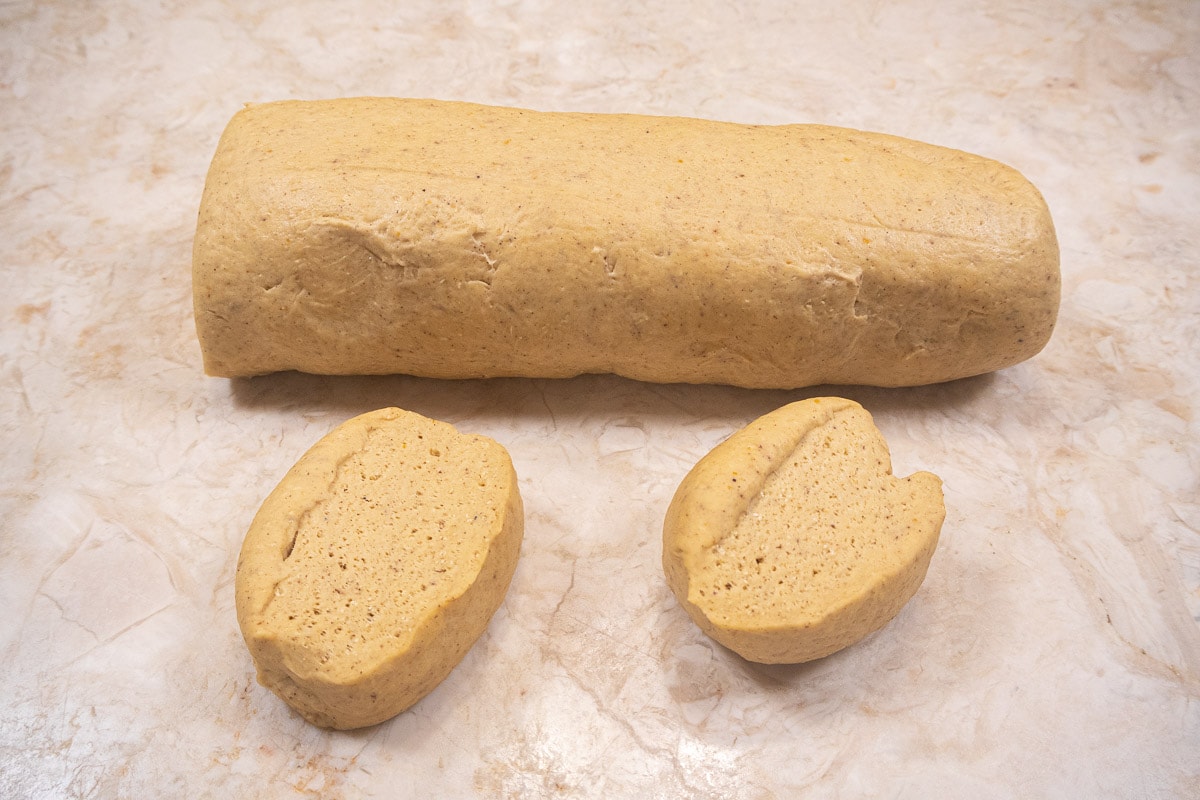 Step 11. Alternatively, the dough can be rolled into a 10" log and then cut into 10 equal pieces.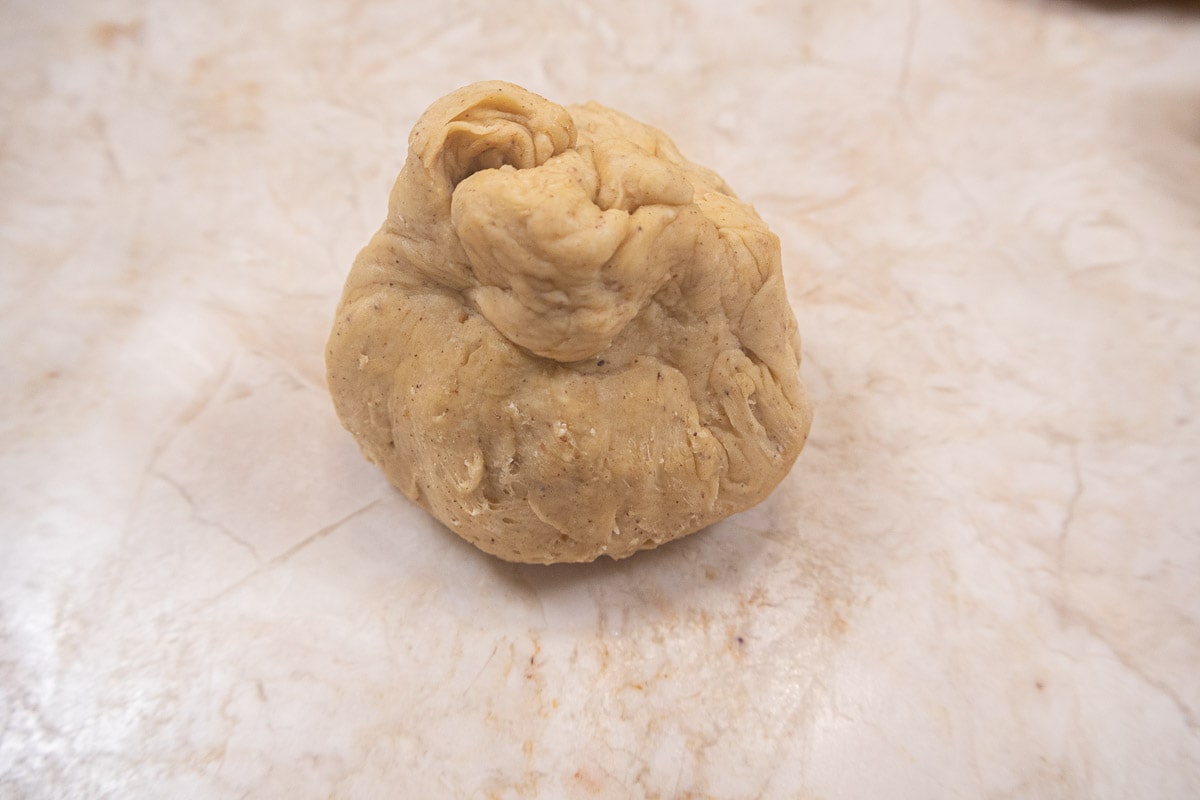 Step 12. Take one piece of dough and flatten into a round. Gather the edges and bring them to the center of the dough. Pinch them together so there are no loose ends.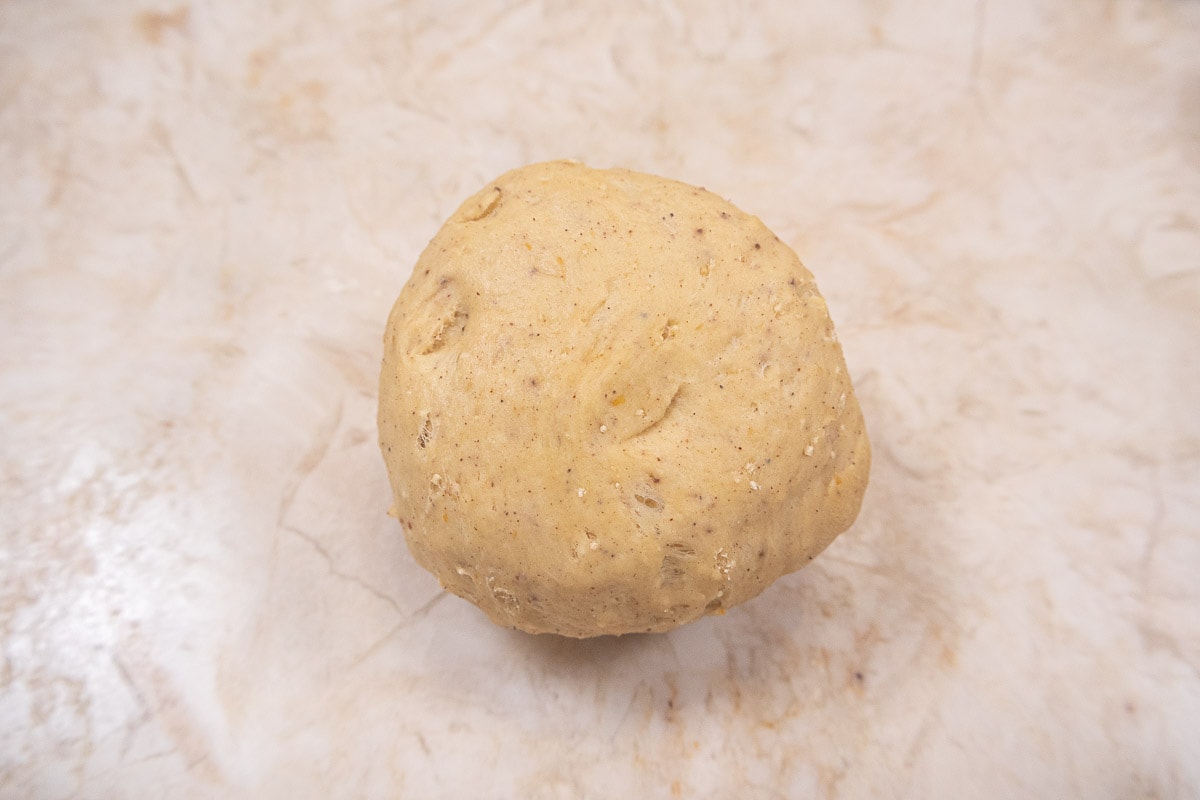 Step 13. The roll has been turned over so the pinched edges are now on the bottom.
Step 14. The roll is partially covered with a cupped hand for the final shaping.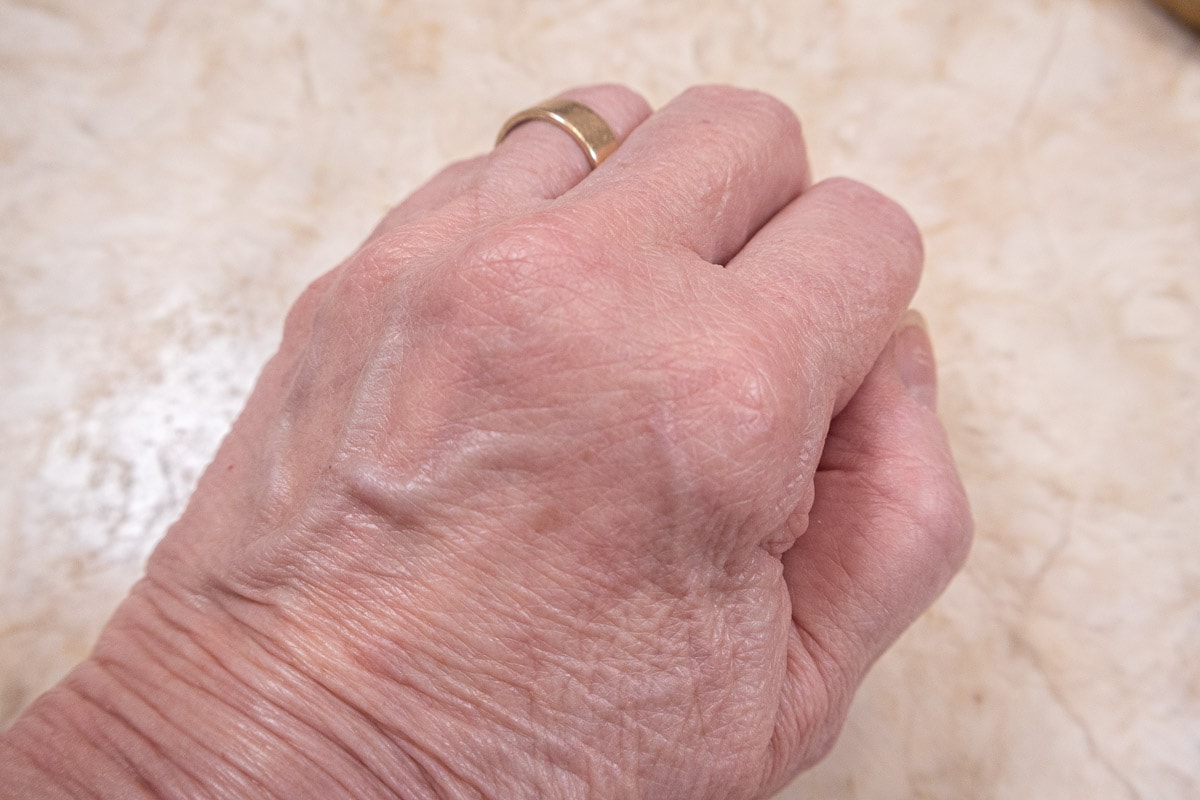 Step 15. The roll is completely covered with the cupped palm of your hand. It is rotated, with moderate pressure on the roll, counter clockwise in a circle several times to seal the edges under-neath. Repeat the circling until the bottom is even and no edges are sticking out.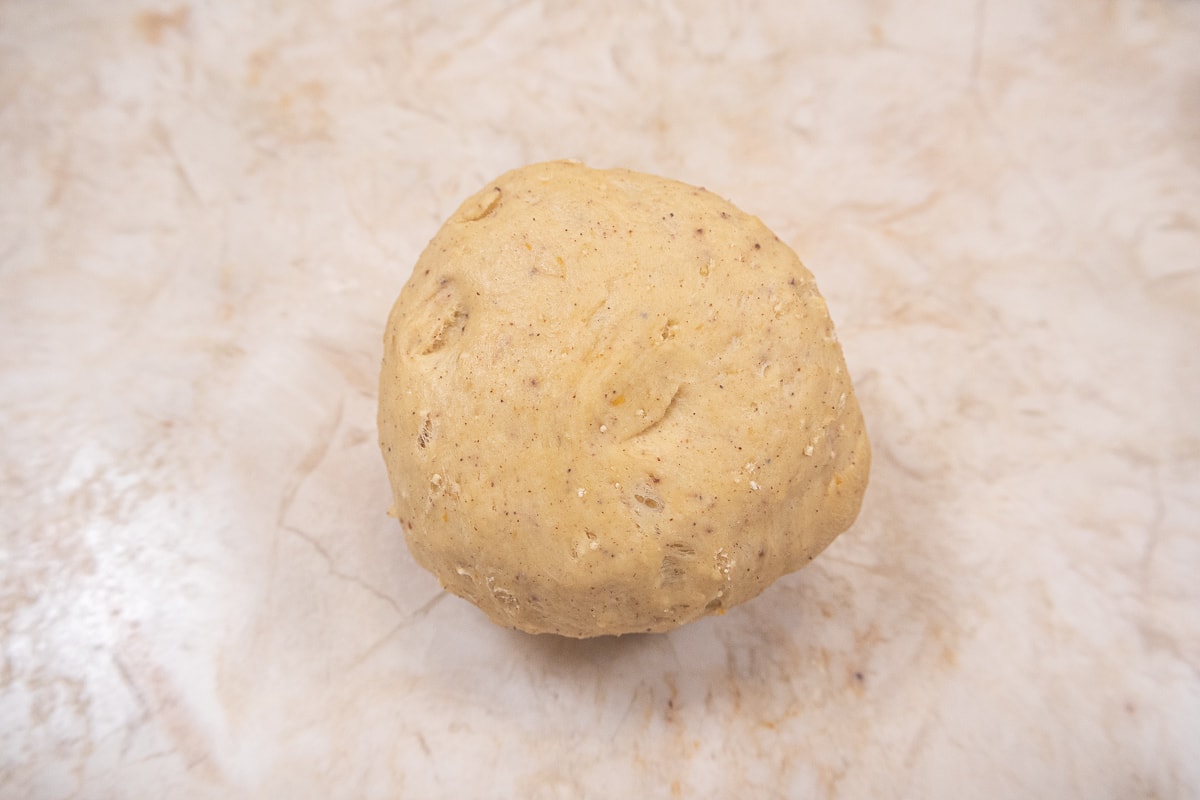 Step 16. The shaped dinner roll.
Step 17. Ten Pumpkin dinner rolls on a half sheet tray.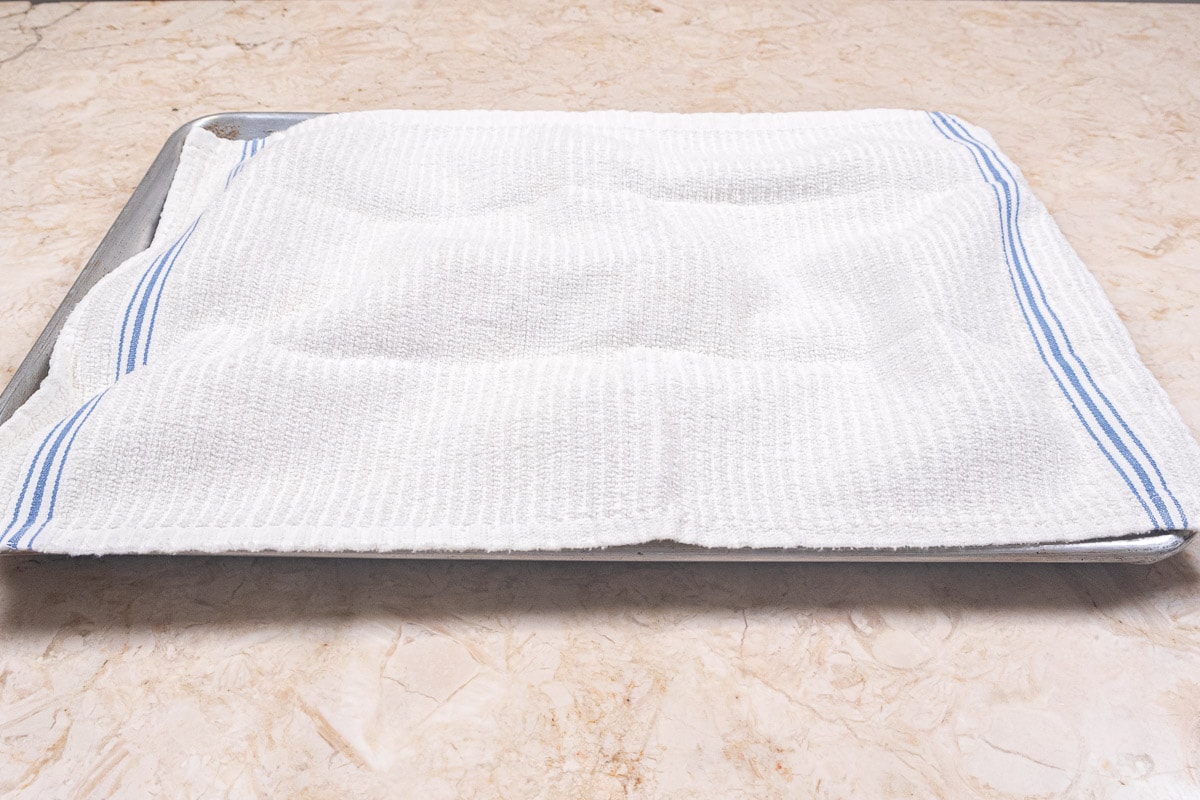 Step 18. The rolls are covered while they rise.
Step 19. The risen dinner rolls that have been brushed with egg wash. Five of them are halfway finished with Swedish Pearl Sugar for breakfast rolls. The easiest way to do this is cup your hand behind the roll and generously apply the sugar getting as far down to the bottom as possible.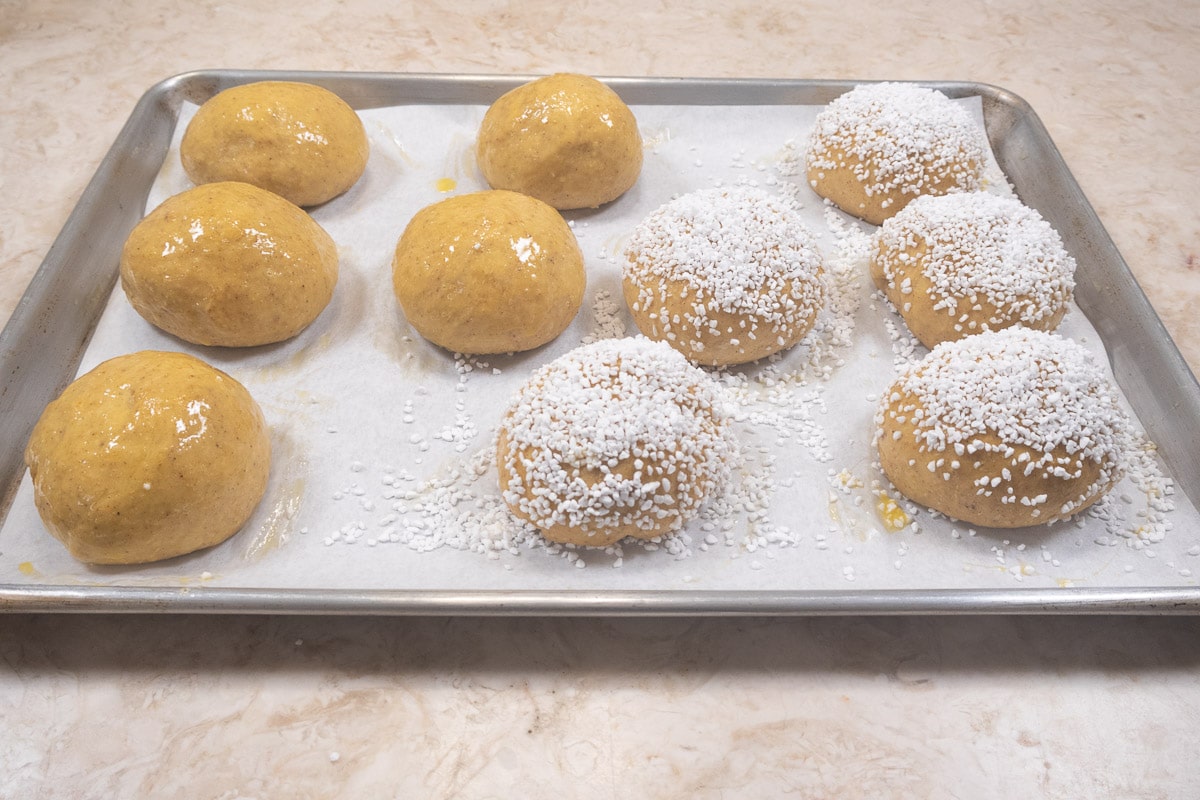 Step 20. The tray was turn around so the unsugared part is facing you and the Swedish Pearl Sugar is applied again to completely cover the roll. Press the sugar in lightly to make sure that it adheres to the egg wash. Place in a 350°F oven for about 25 minutes.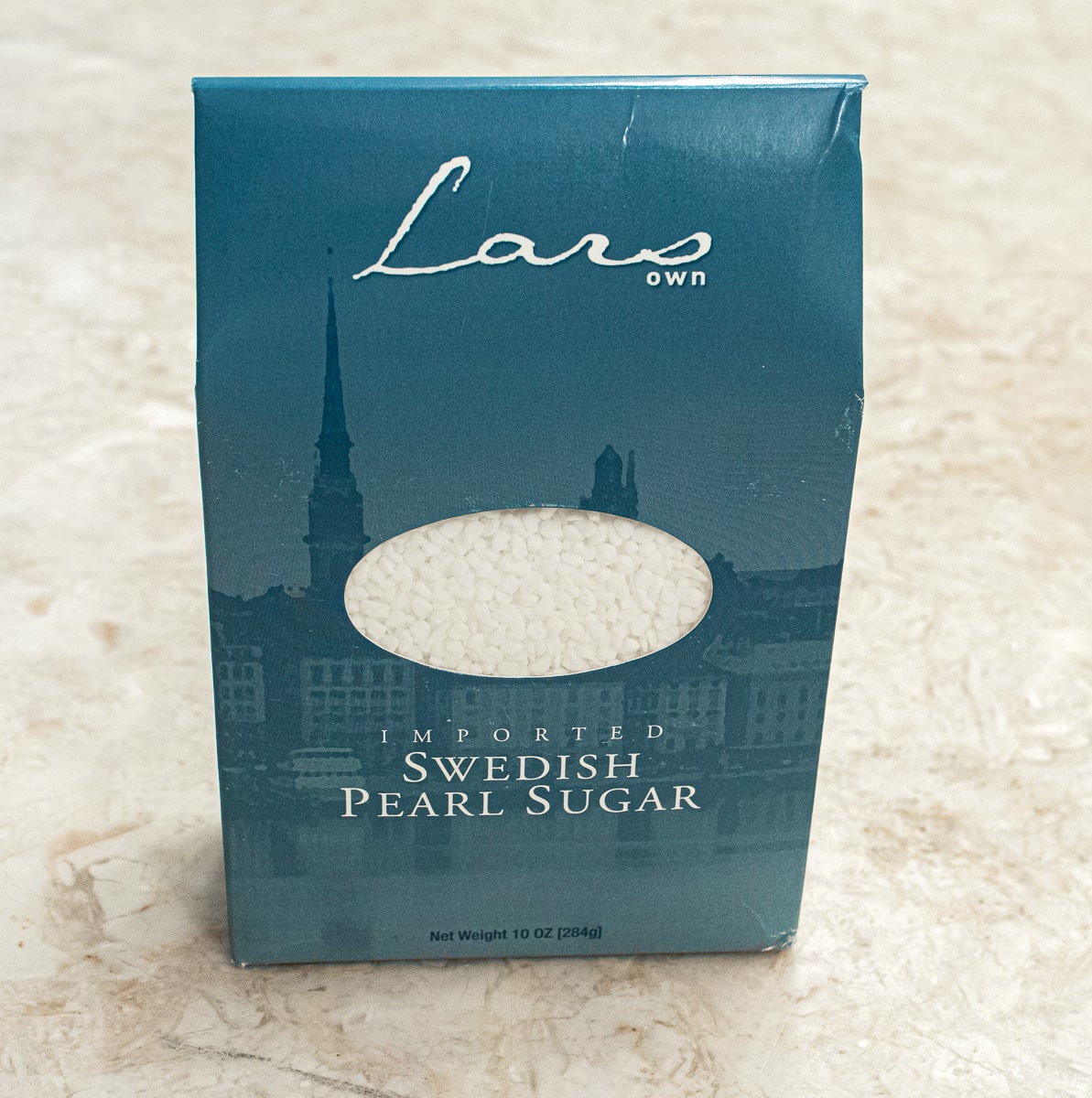 Step 21. Swedish Pearl Sugar is a specialty baking sugar that adds sweetness as well as crunch to baked goods. It is snow white and doesn't melt in the oven. It is one of my favorite ways to finish sweet breads.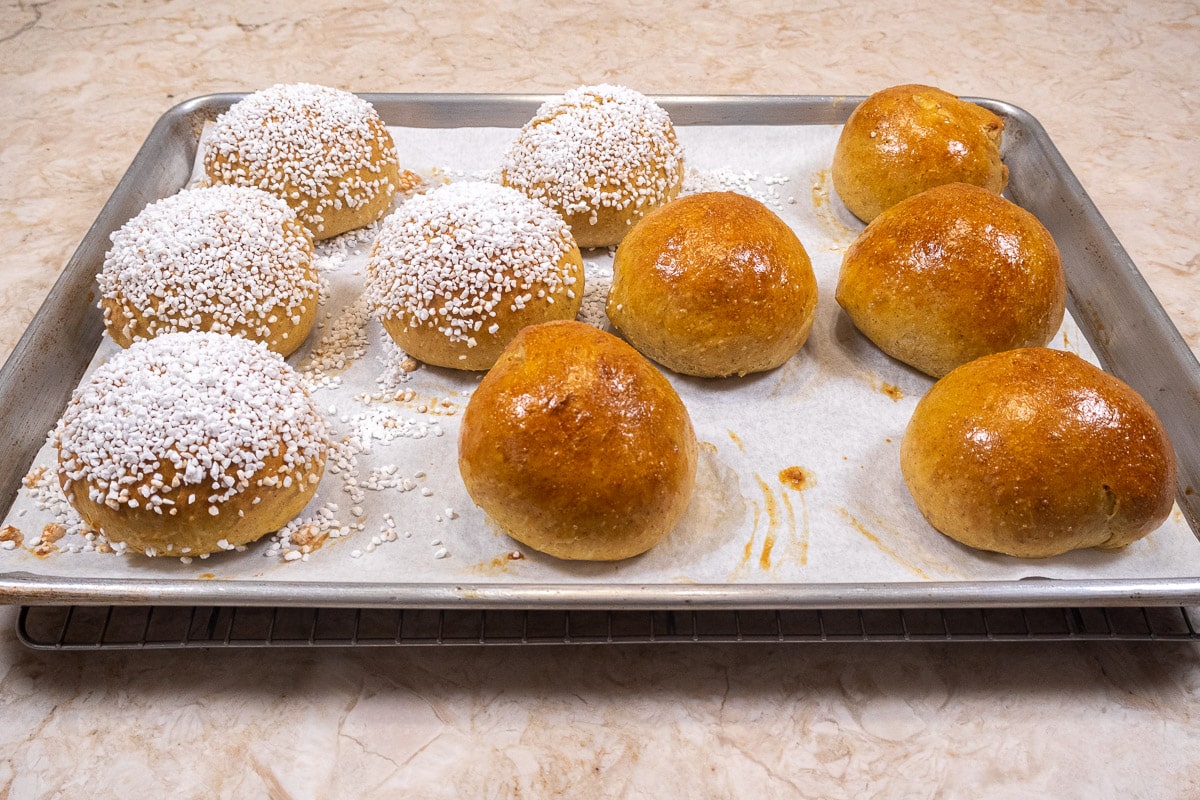 Step 21. The Pumpkin Dinner Rolls and the Pumpkin Breakfast Rolls are baked.
See recipe for exact amounts of ingredients.
Substitutions
Sanding sugar can be substituted for the Swedish Pearl Sugar. It will not have the same visual effect but will still be very good.
Storage
These Dinner Rolls can be baked, cooled and frozen. Wrap well and store for several months. Thaw at room temperature and refresh in a 350°F oven for about 10 minutes. The Breakfast Rolls can also be frozen but be especially careful when wrapping as the sugar decor can come off easily.
Top Tips
If mixing other ingredients with flour, whisk them all together before continuing with the recipe. This way they will distribute more evenly throughout the recipe.
Chilling yeast doughs overnight not only helps develop flavor, it makes the dough much, much easier to roll and shape. The dough when worked cold holds it shape better.
A proofer for yeast doughs can be easily made at home by simply putting the yeast dough in a cold oven with the light turned on. Check the temperature of the oven from time to time to make sure it doesn't get higher than 90°F. If it is too hot, prop the door open with a wooden spoon. This method will cut the rising time about in half.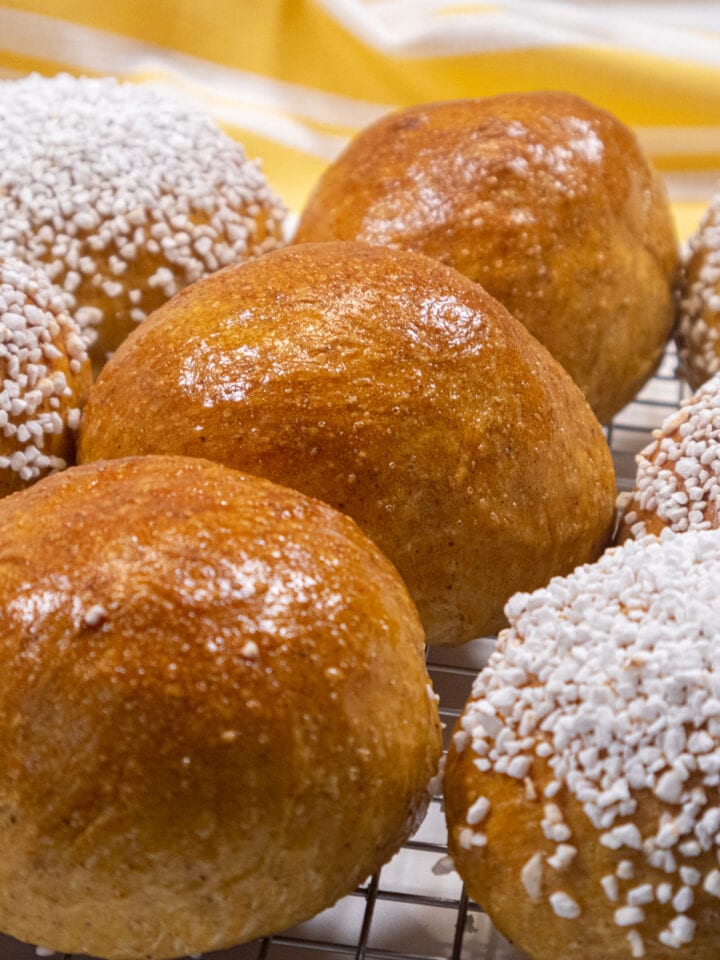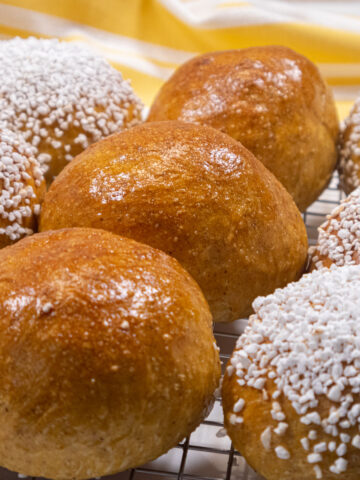 Get the Recipe:
Pumpkin Dinner Rolls Two Ways
These soft and fluffy Pumpkin Dinner Rolls Two Ways recipe, with its subtle spicing, is an easy peasy recipe that take no time to make but yield great taste. These are perfect served with Thanksgiving dinner or a leftover turkey sandwich. Finishing them Swedish Pearl Sugar turns them into the perfect roll with a cup of coffee or tea in the morning.
Ingredients
Pumpkin Rolls
⅞

cup

milk

1 cup less 2 tablespoons

4

tablespoons

butter

cut into pieces (60 grams or 2 ounces)

¼

cup

honey

3

tablespoons

instant mashed potato flakes

(10 grams or about ⅓ ounce)

½

cup

pumpkin puree

1

large egg

1

teaspoon

vanilla

3 ½

cups

bread flour

(490 grams or 17 ¼ ounces)

1 ½

teaspoons

instant yeast

1

teaspoon

salt

1

teaspoon

cinnamon

½

teaspoon

ginger

½

teaspoon

nutmeg

¼

teaspoon

cloves

1

egg

well beaten
Breakfast Rolls
Swedish Pearl Sugar as needed
Honey Butter
½

cup

butter

(114 grams or 4 ounces)

Honey to taste
Instructions
Heat the milk, butter, and honey until the butter melts. Remove from the heat and add the instant mashed potato flakes. Whisk all together. Let cool to room temperature.

In the meantime, add the pumpkin, 1 egg, and vanilla the mixing bowl. Whisk to blend completely.

Add the room temperature milk mixture, whisking to combine completely.

Combine the flour, instant yeast, salt, (be sure to put them on opposite sides of the bowl) cinnamon, ginger, nutmeg and cloves. Whisk to combine.

Add the flour mixture all at once to the mixing bowl and beat on low to combine. Raise the speed to medium and beat for 3 minutes. The dough should clean the bowl.

Spray a container at least 3 times as big as the dough with a non-stick baking spray. Place the dough in it, cover with plastic wrap and put a lid on the container.

Let it rise at room temperature for 2 ½ to 3 hours until doubled. Refrigerate overnight or 4 to 6 hours until completely chilled before shaping.

Preheat the oven to 350°F. Line a half sheet pan or baking sheet with parchment paper.

Divide the dough into ten 90 grams or 3 ounce pieces. If not using a scale, roll the dough into a 10" log and cut it into 10 pieces.

Taking one piece at a time, shape it into a round and flatten it slightly, gather the edges into the center and pinch them together securely.

Turn the roll over and finish shaping the roll by cupping your hand over it and rolling it, seam side down, counter-clockwise in a circular motion five or six times. Repeat if necessary to make sure the bottom is sealed together.

Place on the baking sheet. Repeat with the remaining 9 rolls.

Cover and let rise until doubled, about 2 hours. Shortly before the rolls are finished rising, preheat the oven to 350F. Alternatively, place the sheet pan in an oven with only the light on. The rolls will rise in about 45 minutes to an hour. Remove from the oven to preheat it.

Brush the dinner rolls with the beaten egg at once while the oven is preheating. For a deeper color and shine, brush again just before they go into the oven.

Bake for 20 to 25 minutes until golden brown and baked through. A thermometer will register 200°F.
Breakfast Rolls
As soon as the rolls are brushed with the egg, cover half of the roll with Swedish Pearl Sugar. This is easiest done by cupping your hand directly behind the roll but not touching it. Sprinkle the sugar on. Turn the baking sheet around and repeat to cover the other side. Pat the sugar gently, but firmly to make sure it adheres to the egg.

Bake both the Pumpkin Dinner Rolls and the Breakfast Rolls for 20 to 25 minutes or until a thermometer registers 200°F.
Honey Butter
Combine softened butter and honey together. Serve with either roll.
Notes
Both of the rolls can be frozen after baking. Freeze them, wrap well and store for a month or so. Be careful with the breakfast roll version so the sugar doesn't come off.
Nutrition
Calories:
359
kcal
|
Carbohydrates:
45
g
|
Protein:
8
g
|
Fat:
16
g
|
Saturated Fat:
10
g
|
Polyunsaturated Fat:
1
g
|
Monounsaturated Fat:
4
g
|
Trans Fat:
1
g
|
Cholesterol:
72
mg
|
Sodium:
370
mg
|
Potassium:
190
mg
|
Fiber:
2
g
|
Sugar:
9
g
|
Vitamin A:
2414
IU
|
Vitamin C:
4
mg
|
Calcium:
50
mg
|
Iron:
1
mg