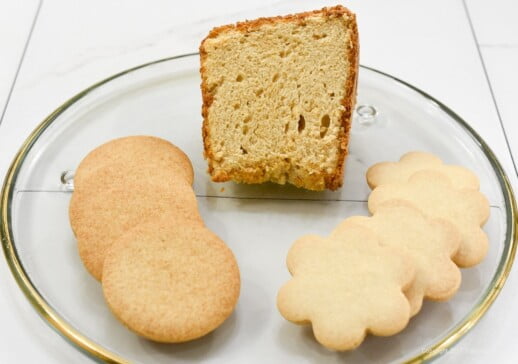 I was recently toodling around the internet and came across a recipe for Toasted Sugar on Serious Eats by Stella Parker.
For all the chemistry involved please go to the article. I just wanted to know if it actually worked and what it tasted like.
I didn't own a glass baking dish, so off to Walmart I went to get one. Easy enough. While there I picked up a four pound package of granulated sugar as called for.
A glass or ceramic baking dish is called for because they are poor conductors of heat and allow the sugar to darken without melting.
Here how it went.
Toasted Sugar
4 pounds granulated sugar (1816 grams)
Preheat the oven to 300°F.
Pour the granulated sugar into a 9x13 glass or ceramic baking dish. Even it out, making sure the corners are equally covered.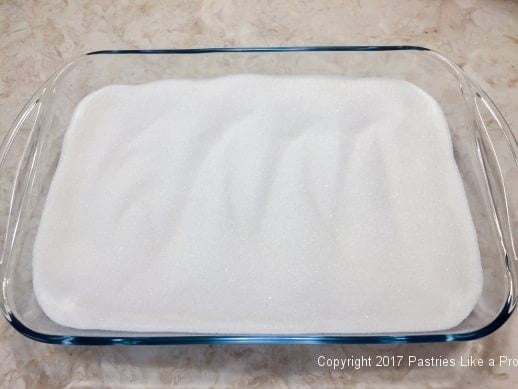 After the first hour, stir the sugar. Return it to the oven.
Continue until the sugar turns deep brown, stirring every 30 minutes. Mine took 6 hours. As I started late, thinking it would only take 4 hours from reading the article, I was hard pressed to stay up until midnight waiting as I had a long and busy day.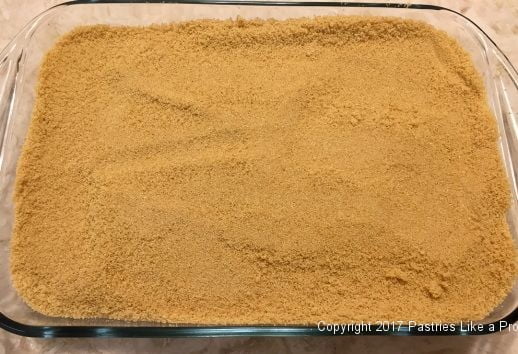 I set it on the counter and let it cool until morning.
When I checked in the morning, it was still dark and pretty hard in the dish. I found it difficult to break up all at once, so I broke it up in two layers. The top layer had smaller "crumbs"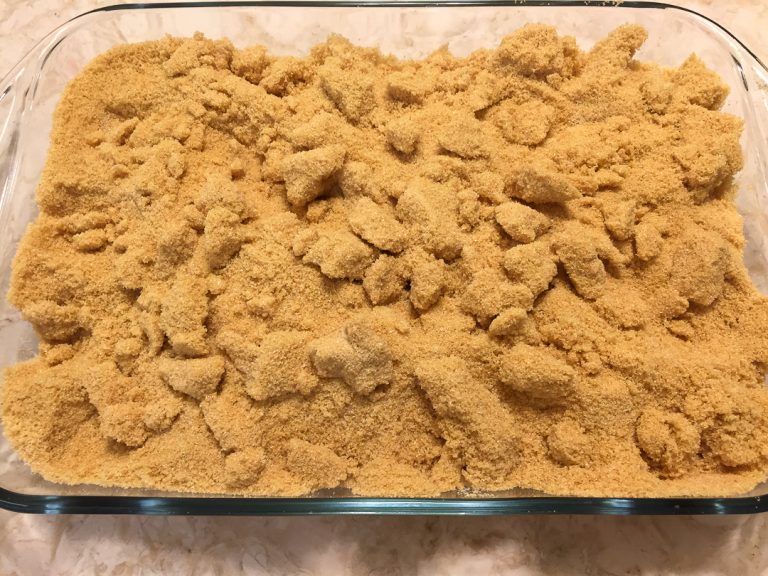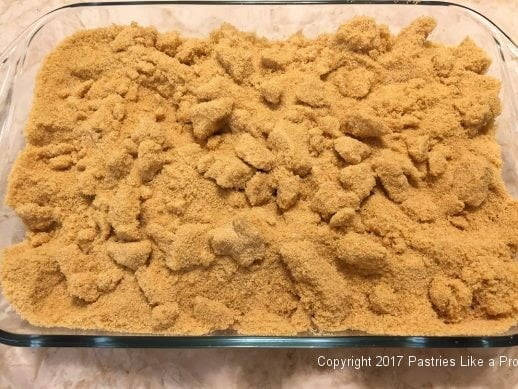 which were put in a processor to granulate them.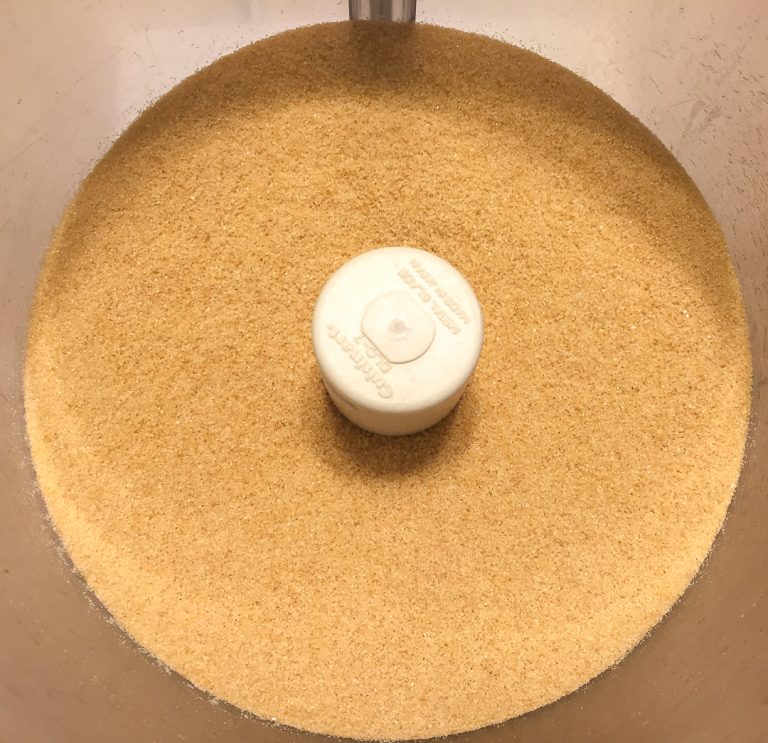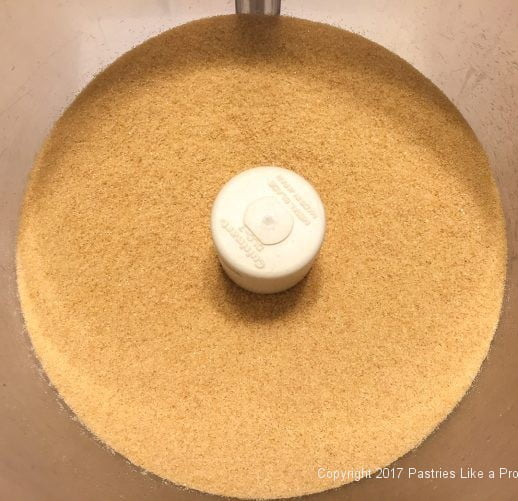 The second layer broke into huge slabs that I then broke into more pieces and granulated those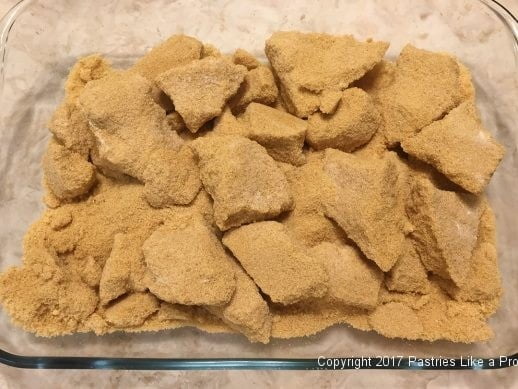 Although the original article talks about water evaporating from the sugar, I still had 4 pounds of sugar when it was done.
Day 2 found me making shortbread cookies with granulated sugar and with the toasted sugar. I chose those because they had the least amount of ingredients and a considerable amount of sugar as I wanted to taste the difference.
Shortbread Cookies – I made two batches, using granulated sugar in one batch and toasted sugar in another. The round cookie on the left is made with toasted sugar, the one on the right with plain granulated sugar.
½ cup butter softened (114 grams or 4 ounces)
¼ cups sugar (50 grams or 1 ¾ ounces)
1 ¼ cups all purpose flour (175 grams or 6 ½ ounces)
Preheat the oven to 350°F. Line a baking sheet with parchment.
Cream the butter and sugar until very light.
Add the flour and mix until it appears to be crumbly.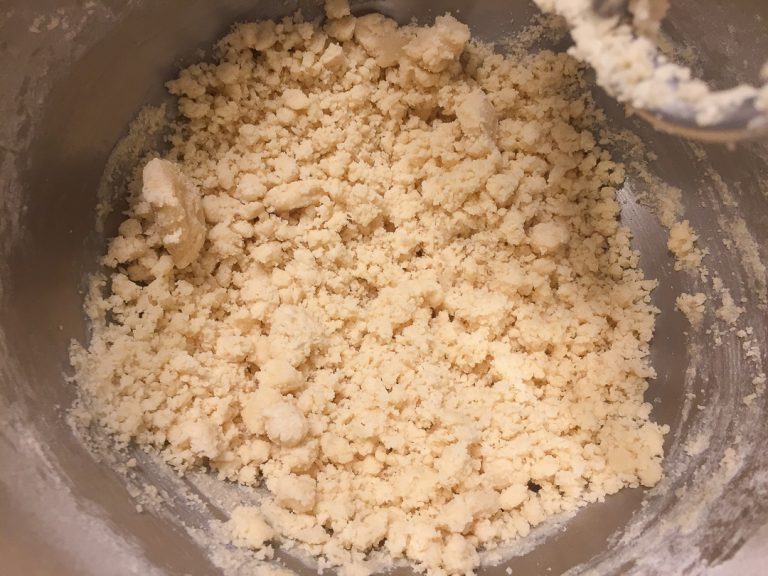 Scrape down, including the bottom of the bowl and mix again until it almost comes together.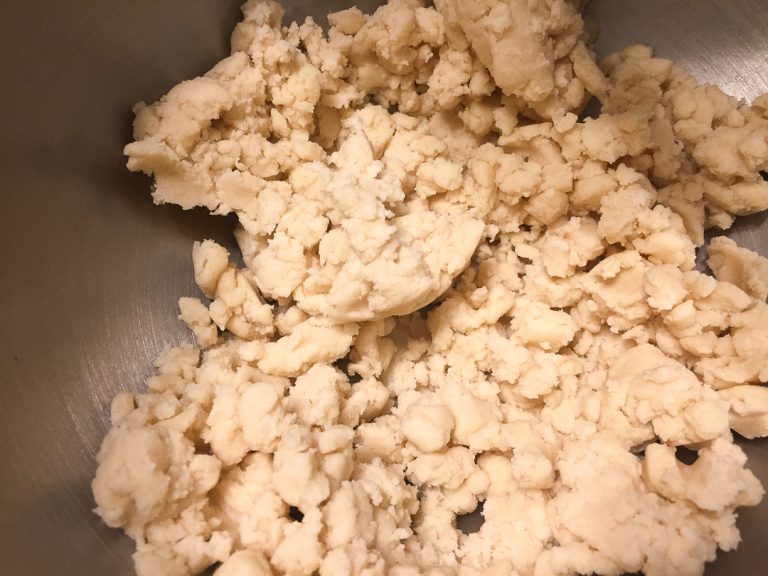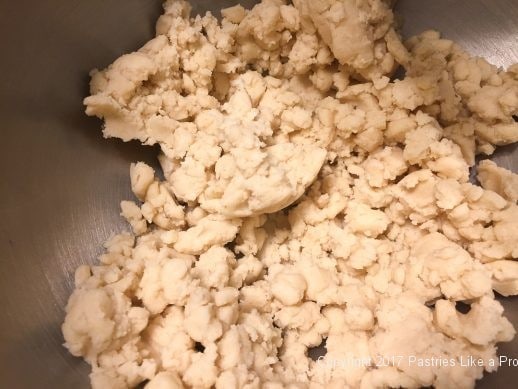 Remove from the bowl and knead a few times to bring it together.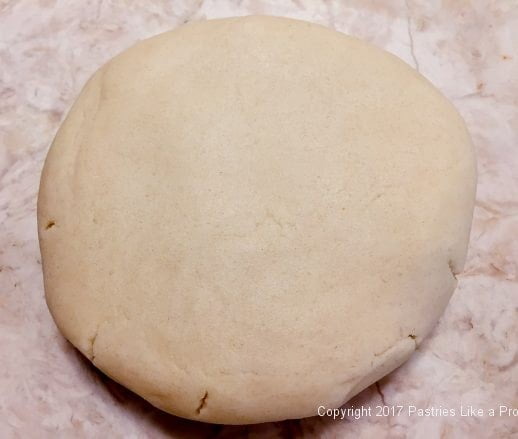 Here are the two doughs side by side.  The one on the left is made with the Toasted sugar.  As you can see there is not a huge color difference.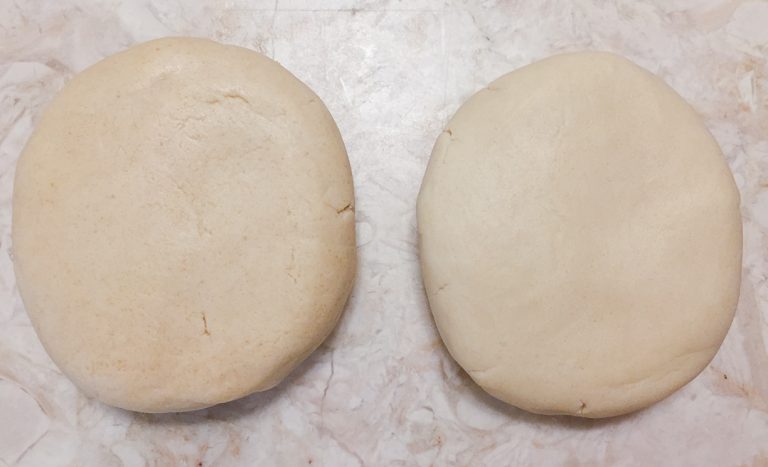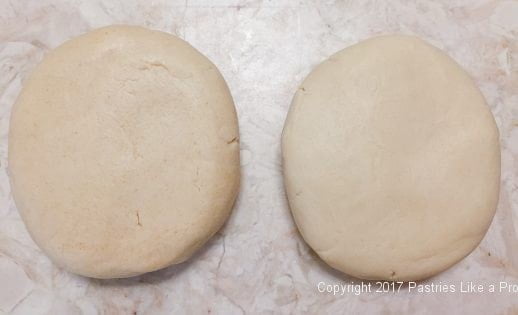 Roll it between two pieces of waxed paper to a thickness of about ¼". Cut out as desired.
Bake for 18 to 20 minutes until lightly browned.
Yields: About 18 cookies. This recipe easily doubles, triples or quadruples. My original recipe called for 4 times the ingredients.
Shortbread Cookie with Granulated Sugar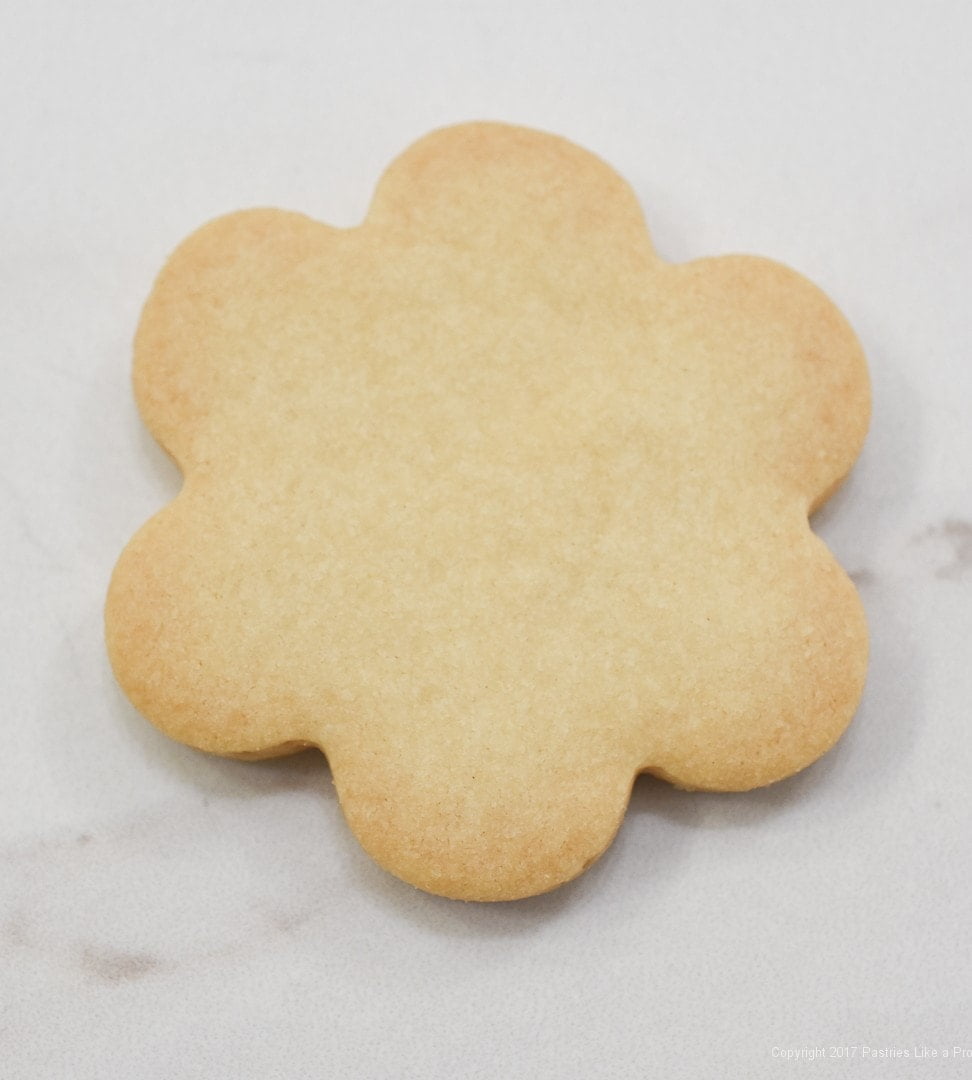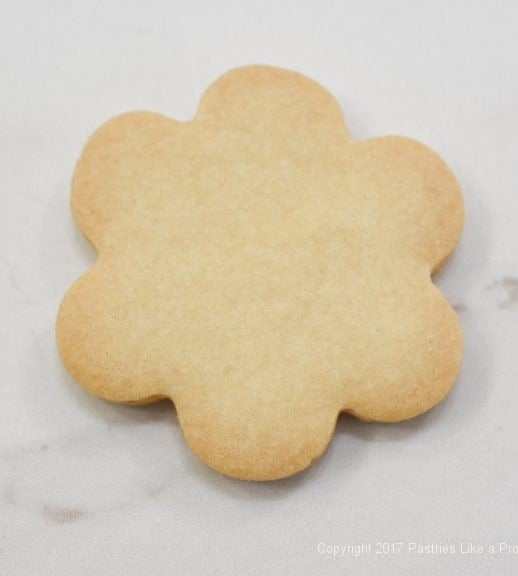 Shortbread Cookie with Toasted Sugar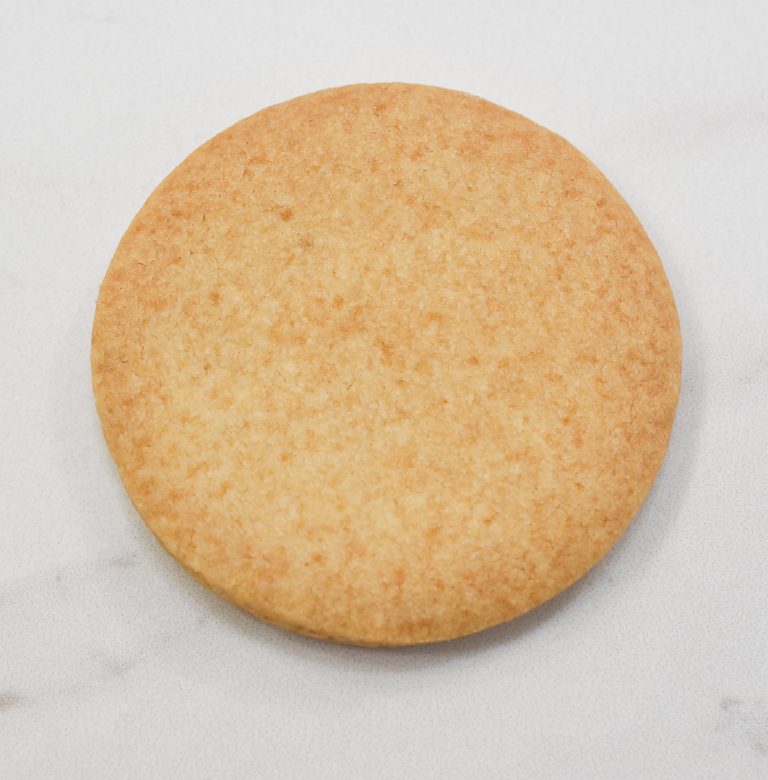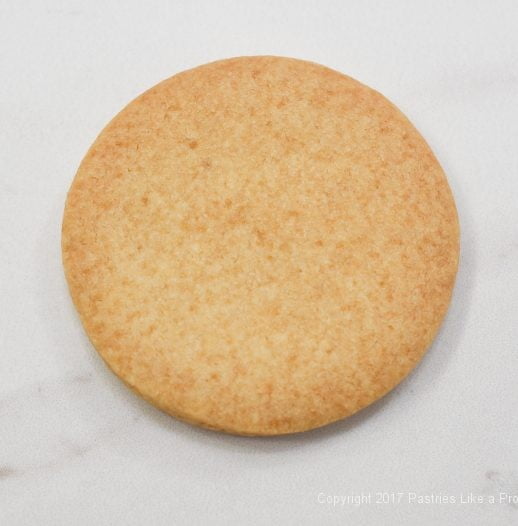 I then moved on to my Angel Food Cake using the toasted sugar.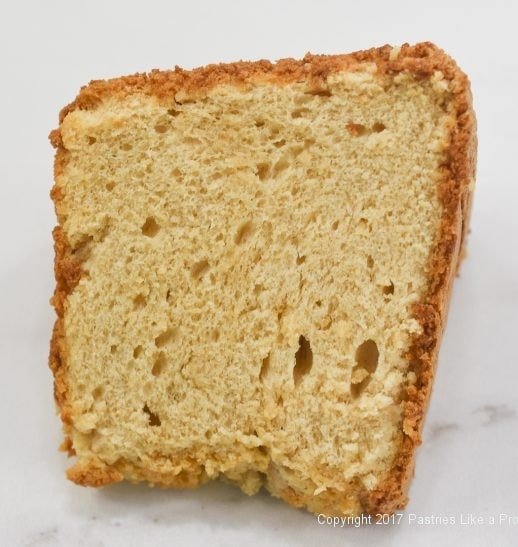 Angel Food cake has an abundance of sugar and very little flour. I simply substituted the toasted sugar for the regular sugar.
Observations
The following comments are my observations.  This is not to say that Toasted Sugar is good or bad. Stella put a lot of work and time, not to mention sugar, into this project and is to be commended for that.  But my personal opinion is that it's just not worth the effort.
Stella describes the sugar as tasting of caramel.  To me, caramel is rich in butter and cream. Torching sugar or heating it until it colors on top of the stove is not what I consider caramel, but that may just be my differentiation.
The first thing I can say is that six hours is a long time to have anything in the oven, especially when stirring every 30 minutes. So be sure to plan ahead so you have enough time.
It's especially a long time when I could find little to no discernible difference in taste between the granulated sugar vs. the toasted sugar. It looks darker and I certainly thought it would taste like caramelized sugar since that is what the article said, but it didn't.
If anything, the toasted sugar was less sweet than the granulated. There is an explanation in the article to that effect. For me, that is counter productive. If I wanted a recipe to be less sweet I would adjust the sugar and remaining ingredients to obtain that objective.
Recipes consist of many ingredients and I don't think the flavor of the toasted sugar is strong enough to come through as does brown sugar that is treated with molasses to make it brown.
I tasted the toasted sugar by itself and in the cookies and angel food cake.
The shortbread cookies were almost identical in taste and texture. The round ones with the toasted sugar were darker but that is about all.
The Angel Food cake is the color of the toasted sugar.  I did notice a difference here as there is so much sugar and not much else.  But it wasn't caramel I tasted but burnt sugar as in creme brulee.
So, in conclusion, if you have a 9x13 glass baking dish, four pounds of sugar and a lot of time, go for it and see what you think.
I'd love to hear from anyone who tries this.
SaveSave
SaveSave
SaveSave
SaveSave
SaveSave
SaveSave
SaveSave