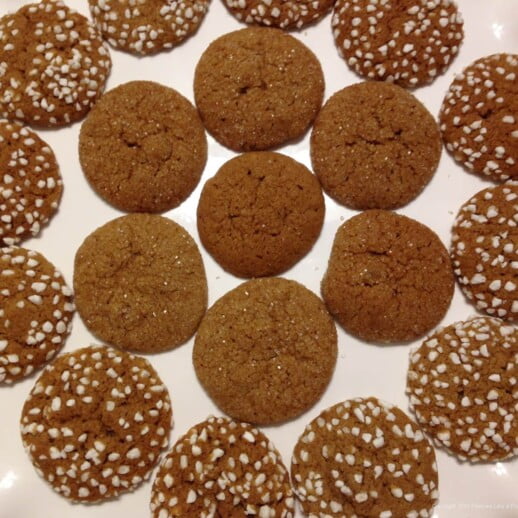 These Triple Ginger Crisps are a mouthful of flavor. They should be very crisp when cooled. These are a make ahead treat as the flavor gets better as they are stored in a tin. The three types of ginger give a bite to the cookies and they leave a lingering taste that makes you reach for one more.
These Triple Ginger Crisps can be made relatively quickly or they can be made a little fancier if you're willing to spend a bit more time.  They can be left plain or finished with sanding sugar  which can be found in kitchen supply stores, grocery stores and on the net.  It won't melt when baked as regular sugar will.  Another sugar that can be used is pearl sugar.
Brown sugar is used for flavor and ramped up with the addition of molasses. Molasses is not just sweet but it adds a depth of flavor like nothing else. The spices add more depth.
Because I want these to spread, only butter was used.
This recipe makes a lot of cookies. However, it is impossible to eat just one and it is difficult to make half a recipe. These Triple Ginger Crisps last forever in a tin, they are great to have around, especially for the holidays.  And if you ship cookies, these, along with the Very Lemon Butter Crisps make a very special treat for someone.
Triple Ginger Thins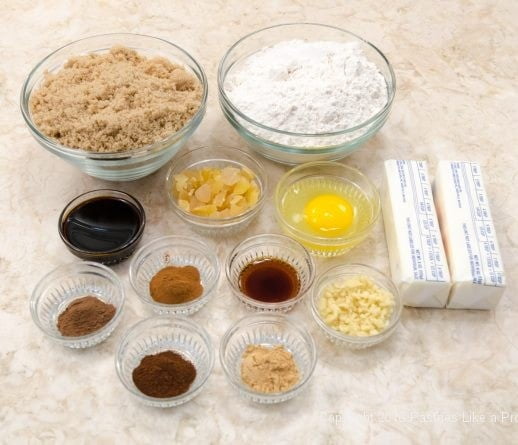 1 ¾ cups brown sugar (350 grams or 12 ⅓ ounces)
1 cup butter, softened (2 sticks, 225 grams or 8 ounces)
1 teaspoon vanilla
1 egg
2 tablespoons light molasses
2 cups flour (280 grams or 10 ounces)
1 tablespoon grated fresh ginger
2 teaspoon ground ginger
⅓ cup finely chopped candied ginger
¾ teaspoon allspice
¾ teaspoon cinnamon
¾ teaspoon cloves
½ salt
Sanding or Pearl Sugar
Place the sugar, fresh ginger, ground ginger and candied ginger in a processor.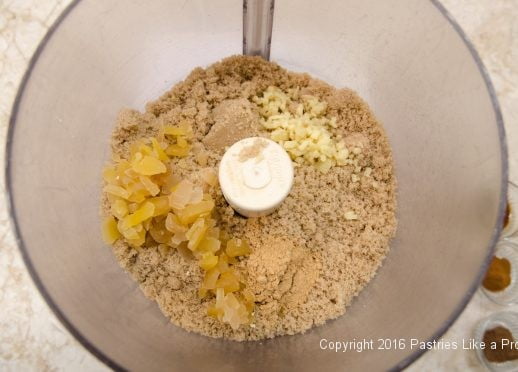 Process to finely chop the candied ginger.
Combine the sugar mixture with the butter and vanilla.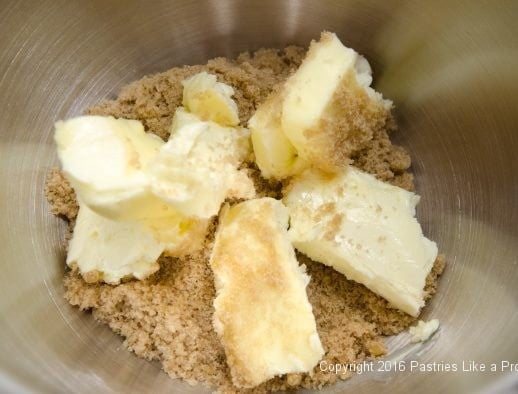 Cream until light and fluffy.
Add the egg and molasses; beat until combined.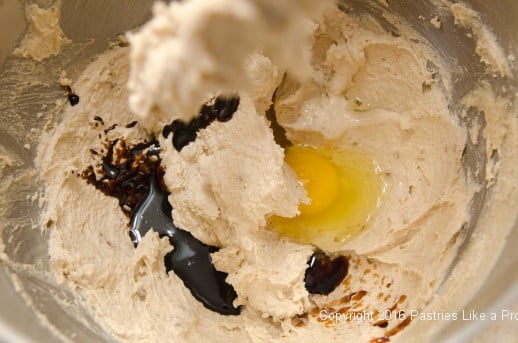 Combine the flour and spices.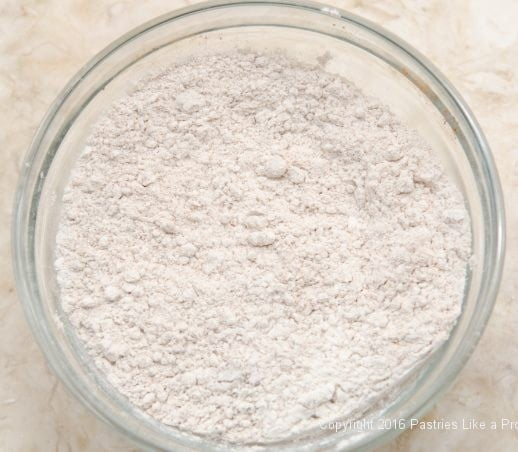 Add the flour and beat to incorporate.

Chill before proceeding.
There are several ways to make the cookies. I dropped some of the dough with a #100 dishes, making sure it is scraped flat for uniform sizes.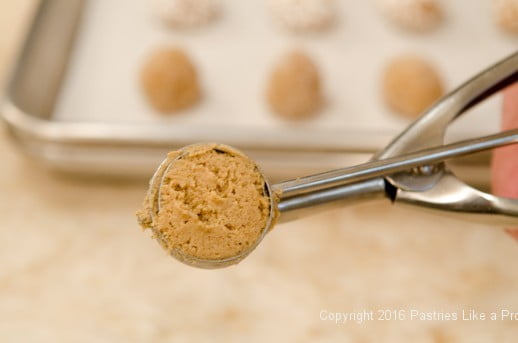 Roll them into balls and then roll in either sanding
or pearl sugar.
Roll the pearl sugar balls between the palms of your hands to make sure the sugar adheres.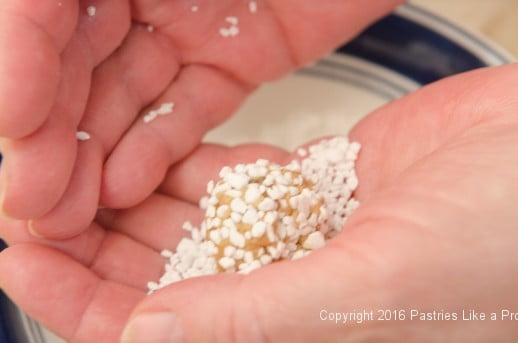 They can also be left plain.  Be sure to leave enough room between them because they spread a lot. Double pan. Bake for 18 to 20 minutes.
Another way to finish is to divide the dough in two, three or four pieces and roll into 1" to 1 ¼" rolls.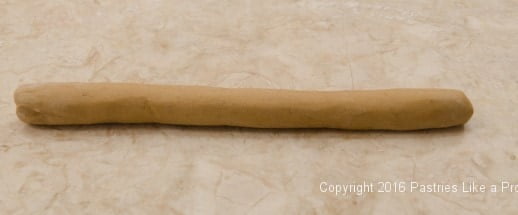 Wrap in film and refrigerate until firm or overnight.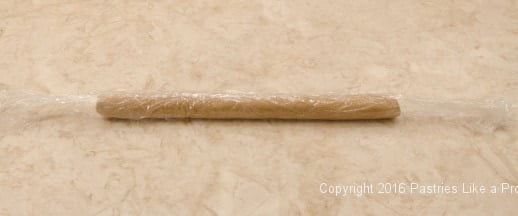 Alternately you can freeze the logs for later use. Slice the cookies slightly thinner than ¼ inch and place on the cookie sheets.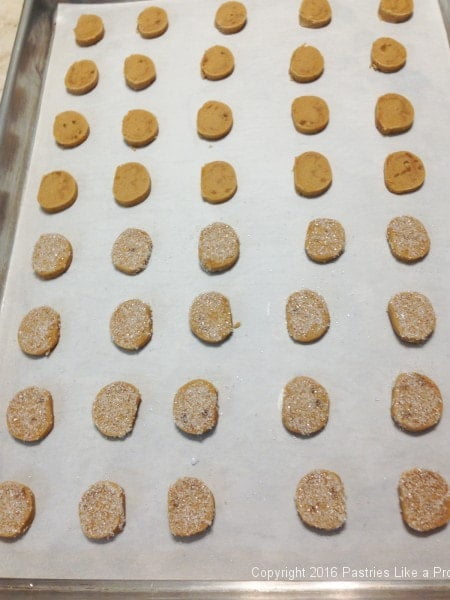 Double pan. Bake for 8 to 10 minutes. Cool slightly and remove from the baking sheets.
Preheat the oven to 350 degrees. Line baking sheets with parchment.
About 125 Triple Ginger Crisps. Stored in tins these will last for months.