I have been asked on more than one occasion how I write Pastries Like a Pro. It's so automatic, I have never really given it a lot of thought. So basically it goes like this.
There are several scenarios I follow. When I knew I would be moving from my house of 47 years late last year, I worked furiously to finish my blogs almost through the month of February. I knew the day of the move was the start of an intense period of change for us and we both looked forward to it. But Wow! did I ever under estimate the time to get settled in and unpacked. The good news is, we are comfortable and loving our new home. But now it's time to get back to a normal life and that includes blogging.
I usually set up my list for 3 to 6 months ahead. This is for self defense. I don't want to get to Monday or Tuesday of the week and realize I do not have a blog for that week. It also helps me organize the blogs so I am not doing chocolate, or cakes, cookies or anything else too many times in a row. It often takes a simple shifting of blogs around to make the list more interesting.
Inspiration comes from many sources. Some of the blogs are things about which I am very familiar having made them in the bakery or the restaurant. But sometimes a blog is about something that interests me, maybe something I've seen on another blog or read somewhere, sometimes a program I've seen on TV. I started watching The Great British Baking Show and absolutely love it. I came in during the middle of the season so missed a lot, but they really challenge the contestants. I will be blogging about one pastry in particular, the Povitica. It is from the former Yugoslavia and is an intricate version of one my mother made for years. But I never saw this method of shaping and it is fascinating.
When I first get an idea, whether for the blog or for the restaurant, I will map it out on a piece of paper and then start pulling all the component recipes together. One of the most important components for this is a Recipe Comparison Chart I made long before computers came into existence. I still use it today to take different versions of the same recipe and compare the ingredients. It allows me to quickly see what is the same and what is different. I am sure it can be duplicated on the computer - I just like the pen and paper.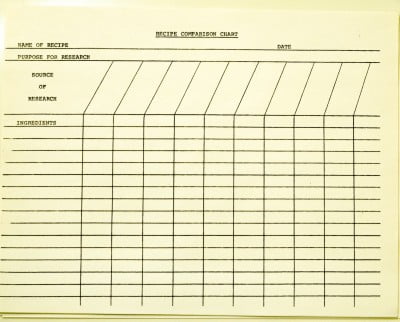 If it is something new, I will map out the recipe and test it. If it doesn't come out and I believe in the recipe, I will work it until I get it right. Currently for Tony's, I am working on pears poached in a red wine syrup to be served with vanilla ice cream topped with a butterscotch sauce and a ginger crumble. I didn't see this combination anywhere but thought it would work together for an upscale dessert. I researched the poached pears and butterscotch sauce. I already knew what I was going to make for the ginger crumble.
The first test was interesting. The pears were very sweet. So, the next time I will cut the sugar and introduce a hint of vinegar to sharpen the taste. The ginger crumble was from a recipe on David Lebovitz' blog, Ginger Crunch at https://www.davidlebovitz.com/2013/01/ginger-slice-crunch-shortbread-recipe/. However, I only want the cookie part without the glaze. The first test on that yielded not enough ginger to make a statement without the glaze. The second test, I upped the ginger and it is perfect. But in the meantime, the cookie is so good as a shortbread, I have decided to use that and not crumble it. It has the consistency of a Walker's shortbread which I love. It is dense and not too sweet and will be a great compliment to the rest of the dessert.
The butterscotch sauce is a work in progress. The common thinking is that brown sugar makes a butterscotch sauce. I believed this also but have since changed my mind. I found a recipe for "Ridiculously Easy Butterscotch Sauce" on the blog of Smitten Kitchen (see https://smittenkitchen.com/blog/2009/12/ridiculously-easy-butterscotch-sauce/). After testing it, it tasted so close to the easy salted caramel recipe making the rounds on the internet I couldn't tell the difference. So off to the hunt again.
This time I googled homemade butterscotch candy on the theory that I could at least see what they were using. The majority of recipes do not use cream. They use water which is a fundamental difference between caramel and butterscotch. They do use butter and some use all white sugar while others some white and some brown. You guessed it – more testing in my very near future. I also just discovered a whole cache of butterscotch sauces made with condensed milk – which is one of my guilty pleasures. I can eat it by the spoonful!
But the most important thing is that I test and re-test until I get a consistent recipe that should work for everyone. I feel that is my obligation and commitment to you as readers and it is also one of the things I like most about pastry and baking. While I like everything to turn out well the first time I make a recipe or try one I've created, I find the discovery part as interesting as everything else.
Once I have the recipe right it has to be put in correct order, which is ingredients listed as they are used. When I write I try to be as detailed as I can so anyone from an amateur to a professional can understand what I am doing and, more importantly, what they should be doing. That is why the photographs are taken from my perspective which is yours as you make the recipe. The photographs supplement the written word for clarity.
I blog on wordpress.org for the latitude it gives me. When I knew I wanted to write a blog, I researched the different kinds and went with the one I thought would give me the widest range of possibilities and the best chance to express myself with the photographs. Having known no other way, I am completely happy with my choice.
My husband, a retired professional photographer, provides the photographs. He hands me the card and I put it into Lightroom by Adobe to process the photos. The over 50,000 photos are stored in a Drobo offsite storage unit which is redundant so, hopefully, I can't lose them.
One of the aspects of food blogging I feel most strongly about is crediting the work of others. As a writer all my professional life, I know too well people will take ideas as their own without sharing the source. To me this is just wrong. It diminishes no one to say that a recipe is so well thought of that someone also wants to share it but the source should also be mentioned. Generosity of spirit is the key to hospitality and hospitality always comes back to food....and to food blogs!
As you might be able to tell, I am very excited to be able to share what has taken me a lifetime to learn. In the end, it is the sharing I like the most.