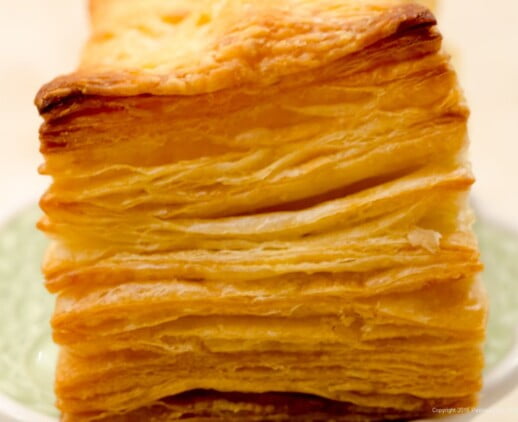 Butter used to be butter. Cream was churned and separated into butter and buttermilk. While it is still made that way, where in the world it comes from makes a difference, both in taste and its ability to make laminated doughs rise dramatically. The puff pastry above started out as a ⅜ inch rectangle and rose to a dramatic 3 inches.
For this test, I used Land O Lakes American butter and Kerry Gold Irish butter. I couldn't find Plugra in my area. Both of the butters were unsalted.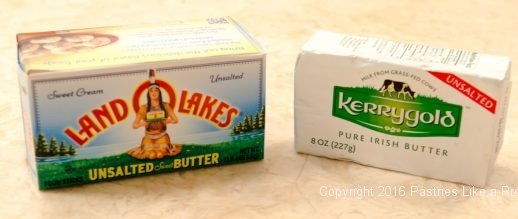 Technique
The puff pastry dough, which we will get into in the coming weeks is made with the same technique as the Croissant. The butter is cut into small pieces and frozen. The detrempe is made and partially frozen. They are then cut together and a series of turns finishes the dough after which it is put to rest before shaping.
The puff pastries were made on the same day in as close a test as I could do. I was in an air conditioned room with two fans going, one overhead and one floor fan. They were made and rolled out in quick succession for two double turns. After resting and chilling them for about an hour, I gave them two more turns, wrapped and marked them and left them in the refrigerator for 3 days.
Kerry Gold unsalted butter (made in Ireland, considered European Butter): The butter contains 82% butterfat. The yellow color was very deep golden yellow. It is softer than American butter. The side of the package states: "cultured pasteurized cream".
It went together the same in the processor but it is a bit more difficult to roll as it softened quickly even though it was rolled on a marble top with a marble rolling pin. The second set of two turns found it somewhat difficult to roll without the butter smearing on the table. Partial freezing between folds would help here.
Land 'O Lakes unsalted butter (made in America): American butters, by order of the USDA must contain a minimum of 80% butterfat – which is what most of them contain. There may be some local butters that contain more, but I wanted to test with a national brand easily available. The side of the package states: "Sweet cream with natural flavorings". Not sure what "natural flavorings" means.
The butter was more firm which makes sense as there is more water in it and less fat to soften. It was easier to roll out and it did not smear on the table. It was an easier pastry to work with and I had no problems rolling out.
Flour used for the Puff Pastry
The original plan was to use my standard pastry flour made with ⅔ all purpose flour and ⅓ cake flour. Then I watched a segment of one of my favorite shows, "The Great British Bake Off" with Paul Hollywood (I honestly can't believe that is his last name with him being English, but whatever.) He mentioned the use of strong flour, read bread flour, for puff pastry on one of the segments.
So I made puff pastry using my pastry flour version and the bread flour version. Each of the versions featured the Land O Lakes and the Kerry Gold. The difference in height was dramatic.
I rolled each of the four pieces of puff pastry to ⅜ inch. Look how much more yellow the Kerry Gold is. They do not use annato to color their unsalted butter as manufacturers in America area allowed by law to do.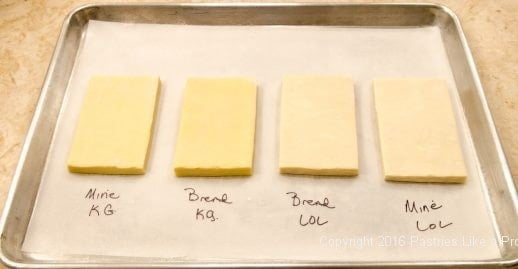 Baking
I double panned to prevent the bottom from getting too brown or burning over the long baking time. Because the puff pastry was relatively thick, I started it at 425°F for 15 minutes to give it an initial burst of heat to get the water turning into steam. I then lowered the temperature to 350°F and baked it for an additional 25 minutes covering the top loosely with foil before it browned too much.
The bottoms were the same color as the tops.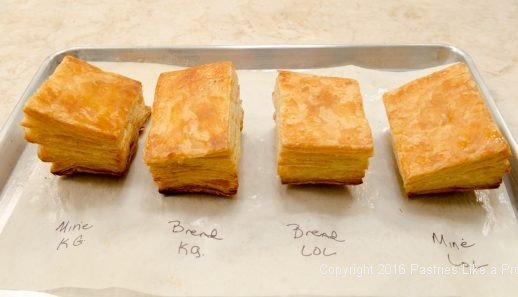 When baked, the highest one measured 3 inches. Quite a rise I would say.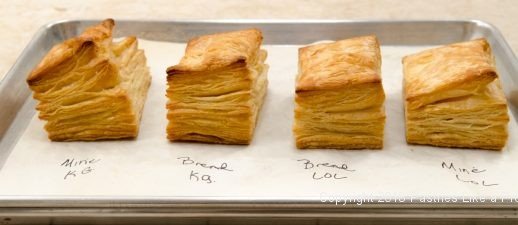 From the left: Pastry flour with Kerry Gold, Bread Flour with Kerry Gold, Bread Flour with Land O Lakes and Pastry Flour with Land O Lakes. Had the one with pastry flour not tipped over I think it would have been the same size as the bread flour. The difference in height was the Kerry Gold Butter.
I think the bread flour was a bit more sturdy without being tough. As a result, I am going to be switching to bread flour for my laminated doughs. I already use bread flour in my pate a chou pastry because of its strength.
Thank you Paul!
Taste wise - the Kerry Gold was superior. So despite it being a softer butter, I will simply put it in the freezer to firm it up more often.