These Individual Variegated Pound Cakes were an idea born out of boredom waiting for my doctor appointment. I picked up a well-worn women's magazine and leafing through it I found what they called a Triple Pound Cake in a loaf pan. After seeing it, I couldn't get it out of my mind. The more I thought about it, the more I couldn't wait to make them.
While I didn't use their recipe or flavorings, I decided to make Individual Pound Cakes using Texas muffin tins. I used a cream cheese based pound cake and divided it into 3 bowls. I flavored one with chocolate, one with coffee and one with cinnamon – sort of like a cappuccino.
This is an easy recipe to make and looks stunning when cut. It can be baked in a 9x5 loaf pan if desired. Just layer the entire amounts in the pan, as above. The timing may be different, so check it with a cake tester.
Individual Variegated Pound Cakes
1 ½ cups all purpose flour (210 grams or 7 ⅓ ounces)
½ teaspoon baking powder
¼ teaspoon salt
¾ cup unsalted butter, softened (170 grams or 6 ounces)
4 ounces cream cheese, softened (114 grams or 4 ounces)
1 ⅔ cup granulated sugar (265 grams or 9 ⅓ ounces)
1 ½ teaspoons vanilla
3 eggs
½ teaspoon cinnamon
2 tablespoons cocoa, divided (Natural or Dutch can be used)
1 tablespoon instant coffee
1 ½ ounces semisweet chocolate, coarsely cut (45 grams)
Preheat the oven to 350°F. Spray a 6 hole Texas muffin tin well and set aside.
Whisk the flour, baking powder and salt together. Set aside.
Combine the butter, cream cheese, sugar, and vanilla in the bowl of a mixer. Beat until very light and fluffy, scraping down several times.
Add the eggs, one at a time,
beating until completely incorporated. If the eggs curdle don't worry about it, when you add the flour it will all come together.
Last, add the flour
and beat on low, scraping as necessary, until it is smooth and completely combined.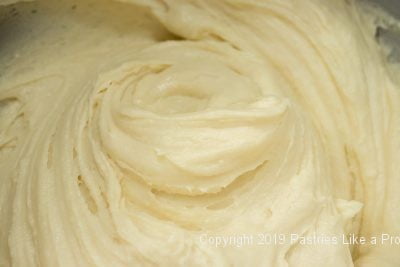 Divide the batter into three bowls, about 290 grams or 10 ⅛ ounces each.
Assembling the Individual Pound Cakes
Into one bowl, stir in the cinnamon. Set aside.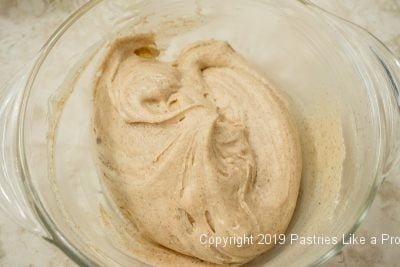 Mix together 1 tablespoon cocoa and the instant coffee together in a small bowl. Add 1 teaspoon water and blend into the dry ingredients. Stir this into the second portion of the dough. Set aside.

Melt the chocolate at half power in the microwave or over hot water. Add 1 tablespoon cocoa, whisking to combine them. Do this last. I did mine first and the chocolate hardened too much to whisk in. Just microwave on half power briefly to melt it but do not get it really hot.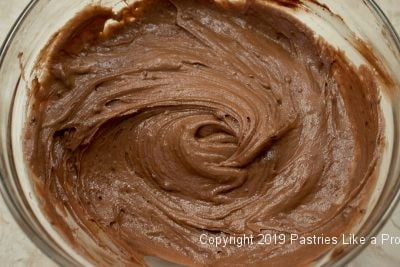 With a #16 disher or scoop drop the chocolate batter into the bottom of the muffin cups. Spread them evenly over the bottoms. Alternatively, use a ¼ cup measure to drop the batter. (There is slightly more chocolate batter because of the chocolate)
Switching to a #20 disher or scoop, drop the mocha batter on top of the chocolate and spread it evenly. A #20 disher equals 3 ½ tablespoons so a scant ¼ cup can be used.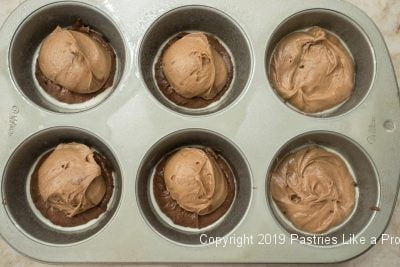 With a clean #20 disher, scoop or scant measuring cup, drop the cinnamon batter on top of the mocha batter, extending it to the edge of the tin.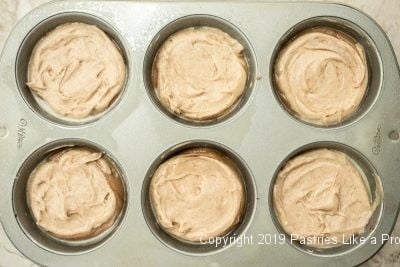 Place the tin on a baking sheet and bake the Individual Variegated Pound Cakes for 32 to 35 minutes or until a tester comes out clean.
Cool in the tin for 15 minutes before releasing. Finish cooling on a rack.
Dust with powdered sugar if desired.
Yield: 6 Individual Pound Cakes. Keep these covered at room temperature of a day or two. They can also be frozen and thawed at room temperature. This may also be made in a 9x5" loaf pan, adjusting the time as necessary.
If you liked this post, you might also enjoy:
Stuffed Cinnamon French Toast with Orange Sauce
Pina Colada Coffeecake
Unbelievable Cheesecake - The Easiest Ever
Craving Cookies Corner - This gluten-free Viennese Lemon Heart is my latest for the book.