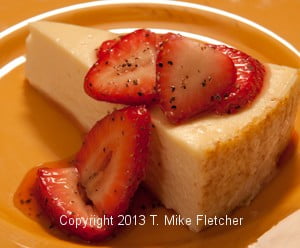 While last week, the Apple Crisp Cheesecake was featured, this week following the same theme this Unbelievable Cheesecake is my favorite easy, fast, delicious, inexpensive basic cheesecake. If you have always loved cheesecake but were worried they were too finicky to make with water baths, cracking problems and the like, this is the cheesecake for you. Did I mention creamy? Oh! And did I tell you it doesn't even have a crust – one less thing to do. Served with a bounty of fresh fruit, lightly sweetened, this can't be beat for the end of a special dinner. Don't want to cut and sweeten fruit? Serve it plain, or drizzle it with chocolate. In the photograph, I have simply cut strawberries, sugared and peppered them to taste an hour or two before serving.
This is a cheesecake not to be believed. As a proponent of "how can I make this easier/better", I can't find a thing to improve upon except the length of time in the oven and the suggestion to use water instead of liquor. I tried it using brandy instead of water but found I couldn't taste it. The water also keeps the flavor pure and neutral. I originally found this recipe in, "Brilliant Food Tips and Cooking Tricks" by David Joachim, 2001. Then I found it where I suppose he found it, in Maida Heatter's book, Book of Great American Desserts, 1988. She says in the preface to the recipe she got it from an article written by Andrew Schloss who wrote for the Philadelphia Inquirer. She adapted it to an 8 inch pan where the original was baked in a 9 inch pan. The suggested baking time in both is 6 to 8 hours, which I found to be more than twice as long as needed. I have been tempted to try the 6 to 8 hours, but don't want to ruin a perfect cheesecake.
So assemble your 5 ingredients, ready your pan, set your oven to 200 degrees and in a matter of a couple of hours you will have the creamiest, easiest, bestest cheesecake ever – and you made it.
At the end of this recipe are some other cheesecake related notes that might interest you.
Unbelievable Cheesecake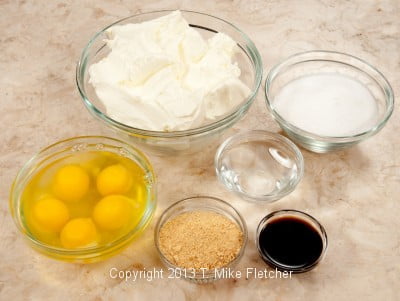 ¼ cup graham or cookie crumbs (30 grams or 1 ounce)
2 pounds of cream cheese, regular or ⅓ less fat, room temperature (910 grams)
1 cup sugar (200 grams or 7 ounces)
2 tablespoons vanilla extract
¼ cup water
5 eggs
Spray a 9 inch cheesecake pan with cooking spray. Dust the bottom and about 1 ½ inches up the side with the graham cracker crumbs.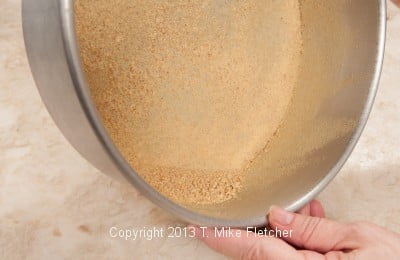 To even out the crumbs, I wrap my finger in a paper towel and wipe the excess crumbs off the sides.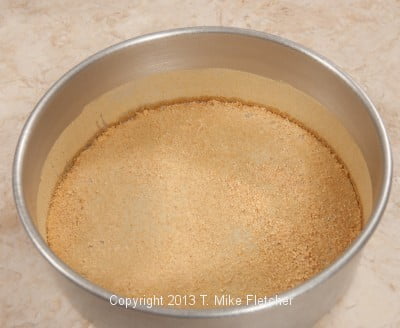 Remove the excess and set pan aside. Preheat the oven to 200 degrees.
In the bowl of an electric mixer, beat the cream cheese until completely smooth. Scrape often to make sure there are no lumps.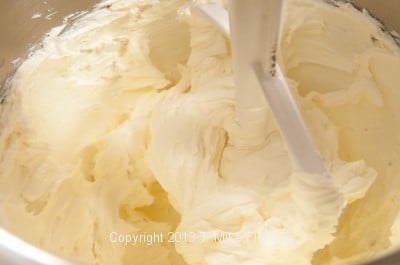 Add the sugar and beat until completely combined, again scraping so there are no lumps. They won't come out after you add the eggs and the liquids.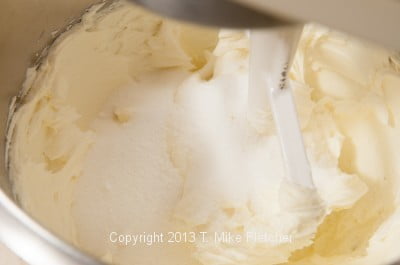 Add the eggs and mix in completely.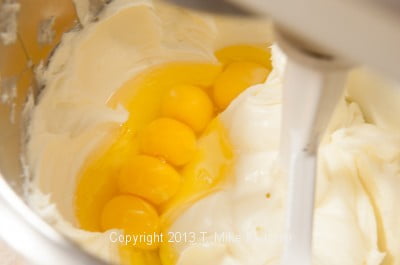 Add the vanilla and water.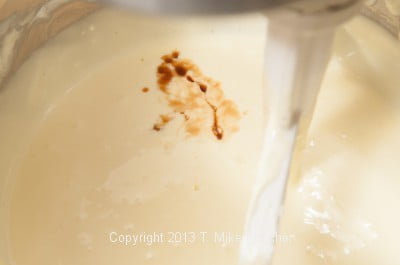 Beat on low until completely combined. Pour into the prepared pan and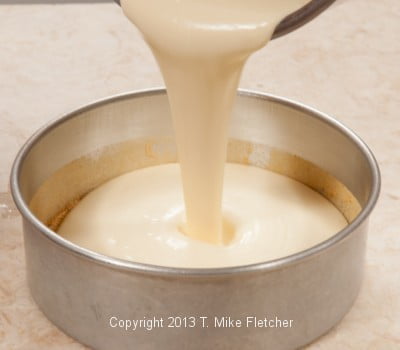 bake for 2 ½ hours until the cheesecake does not "jiggle" in the middle. It may or may not be lightly browned. Cool in the pan and refrigerate until cold or overnight.
Release the cheesecake as in Apple Crisp Cheesecake.
You are now ready to enjoy the creamiest, smoothest cheesecake ever – and you made it!!
Notes on Cheesecakes - I would like to thank my friend, Hilda Willman of Kitchen Conservatory for some of these suggestions.
Cheesecake Pans - My preference is the 9 x3 inch round pan with a removable bottom which, in the trade, is known as a cheesecake pan. It is made by Magic Pan. If this pan is used with a water bath, it must be wrapped in foil to prevent water from seeping into the crust. We used this particular pan for a lot of different applications in the bakery. The pan I use in the photos is over 20 years old and still in great shape. It currently costs about $16.00
Another pan with a removable pan is the Kkuhn Rikon Push Pan which has a gasket on the bottom to keep the water out. I have never used this pan, but it does look interesting. The drawback is the height. It is 2 ½ inches deep. This pan costs about $30.00.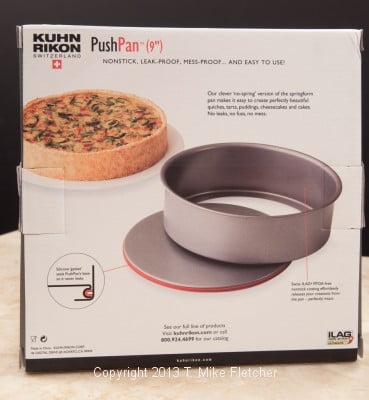 Cracked Tops - Several things may contribute to the tops of cheesecakes cracking. High heat can be a contributing cause but I had cheesecakes that started at 400 degrees and were lowered to 350 degrees for the remainder of the baking time. Certainly, recipes can be a cause if they aren't formulated correctly.
Some of the suggested ways of avoiding cracked tops include:
- Cooling the cheesecake in the oven to avoid a sudden temperature change. After the baking time is up, prop the door of the oven open with a wooden spoon. You don't want to completely open the door, just crack it.
- Another suggested method is to go around the top edge of the cake when it is done baking with a paring knife to release it, thus averting tension as it cools.
- Convection ovens are not recommended by some for baking cheesecakes. However, at the bakery that is all we had and that is how we baked them, with no problems, for over 20 years.
- Don't overbake, that will definitely cause problem.
- Water baths can help but if you are using a cheesecake pan with a removable bottom it needs to be wrapped in aluminum foil so the water doesn't seep in.
- Always allow the cheesecake to cool completely at room temperature before refrigerating. Refrigerate overnight.
Making Cheesecakes Ahead of Time - most cheesecakes can be made several days ahead of serving. At the bakery we sold our cheesecakes to our wholesale clients frozen. To that, place in the refrigerator a full day or two ahead of time.
Gluten Free Cheesecakes - So long as flour is not used in the cheesecake itself, gluten free graham cracker crumbs can be used for the base of a cheesecake requiring them for the crust.
If you have a Cheesecake tip you would like to share, please put it in the comment area. I will be happy to gather them up and post them.