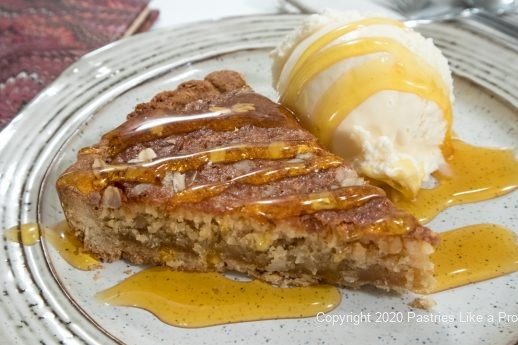 This Macadamia Golden Syrup Tart comes to us from Australia and contains two of my favorite ingredients – macadamia nuts and golden syrup. I fell in love with macadamia nuts when a neighbor would bring them back from Hawaii in various forms.
And then I've mentioned before that I could eat the Lyle's Golden Syrup straight out of the bottle with a spoon. It's that amazing. It can be easily found online and brings a taste that substitutes simply can't. However, if you have to substitute I have seen clear corn syrup used.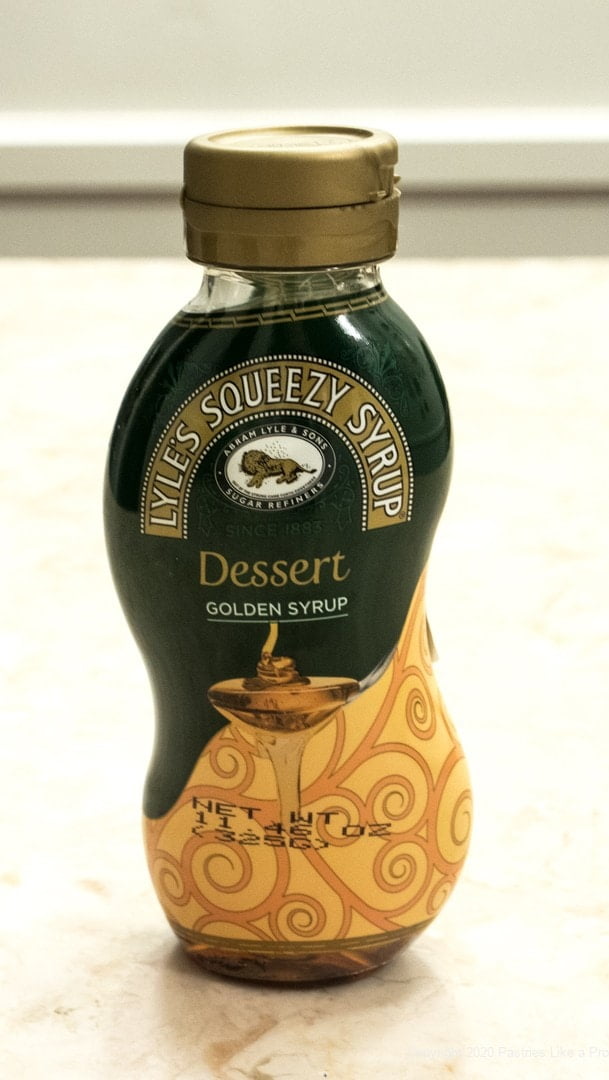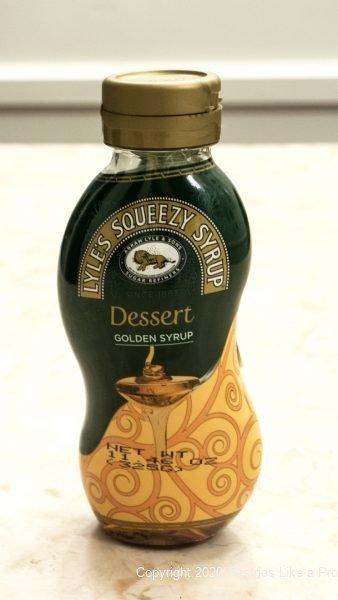 The original recipe as written for Australian bakers used gram measurements – also my favorite. However, they don't translate well to volume measurements which is why you will find some rather strange numbers.
The only other thing I changed was how the Macadamia Golden Syrup Tart was put together. I used the food processor to make this easy and pressed in the crust instead of rolling it out.
Brown Sugar and Oat Pastry Crust
1 cup +1 tablespoon all purpose flour (150 grams or 5 ⅓ ounces)
¼ cup packed brown sugar (50 grams or 1 ¾ ounces)
½ cup unsalted butter, cold and cut into small pieces (114 grams or 4 ounces)
⅓ cup oatmeal (30 grams or 1 ounce)*
1 egg yolk
1 tablespoon cold water
*I used old fashioned oats as opposed to quick oats.
Preheat the oven to 400°F. Spray the center only of a 9x1 inch tart pan with a removable bottom. Set aside.
Place the flour and brown sugar in the bowl of a food processor and pulse several times to mix.
Add the butter to the processor.
Process until indistinguishable.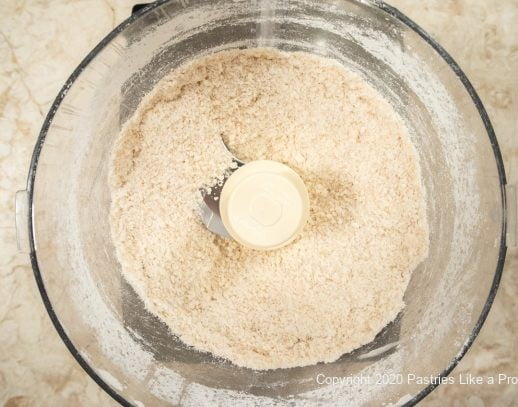 Add the oatmeal, egg yolk,and water.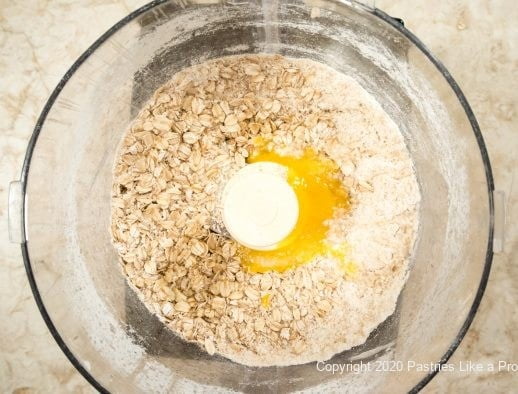 Process until a ball forms.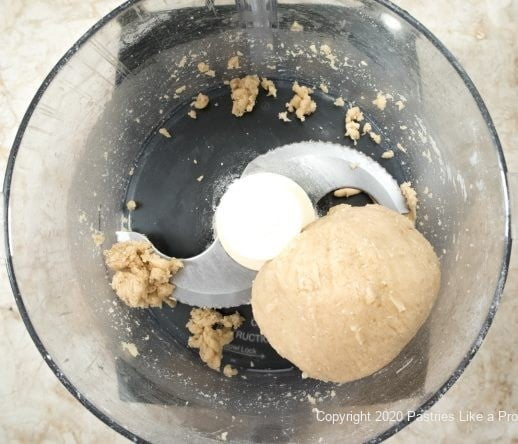 Remove the dough and weigh 2 – 100 grams (3 ½ ounce ) pieces. The remaining piece will weigh about 175 grams (6 ⅛ ounces). If you're not using a scale, divide the dough in half with one half being slightly larger. Set that aside for the bottom. Divide the remaining piece in half.
For How to Pictures go to our vegetable tart recipe.
Roll the 2 smaller pieces into ropes and place them along the sides of the tart pan, overlapping the edges. Press them in.
Place the remaining piece in the bottom and press it evenly across the bottom and join it well with the sides.
Spray a piece of foil (do not use parchment, it isn't strong enough) and place it, sprayed side down, into the tart. Make sure the foil is pressed into the edges.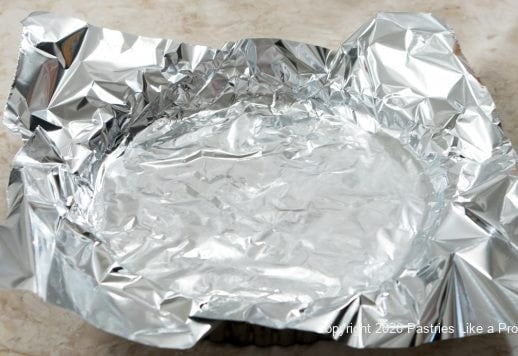 Fill with weights up to the top. I use beans I've had for a long time because they are heavy.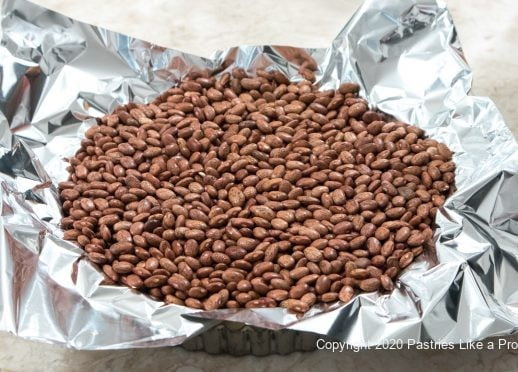 I've seen rice used but I don't think it is heavy enough. Also, they sell pie weights – just make sure there are enough to go to the top of the pan.
Bake for 10 minutes. Remove the weights*. Bake 10 minutes more. The shell will be lightly browned. Cool. REDUCE THE OVEN TO 350°F.
*Carefully remove the weights by bringing the four corners of the foil to the center and lifting it out. If using beans, cool them completely before putting them back in the storage container.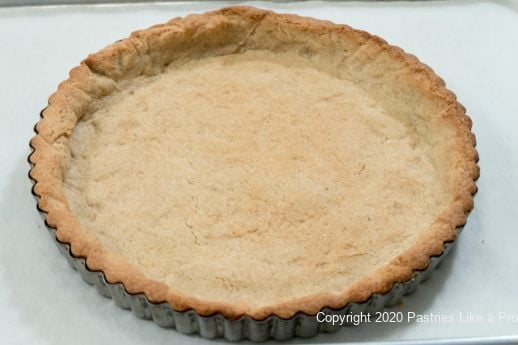 Macadamia Golden Syrup Tart Filling
5 ounces macadamia nuts (140 grams)
½ cup unsalted butter, softened (114 grams or 4 ounces)
½ cup golden syrup
2 eggs
¼ cup all purpose flour (35 grams or 1 ¼ ounces)
½ cup +1 tablespoon unsweetened coconut (20 grams or ¾ ounce)
1 to 2 tablespoons oatmeal for topping
If the nuts are not toasted place them, in a single layer, on a rimmed sheet tray. Bake for 7 to 10 minutes depending upon the size of the nuts, stirring once or twice. They should be golden and fragrant when done. Cool before continuing.
Without cleaning the processor, add the nuts and pulse to chop. Do not chop too fine. Remove from the processor.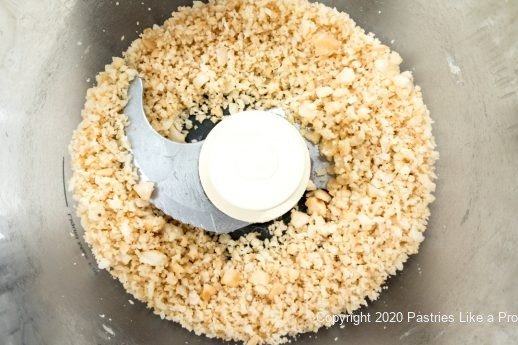 Place the butter, golden syrup, eggs, and flour in the processor bowl. Process until smooth.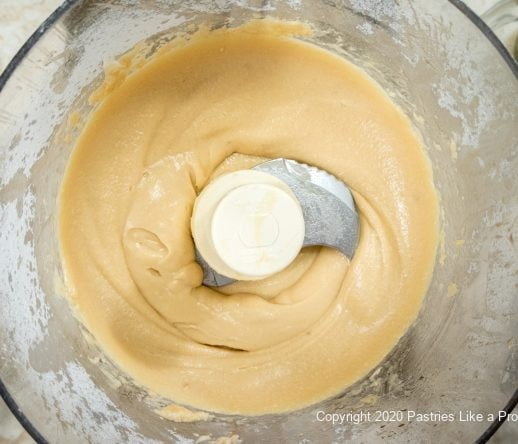 If it appears curdled at any point, just process it longer. It will come together.
Add the nuts and coconut and pulse 3 or 4 times to distribute.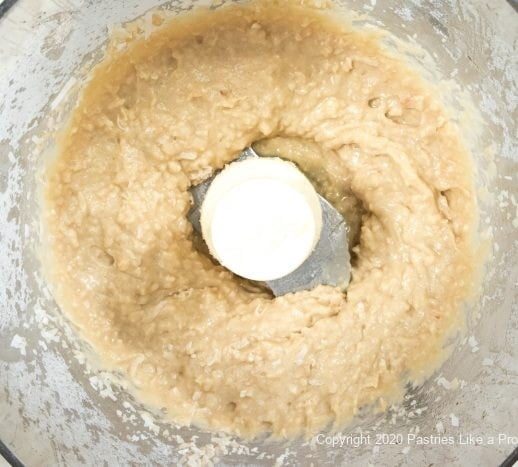 Pour into the baked shell. Sprinkle with oats.
Place on a parchment lined baking sheet and bake for 25 to 30 minutes until it is set. Tent with foil if it is browning too quickly.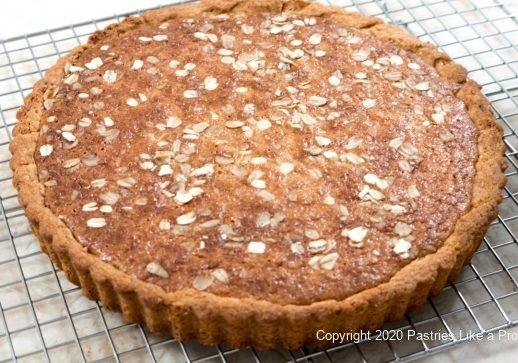 Cool and serve it plain, or as they do Down Under with vanilla ice cream drizzled with golden syrup.
Here are a few more recipes using Lyle's Golden Syrup that you might like.:
Love Bars from Bourke Street Bakery
Cinnamon Whiskey Apple Tart
Candied Orange Peel