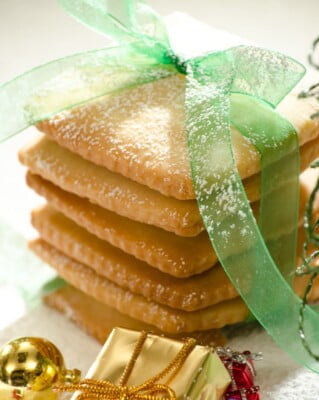 I wait for the winter holidays for Ghirardelli to send out its peppermint squares again just to make these Peppermint Ravioli Cookies. This once a year treat is delicious on its own, but incorporated into a cookie can't be beat.
And if you're looking for something different to add to that cookie exchange or tray, these Peppermint Ravioli Cookies could be just the thing.
After the holidays were done, we snapped up all the half price or less peppermint squares we could find. I had a ball in January working with them. These Peppermint Ravioli Cookies are easy to make and would be a perfect gift for anyone during the holidays, and what a treat for those of us loving this candy as I do.
The European cookie dough is easily put together, although different than we normally put together an American dough. I love it because it rolls out so easily and keeps its shape when baked. As most European cookie dough, it is simplicity itself and lends itself to stuffing of some sort.
The dough rolls easily between two sheets of waxed paper. The paper can be flipped to make sure it hasn't wrinkled underneath, replaced and rolled again. It also makes it very easy to pick the paper up and place it on a tray to chill if it becomes soft. For more detailed instructions on this method of rolling out, please see my blog on Murbteig Pastry.
Because of the brief time in the oven, the chocolate patties in the Peppermint Ravioli Cookies do not melt or change shape.
For additional Holiday cookies, see:
Triple Ginger Thins
Pfeffernusse Cookies
Murbteig Pastry
Holiday Cookies
Chocolate Dipped Sweet and Salty Cookies
Hermits
Plus more in the cookie category
Peppermint Ravioli Cookie Dough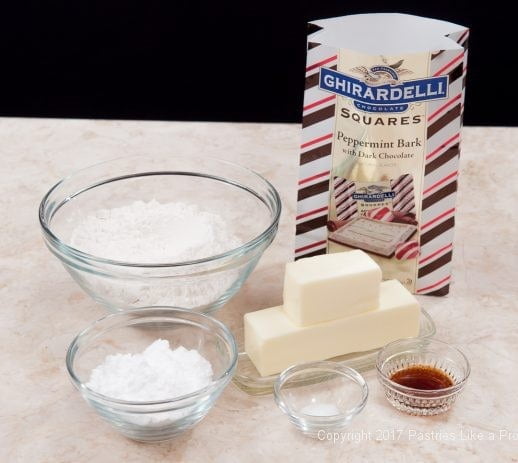 3 cups all purpose flour (420 grams or 14 ¾ ounces)
¾ cup powdered sugar (98 grams or 3 ¼ ounces)
⅔ teaspoon salt
3 sticks unsalted butter, room temperature (340 grams or 12 ounces or 24 tablespoons)
2 teaspoon vanilla
16 Ghirardelli peppermint squares – either dark or milk chocolate
Preheat the oven to 350 degrees. Line a baking sheet with parchment paper.
Whisk together the flour, sugar and salt; set aside.
Beat the butter and vanilla together until creamy.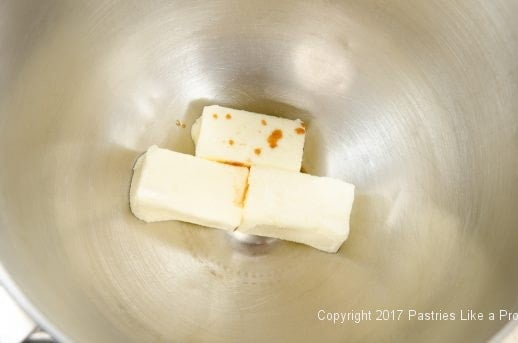 Add the flour mixture all at once and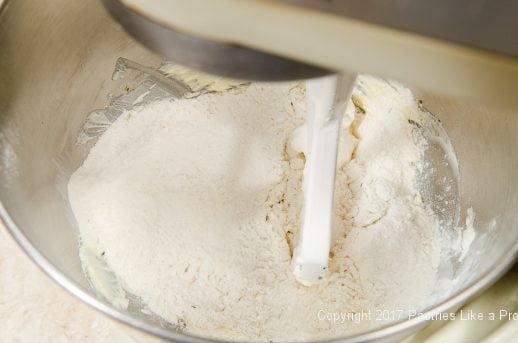 beat just until blended. If the dough is really soft, chill briefly.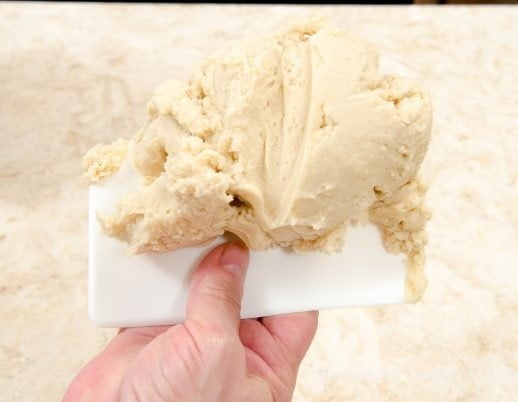 The dough weighs 820 grams or 28 ¾ ounces.
Shaping the Cookies
Divide the dough into fourths (205 grams or 7 ⅕ ounces). Roll one piece between wax paper into a 12 ½ x 6 ½ inch rectangle.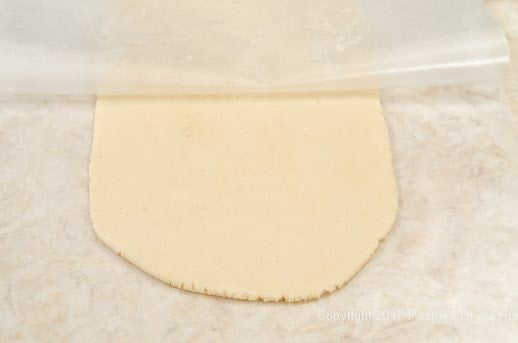 Nobody I know can do this in one pass. Trim the excess dough and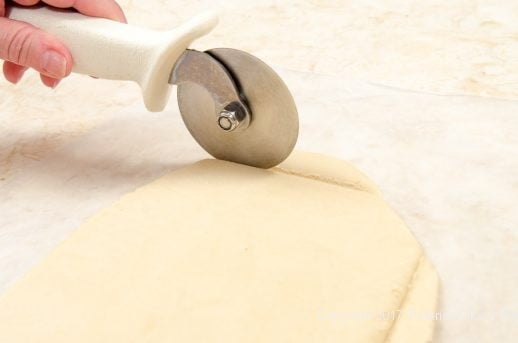 patch around the corners, which should be squared. Roll lightly over them.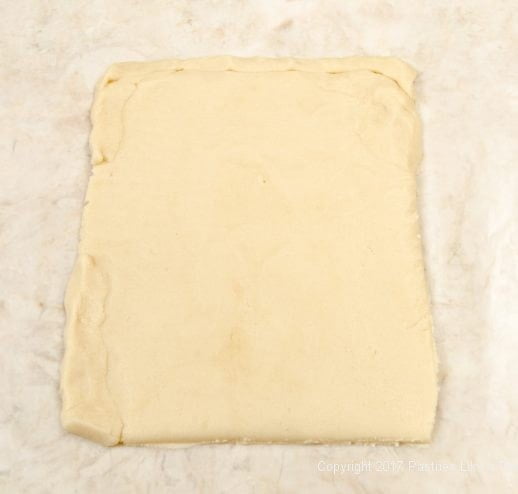 Trim to a 12x6 inch rectangle.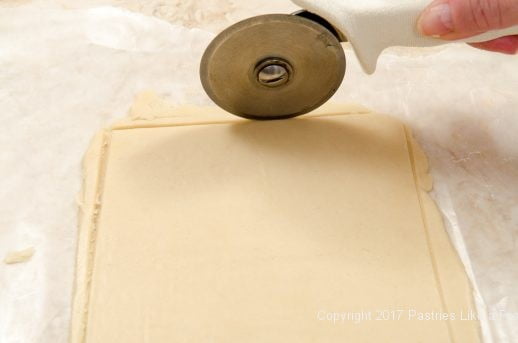 Place 4 peppermint squares, equally spaced, on the top of the dough and 4 on the bottom, leaving ½ inch on the ends and 1 inch between squares.
Roll a second piece of dough between waxed paper as above. Lightly wet the exposed dough around the squares with water.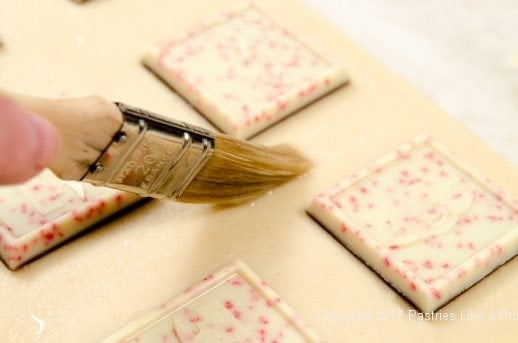 Remove the top piece of waxed paper. Pick up the bottom piece of paper and lower it, dough side down, over the squares. Remove the paper.
Press the top dough firmly on the top of and around the squares.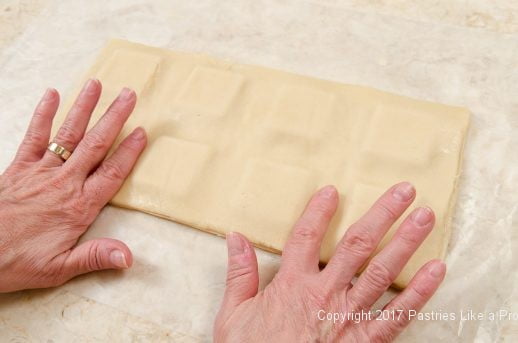 If air bubbles form, prick them with a cake tester and press out the air. Make sure the top, bottom, and sides of the cookies are pressed well so the shape of the square shows. With a fluted pastry cutter, or a pizza cutter, trim the outer edges, so they are flush. Cut between the squares and around the edges, leaving a ¼ inch overhang. Chill until firm.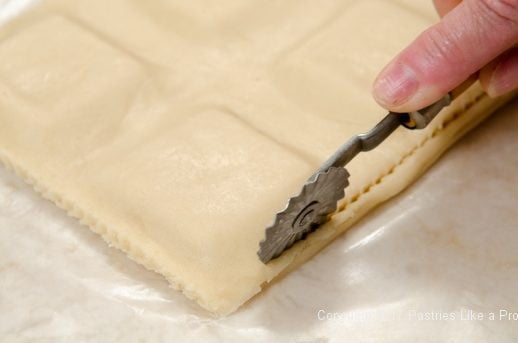 Repeat with the remaining two pieces of dough.
Bake at 350 degrees for 10 to 12 minutes.
Note: There should be 16 to 18 squares in a bag of Ghirardelli Peppermint Squares.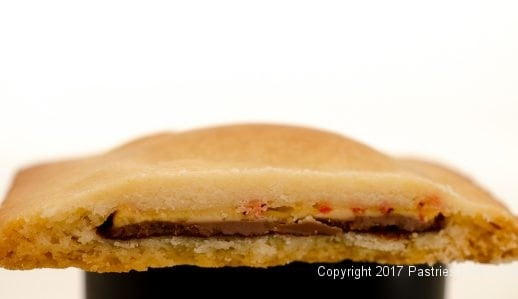 Yield: 16 Peppermint Ravioli Cookies
SaveSave
SaveSave
SaveSave
SaveSave
SaveSave
SaveSave
SaveSave
SaveSave
SaveSave
SaveSaveSaveSave
SaveSave
SaveSave
SaveSave
SaveSave
SaveSave
SaveSave
SaveSave
SaveSave
SaveSave