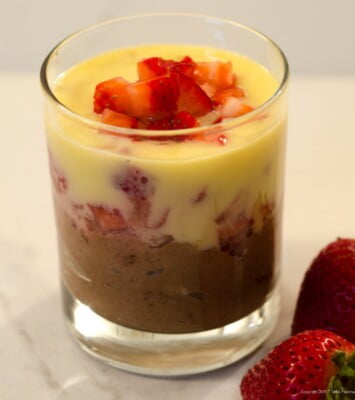 A verrine is a layered dessert or appetizer that is served in a small glass.  The glass allows for a beautiful vertical presentation.  Verrines originally came to us from France, but as with all foods we make them ours by the ingredients used.
With strawberry season upon us, this strawberry verrine is the perfect example of an updated classic dessert.   Many of the original dessert versions featured Bavarian cream which is set with gelatin.  There are usually three layers and anything goes.
This version actually consists of two recipes already on the blog.  Each changed just slightly to achieve this verrine.  This can be made a day or two ahead without the decorative strawberries on top.  The mousse consists of the Dark Satin Ganache to which I add whipped cream when it has cooled.  The top is pastry cream without the gelatin so it is a softer cream. The strawberries should be diced very small, about ¼ inch so each mouthful gets a goodly amount that will blend with the other ingredients.
The number of servings will depend upon the glass used.  The verrine  pictured is about 1 cup total between the three components.
So now you can add another dessert to your collection or menu.  They can be endlessly changed and are a great seasonal dessert.
Chocolate Mousse* - for how to photos of the ganache see Lamington Torte
¼ cup 40% or heavy cream
2 tablespoons clear cornsyrup
2 ½ tablespoons butter (35 grams or 1 ⅓ ounces)
5 ounces 58% to 62% semisweet chocolate 140 grams)
½ cup 40% cream, whipped
Combine the¼ cup cream, cornsyrup and butter in a small saucepan until the butter is melted and it is very hot. Submerge the chocolate and after several minutes whisk until combined. Cool completely.
When the ganache has cooled, whip cream until fairly stiff.  Fold the chocolate and cream together.
The ganache can be made days ahead and heated briefly in the microwave until the whipped cream can be folded into it.  It must be completely cool before the cream it added.  The mousse should be made when you want to assemble the verrines.
Strawberry Verrine
Chocolate Mousse, above
1 pnt Fresh strawberries, cut into ¼ inch dice
1 recipe Pastry Cream , omit the gelatin.  For how to photos go to All About Pastry Cream
The pastry cream should be made at least on day head and refrigerated before being used.
The number of Strawberry Verrines you get from a recipe depends upon the size of the glass  used.  I got 6 using the the ingredients above.
Layer the mousse into the bottom of the glasses.  Add a thick layer of the strawberries on top of it, reserving some for garnish if serving the same day.  Top it off with the pastry cream and a few strawberry pieces on top.  Cover the glasses with film and refrigerate until ready to serve.  Place a few strawberries in the middle for garnish.  If you have made the verrines ahead, cut a few strawberries for garnish.