Honey Diamonds are a rare cookie with no shortening, these soft pillows of spiced chocolate are actually more little cakes packed with flavor that only get better when they sit. Its quick preparation is a boon to busy bakers and as a bonus they make the house smell wonderful while baking.
These were always a special Christmas cookie growing up and I kept that tradtion going when I married.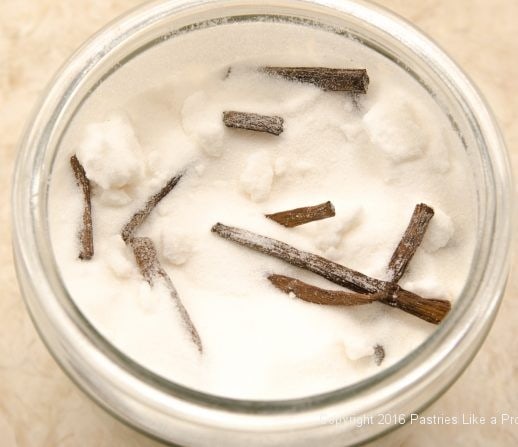 The simple finish of coating the Honey Diamonds in vanilla sugar is all that is needed to finish them. Vanilla sugar is easily made by burying a few vanilla beans in a jar of granulated sugar and aging it for weeks, months or years. I have added vanilla beans to my canister of vanilla sugar over the years as you can see. If I use a vanilla bean in a poaching liquid I rinse and dry it and then add it to the sugar. If I use only the seeds in a recipe, I add the pod to my sugar. I replace sugar as needed and it can be used anywhere sugar is called for.
The only really caveat is to make sure they are not over baked which will dry them out. The edges of this pan cookie will rise higher than the middle. I push the edges down as soon as hey come from the oven but be careful the pan is hot. The edges will never be quite the same height because the middle falls somewhat after baking but it really doesn't matter.
Make the Honey Diamonds a day or two ahead, cut and sugar them, then place them in an airtight tin to mellow. This combination of honey, brown sugar, spices and chocolate is one of my all time favorites. The combination of chocolate and these spices was the inspiration for my Chocolate Spice Olive Oil Biscotti.
Honey Diamonds
3 ounces unsweetened chocolate (85 grams)
5 eggs
1 pound brown sugar (454 grams or 16 ounces)
1 teaspoon vanilla
½ cup honey
2 teaspoons cinnamon
½ teaspoons cloves
¼ teaspoon nutmeg
¼ teaspoon salt
1 teaspoon baking soda
1 teaspoon baking powder
3 cups all purpose flour (420 grams or 14 ¾ ounces)
4 ounces slivered almonds (114 grams or 4 ounces)
Additional granulated sugar as needed or vanilla sugar, see above
Preheat oven to 350 degrees. Lightly spray the bottom of a 9x13 inch pan. Cover with a piece of parchment paper. Set aside.
Melt the chocolate, cool and set aside.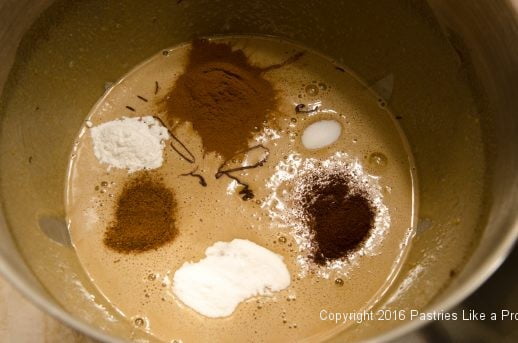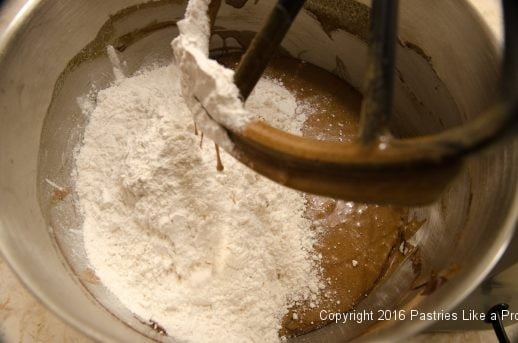 Combine the eggs, sugar and vanilla in a mixer bowl. Beat until ingredients are mixed on medium, then beat on high for 2 minutes. Add the honey, chocolate, cinnamon, cloves, nutmeg, salt, baking soda and baking powder. Beat until thoroughly blended.Add the flour and mix on low until completely combined, scraping down as necessary.Add nuts toward the end. You have to really look - I forgot to tell Mike I was adding them.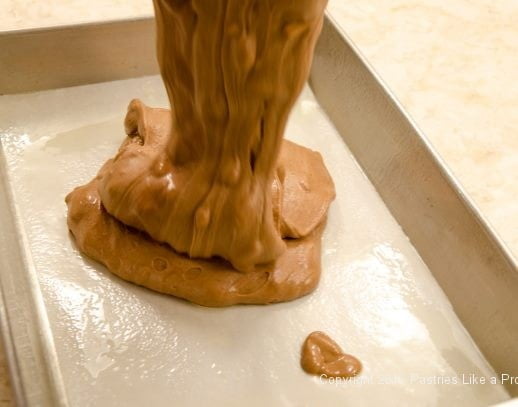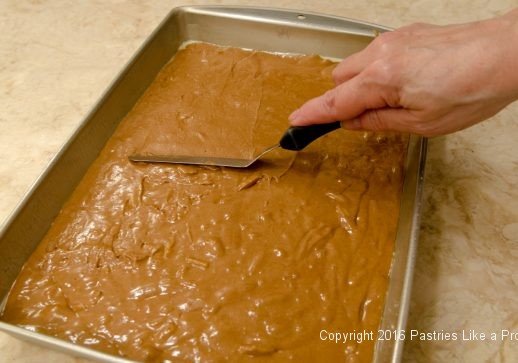 Pour the batter into the prepared pan. Smooth out and bake 32 to 35 minutes until a tester comes out very slightly sticky when inserted in the center of the pan. Do not overbake or they will be dry.
As soon as you remove them from the oven, carefully push the edges down to flatten them as much as possible as they will be higher than the center. They will remain somewhat higher but that is as it should be.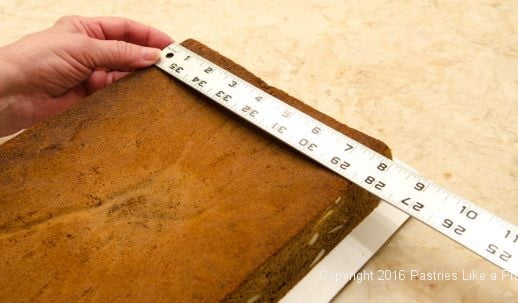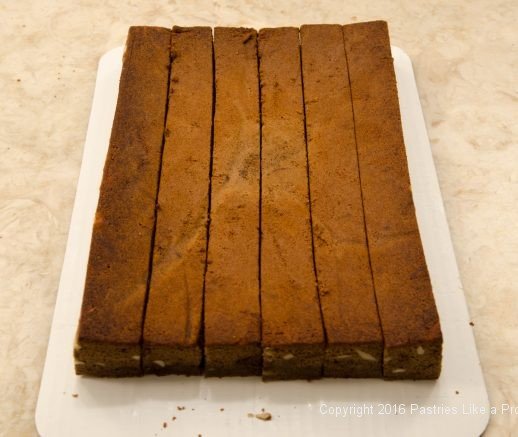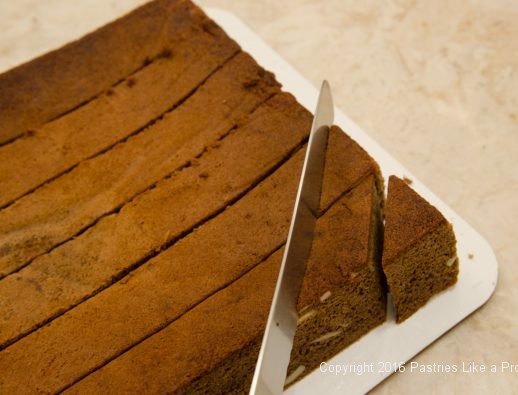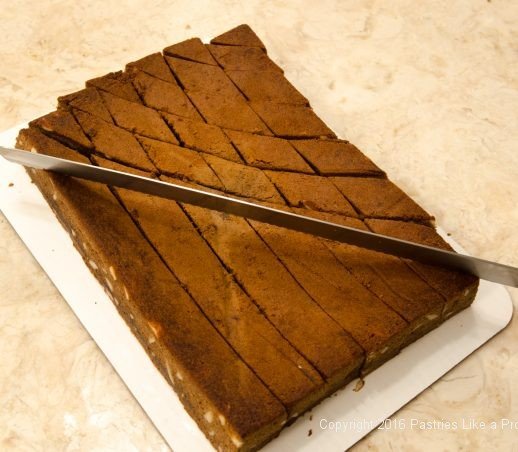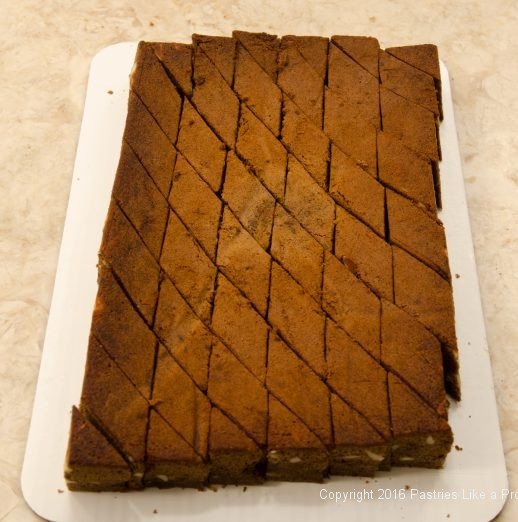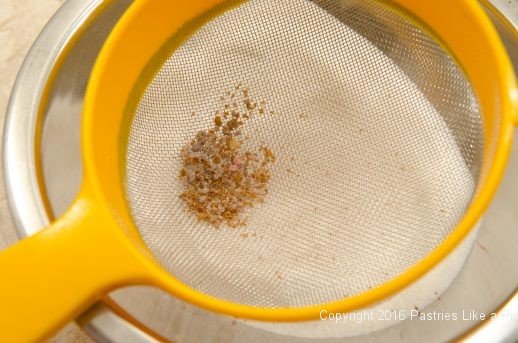 Let cool in pan until just warm. Loosen the edges with a spatula. Turn out onto a board and remove the parchment paper. Leaving the Honey Diamonds upside down, trim edges (you don't see the scraps because we ate them too fast, sorry!) and cut into strips approximately one inch wide. Mine were abut 1 ¼". Cut on the diagonal to form diamonds.
The easiest way to do this is start cutting at the top of the next vertical strip as seen below. When you run out of the top of the strip, cut from the bottom of the strip up. Clean your knife between each cut by scraping off the residue with another knife. This will give you the cleanest cut. Also, do not pull the knife back up to the top. Slide it out at the bottom to avoid crumbs on top and a ragged cut.
Press all sides into granulated or vanilla sugar. After the Honey Diamonds have all been sugared, strain the sugar to remove the crumbs and store back in the canister. Store in an airtight tin for a couple of days so the flavors meld and mellow.
Yields: About 36 to 40 diamonds and some great scrapes. These may be cut into squares or bars if desired to do away with the scraps and get a greater yield. But you will be sorry you don't have them to eat.
To Make Ahead: These freeze very well for several months without the sugar. Thaw, cut and roll in sugar.
SaveSave