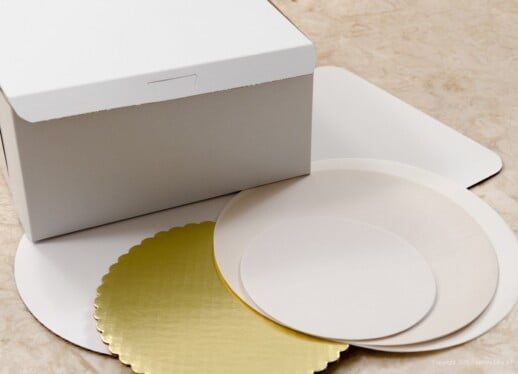 By habit and desire I use many of the cake paper goods for cakes I was accustomed to at the bakery. They make baking a lot easier and, in most cases, better looking. While local craft supply stores, kitchen stores and grocery stores now may carry some of these they are usually quite expensive and not necessarily the best of that particular item.
If you bake a little or a lot, are a home baker or a professional, there are cake paper goods used in baking that make cake making so much easier. Parchment paper rounds that are sized to individual pans used for baking, corrugated cake boards on which to place the cake for finishing or presentation, gold boards that upscale the presentation and boxes to transport the cakes are essential in the bakery kitchen. Foil covered foam core boards, often referred to as drums, are essential for heavy cakes or wedding cakes.
When I owned the bakery, I would buy these cake paper goods from local wholesale suppliers. However, the internet has provided a venue that was not available when I started and one that should be looked into. There are places that will sell a little or a lot.
As I researched cake paper goods, I came back again and again to one source that consistently had the best prices for each of these items – https://www.webstaurantstore.com. I have also included at least one source that sells in smaller lots for each of these items.
When buying on the net, remember to check the shipping costs.
It is extremely important to research when looking to buy cake paper goods. I found one supplier offering 1,000 nine inch parchment rounds for $14.49 and another offering the same thing for $58.00. Parchment rounds are pretty much parchment rounds so the price difference is astounding. They do vary in color from batch to batch but it doesn't make a difference.
A word about Amazon.com. While they have multiple suppliers of cake paper goods, the prices are almost always higher than if you just spend some time looking around. Money-wise it will be well worth it.
If you just make an occasional cake, buying from your local hobby, kitchen, or grocery store is fine. But if you make cakes on a frequent basis, it may pay to check out these sources for cake paper goods. I'm sure there are many, many more on line but these are the ones I came across in my search with good pricing.
Parchment pan liners – these eliminate the need to butter and flour pans. In order to get flat cake layers, I simply line my pans with parchment rounds, spray the center only and bake.
King Arthur has 48 rounds for $6.95 at https://www.kingarthurflour.com/shop/items/round-parchment-paper-9-inch
https://www.webstaurantstore.com/9-round-dry-wax-parchment-pan-liner-1000-case/ This is the best price I found on parchment rounds - $14.49 /1000/9". This is a good price for 1,000. Storage wise they come in a box 9 inches square and about 4" high.. If you think these are too many, compare them to lesser amounts at higher prices. They also come in the following sizes - 6", 7", 8", 9", 10", 12".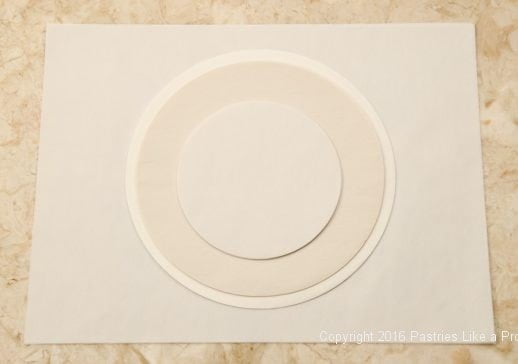 The difference between parchment paper and wax paper as explained by Webstaurant.
"Parchment paper is coated with silicone or Quilon to give it a non-stick, heat-resistant surface that makes it great for lining pans during baking. This eliminates direct contact between food and hot metal to retain moisture and give you a better end product. It makes food safer since food never touches the pan, minimizing the chance of surface contamination while also protecting plumbing and the environment since grease goes into the trash and not down the drain.
Wax paper, on the other hand, is coated with a wax like soybean or paraffin that makes it great for wrapping food while resisting moisture transitions in either direction, keeping moist food juicy, and preventing dry foods from getting soggy. Another reason wax paper is great for wrapping food is that you can safely write on it with a sharpie or apply tape for labeling and simple product identification. Unlike parchment paper, wax paper is not heat resistant and should not be used as a pan liner—many have tried to do so in a pinch, only to melt the wax and create a ... "less than desirable" smoke, odor, and flavor in your baked goods (see: previous crayon inquiry)".
Waxed or Grease Proof corrugated boards – Waxed boards are preferable to unwaxed even though they are more expensive. Unwaxed boards will draw the moisture from a cake. Additionally, the bottom layer can absorb an off taste from the cardboard. Waxed boards prevent either of these. Also, if presenting cakes on a cake board, the waxed rounds make a much better appearance. The edges can be cleaned after icing a cake without smearing for a professional finish.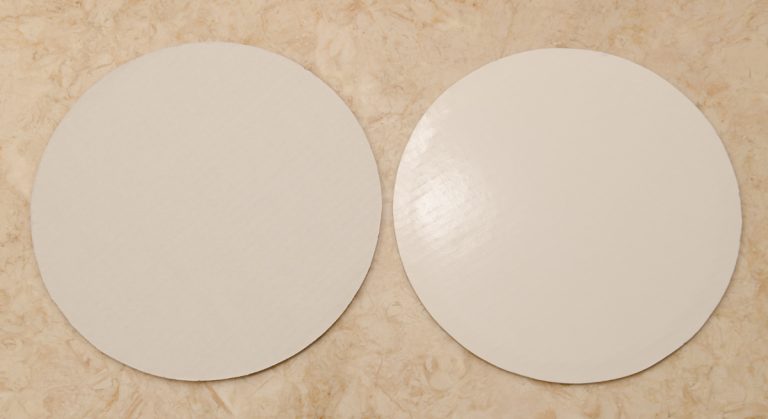 The board on the left is unwaxed. The board on the right is waxed.
If using cake boards for presentation or transportation, they should be at least 1 inch larger that the cake size. In other words, a 9" cake would be put on a 10" board.
There are times that you want to have a board that is flush with the cake such as stacked cakes. We stocked a number of sizes of boards for this reason, but if you are not in the baking business, it is easy to trim a larger board to fit.
If using as cake bases for stacked or heavy cakes, it is best to use two boards and turn one so the corrugation runs in the opposite direction before taping them together.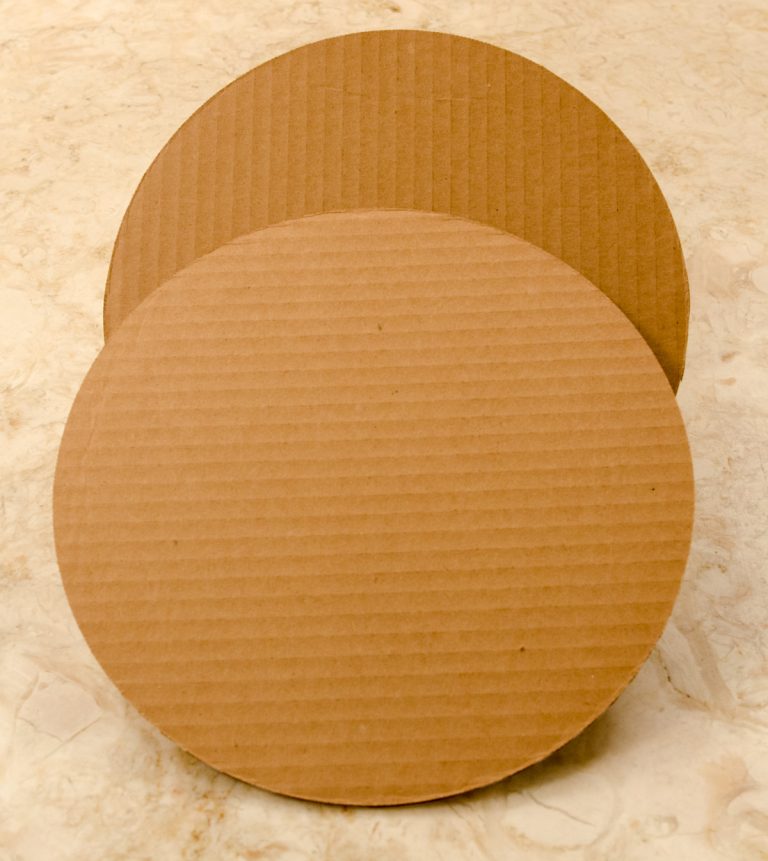 This make the board extremely strong. Having them in the same direction doesn't provide the same strength and they can buckle.
The corrugated boards some in different sizes as well as rectangles. If making ½ sheet cakes, they should be put on double wall or double thick boards. These are heavy enough to hold the cake without buckling.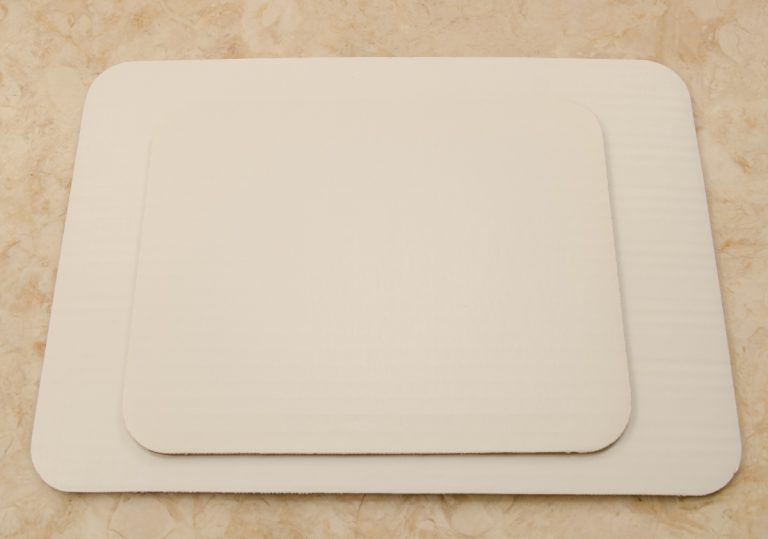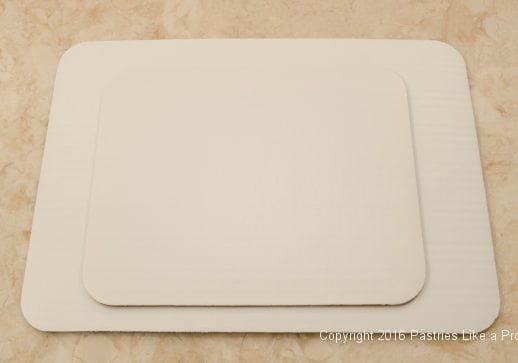 https://www.bgpaper.com/product.asp?Cat=BP-CCW - waxed corrugated boards or circles can be bought individually or by the case, which is a much better buy. They sell from 6" to 18" round boards as well as ¼, ½ and full sheet waxed boards. They also sell the gold rounds with scalloped edges.
https://www.webstaurantstore.com/search/cake-boards.html - They sell waxed corrugated boards and circles packed in 100's in various sizes. They have the best price for waxed boards.
Gold Rounds - These are used to upscale a presentation. The gold foil finish and scalloped edges provide a finished look for cakes. At .17 per 10 inch round https://www.webstaurantstore.com/search/cake-boards.html has the best price. No matter where you get them, they will not always be the same gold color as can be seen in the photo. They come in various sizes.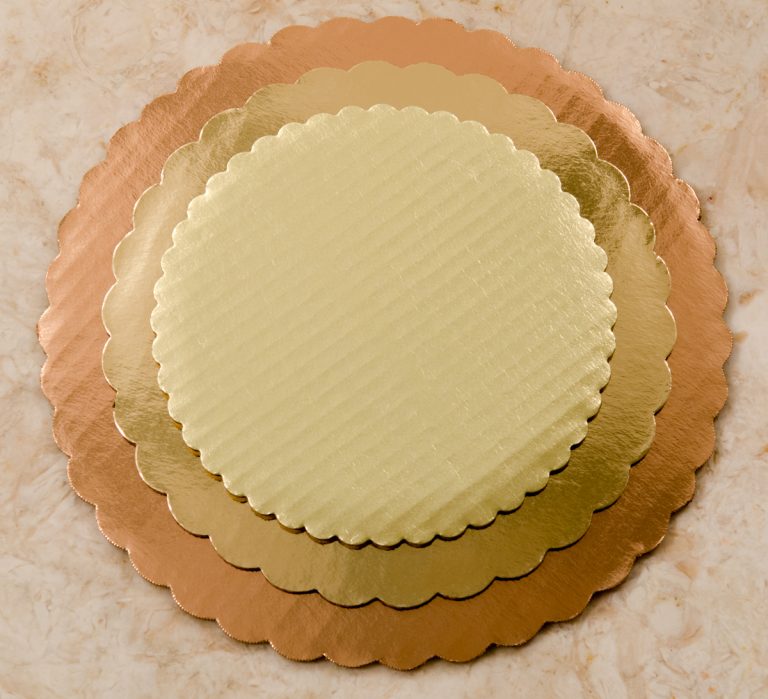 Cake Boxes - If transporting cakes, even occasionally, they are best boxed. Boxes come in a variety of shapes, sizes, and colors with or without clear windows in the top. The windowless boxes are stronger. These boxes are not well suited to freezing and can be refrigerated but will pick up moisture from the refrigerator as they are made of thin cardboard.
They come in white which is the standard with a brown or grey interior color. They can also be found in kraft brown or several colors. They come flat with tabs that interlock.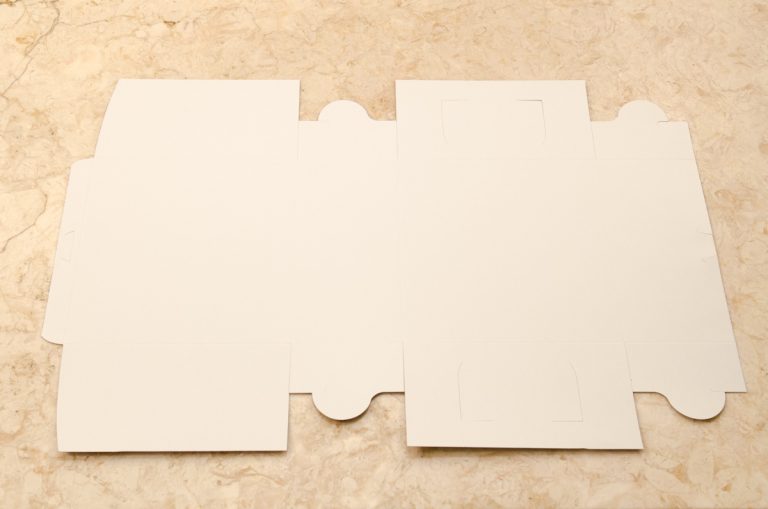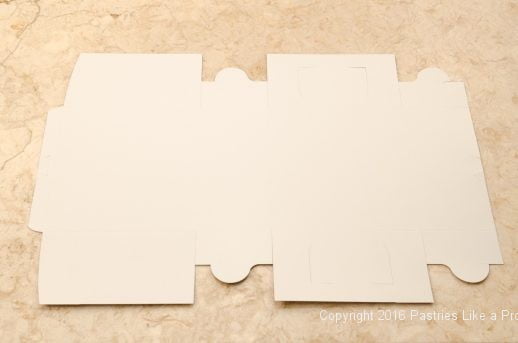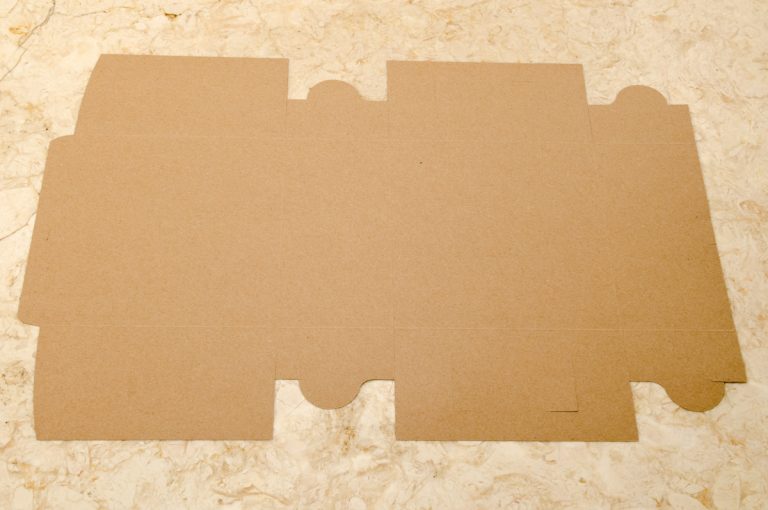 The top sides and lid are taped down outside of the box to avoid touching the cake inside.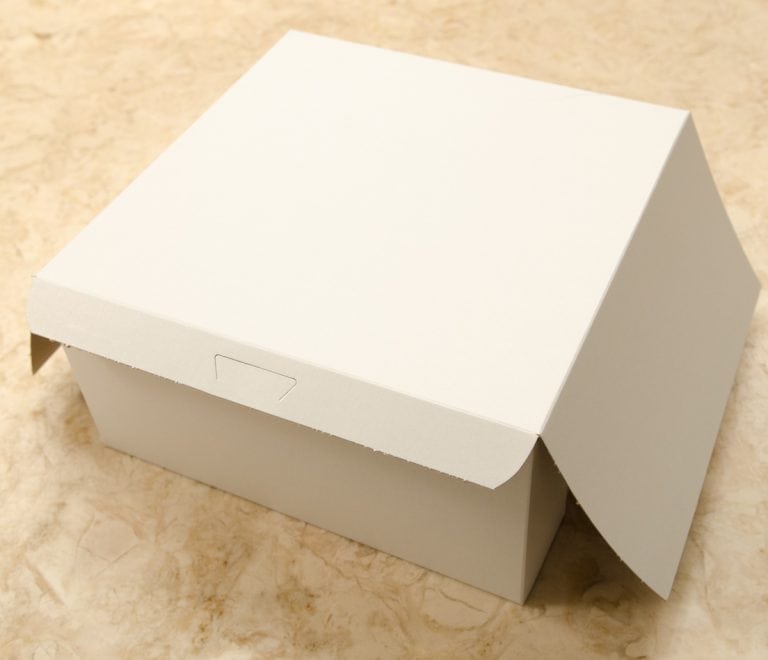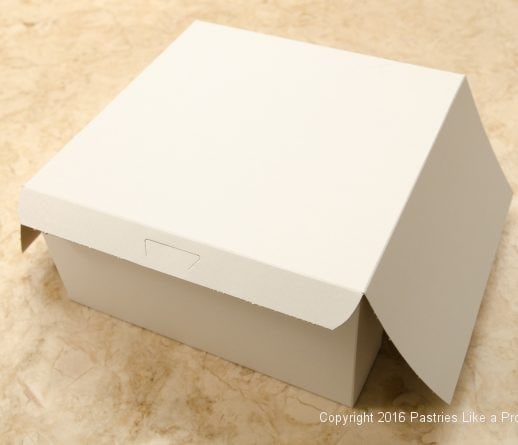 Boxes should always be larger than the cake. For instance, a 9" cake on a 10" board would fit perfectly in the standard size box which is 10x10x5 ½ inch box.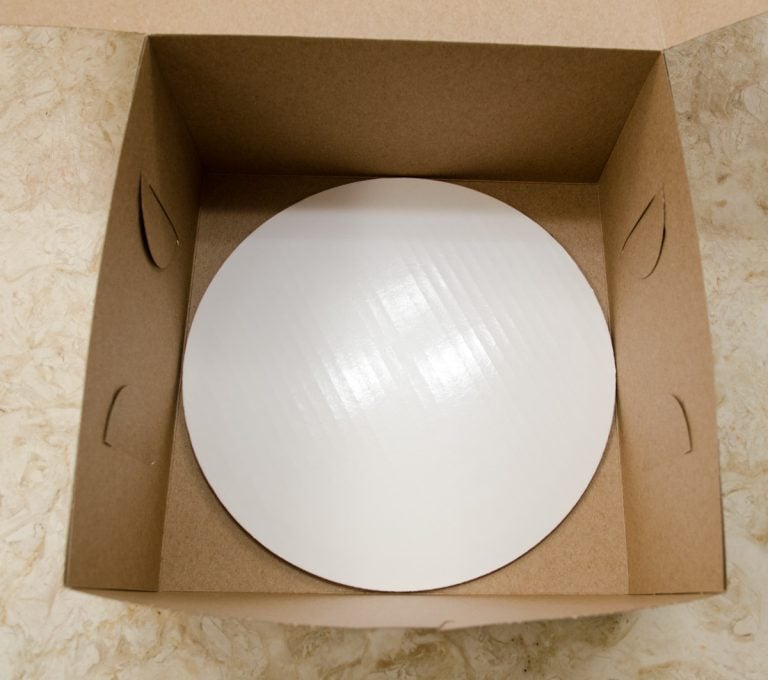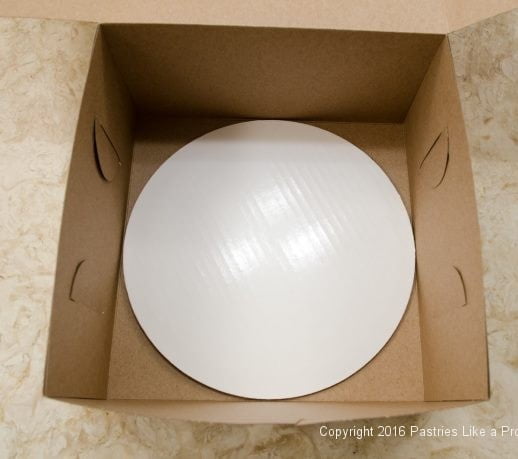 If you want to use this box for a smaller cake, just put a couple of pieces of masking tape formed into a circle to tape the bottom of the round to the box.
https://www.webstaurantstore.com/search/cake-boards.html
https://www.brpboxshop.com/cake-boxes. - There are more boxes here than I have seen anywhere. Prices are high compared to other places but there is a huge selection of sizes and more colors. In addition, you can buy in smaller lots.
Foam Core Cake Boards - also referred to as Cake Drums are used to hold wedding cakes or heavy cakes. It is important here to get boards that are ½" thick. There are ¼" thick cake boards but they are inadequate to support heavy cakes.https://cakesuppliesonsale.com/ has a huge selection of the above. While silver is the most predominant color, they boards come in various colors.