Kifle with Walnut Filling is a childhood memory. Mother would make them and I would wait with great anticipation for the time I could eat them. Kifle can be used with a sweet or savory filling. Just omit the sugar for the savory version and use a filling that isn't wet.
Mother never made a savory version, only the sweet version. However, she would change the filling. She would use a poppy seed version or fill them with lekvar or prune filling, but the Kifle with Walnut Filling was my favorite. Often labeled a cookie, these are actually a pastry. Fleishmann's Yeast has a Walnut Kifle and has this to say about them; " Kifle is popular throughout Eastern Europe and the countries of the former Yugoslavia. This recipe makes a sweet nut-filled butterhorn pastry but kifle may also be left unsweetened and served as a savory sandwich roll. "
The recipe is so similar to my mother's that I think she may have found it on the back of a yeast packet and added a few ingredients on her own. The biggest difference is the yeast. When I made the Fleishmann's version with a whole packet of yeast, the texture of the dough was way off when baked. I used the amount in my mothers recipe and it came out perfectly. Fleischmann's also uses a filling based on meringue with walnuts. I found it to lack any definitive flavor. In any case, Kifle is an easy treat to make and to eat. Mom used a mixer to make the dough where I have updated to a processor that whips this out in minutes. If you want to use the mixer, combine all the wet ingredients including the dissolved yeast. Combine well in the mixer then add the flour, salt and sugar that have been whisked together. The rest is the same.
European sweet doughs are often not sweet at all. Although there is 2 tablespoons of sugar in this recipe it is mainly to give the yeast something to eat while it rests. The Kifle dough is soft and so, so easy to handle. That is what I love about European sweet doughs – at least the ones I have been exposed to. They are generally high in butter and eggs making them much easier to roll and shape without springing back.
Although I usually favor bread flour when using yeast, I used all purpose in this recipe because when I first made it with bread flour, the baked dough for the Kifle was not soft. It was rather like cardboard.
Another very unusual thing about this recipe is that at no time does the dough rise. After mixing and shaping, it is refrigerated to firm it up. After rolling out the Kifle dough and filling it, it goes right into the oven. Now this is a yeast dough anyone can make!! The result is a pastry that is soft but not overly doughy.
The Kifle itself is from the former Yugoslavia where Mom was born and lived before coming to America with her parents. She was a gifted baker, but no matter how many times she made Kifle, it was never enough. I could eat all she could make – unfortunately everyone in the family loved them too so I was limited – probably a good thing.
The dough uses sour cream and butter which guarantees a soft, flavorful dough. There is an easy way to shape the Kifle into little crescents and I think you will find Kifle is not overly sweet but oh so satisfying. The main amount of sugar comes from the powdered sugar that is sprinkled on while they are still warm. These are the perfect pairing to a cup of coffee or tea.
One caveat. Be sure to tuck the tail underneath the dough. I remember when I first made croissant and I didn't tuck the tail underneath. I waited with great anticipation for the results of all my work (I made them the traditional way not my updated method.) However, when I opened the door, several had unrolled! Lesson learned.
If you need any other incentive, these are even better if stored overnight in an airtight container where they will last up to 5 days. They also freeze beautifully but don't powder sugar them. Reheat for a few minutes in a 350°F oven. Then powder sugar them.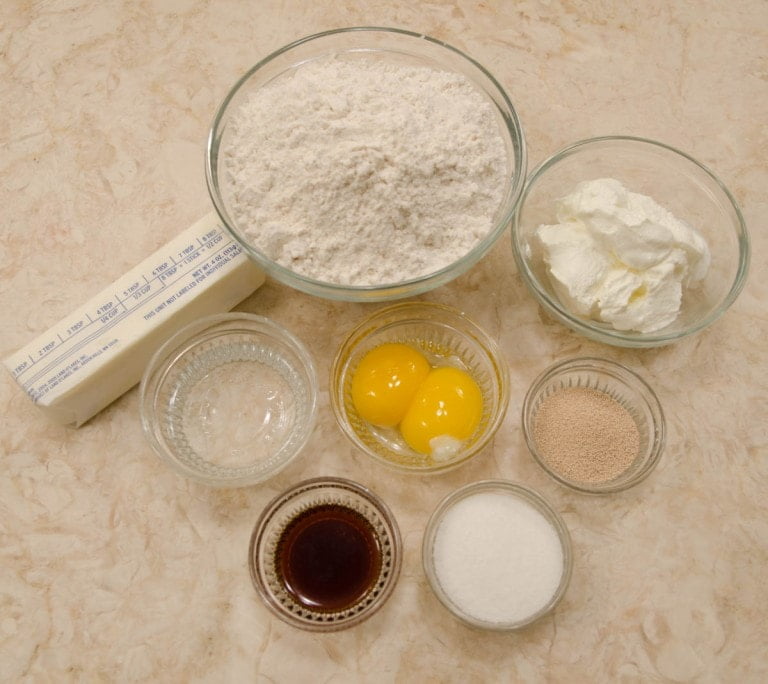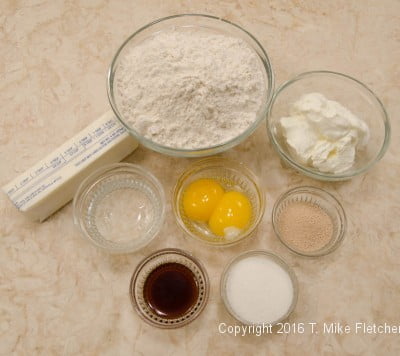 Kifle Dough1 tablespoons warm water
1 ½ teaspoons active dry yeast
2 cups all purpose flour (280 grams or 10 ounces)
½ cup butter, refrigerator cold, cut into small dice (114 grams or 4 ounces)
½ cup sour cream (114 grams or 4 ounces)
2 tablespoons sugar (25 grams or 1 scant ounce)
2 egg yolks
1 teaspoon vanilla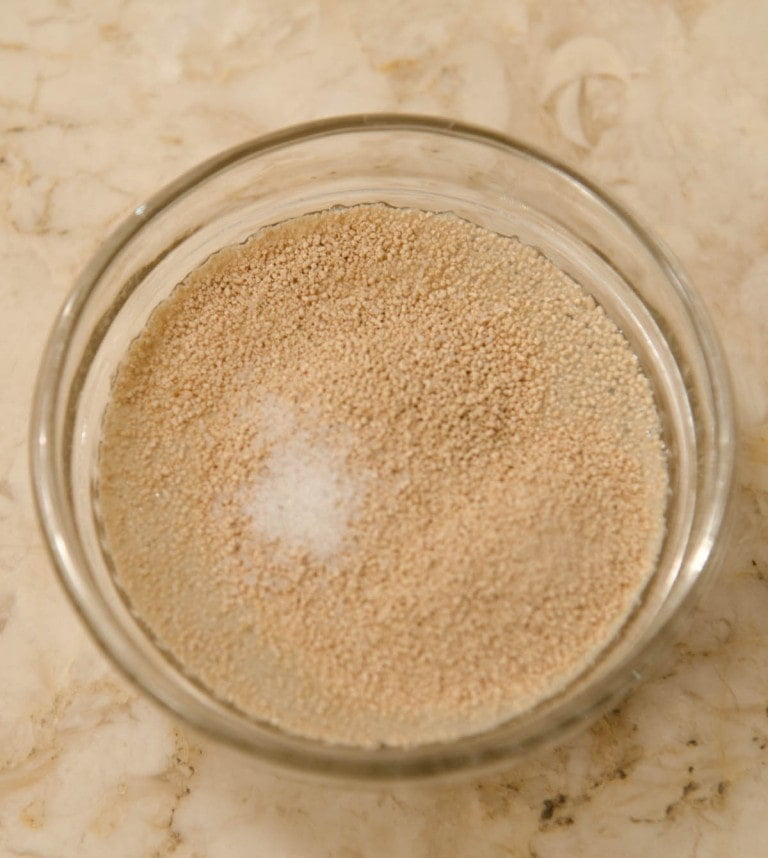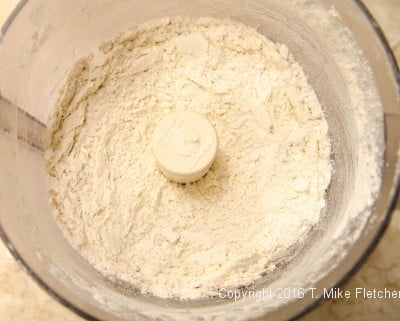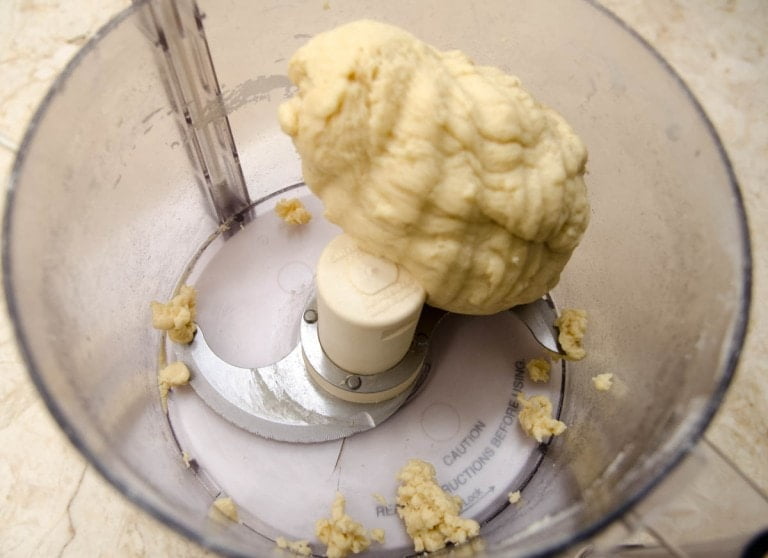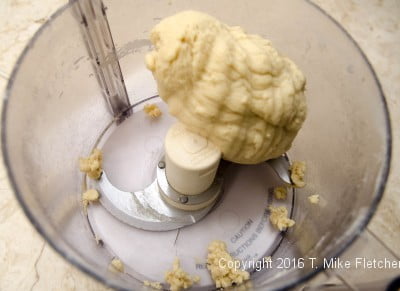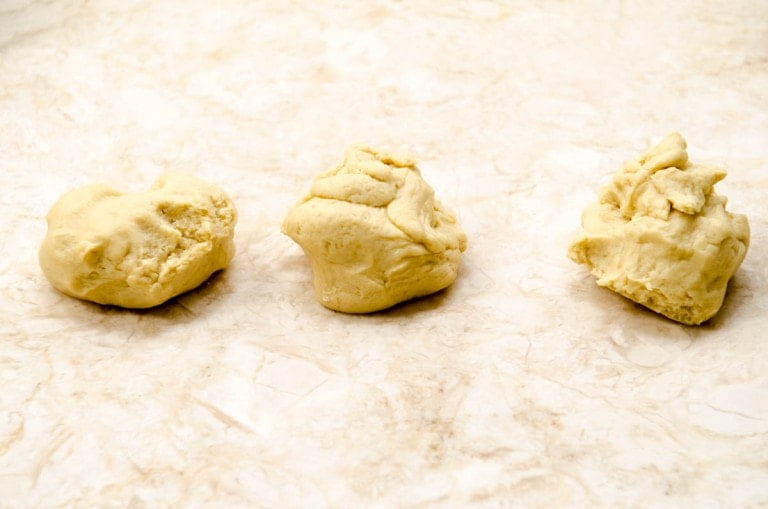 Dissolve the yeast in the water with a pinch of sugar.Place the flour in the processor and process to mix. Add the cold butter, cut into pieces and process until the butter is indistinguishable. Place the remaining ingredients, including the yeast in the bowl of a food processor. Process until a ball forms. Remove the dough, divide it into 3 pieces and put it back into the processor. Process again to form a ball.Remove the dough from the processor. Divide into three equal pieces, about 185 grams (about 6 ½ ounces) each.
Knead each piece 6 or 7 times and shape into balls; flatten them.
Wrap in film and refrigerate for at least 6 hours or preferably overnight.
Walnut Filling for Kifle1 ½ cup chopped walnuts
5 to 6 tablespoons apricot jam
Combine the walnuts with enough jam to hold them together.
Assembly
Preheat the oven to 350°F. Line two or three half sheets with parchment paper. Set aside.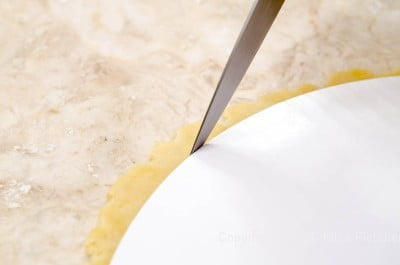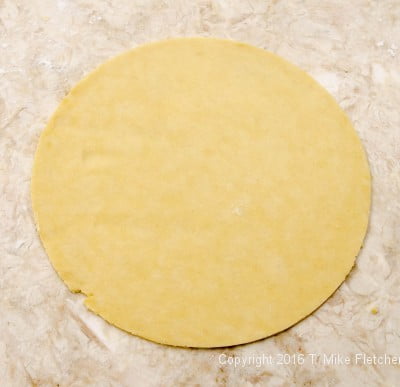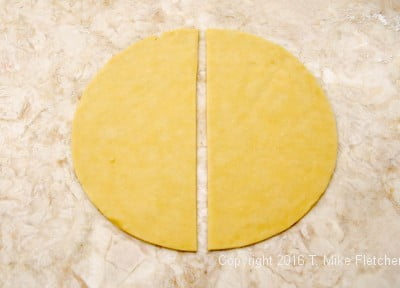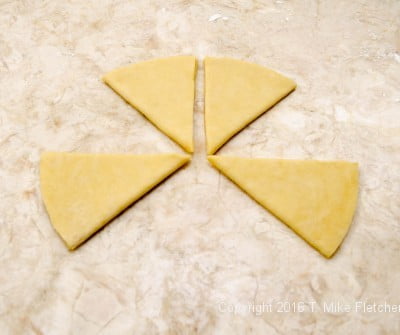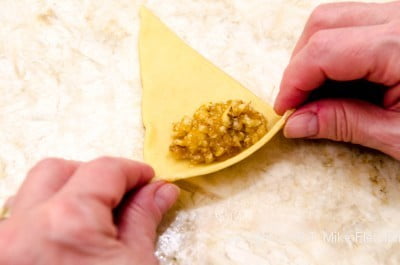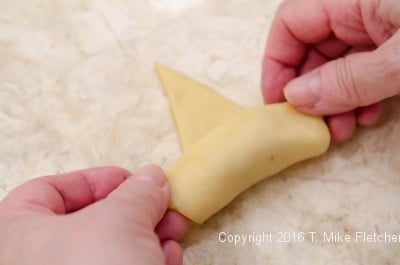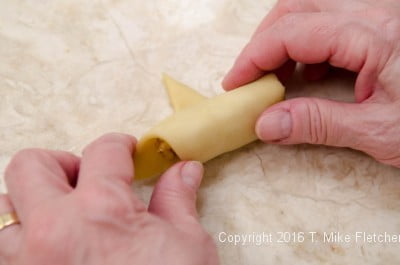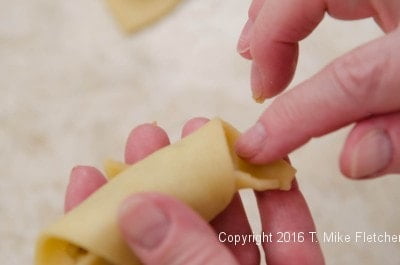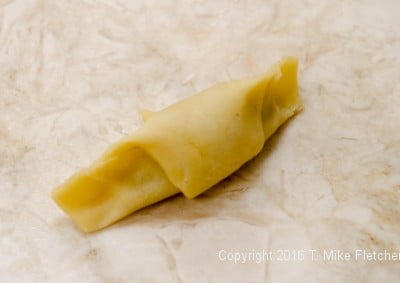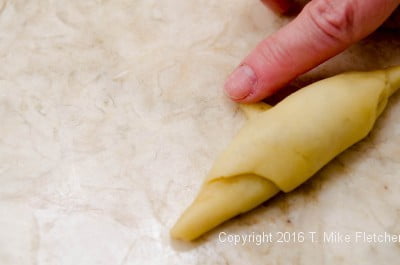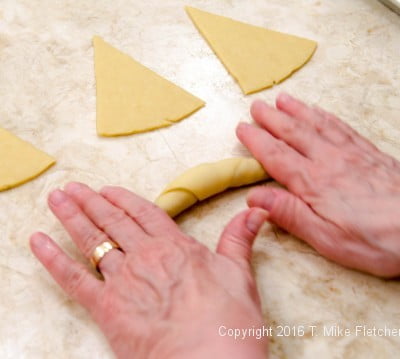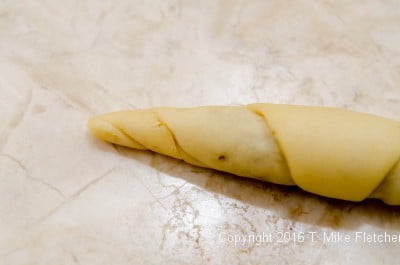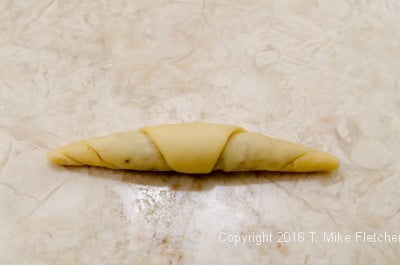 Roll each piece of dough into a slightly larger than 10 inch circle.
Place a 10 inch round wakeboard or plate on the dough
and cut around the edges.

Cut into eight triangles. Here is the easiest, fastest way to get them even. Fold the round of dough to either the left or right matching up the edges. Press down lightly to mark it.
Unfold it and cut along the crease.
Fold each of these two pieces up to meet the upper edge.


Fold each quarter in half to make 8 triangles.

Unfold and cut to make 8 triangles. Fill with about 2 teaspoons of walnut filling on the wide end of the triangle. Roll up and shape into a crescent. Dampen the inside edge of the pastry.Pinch edges together. Roll the pastry under your hands, stretching gently as you start in the center and go toward the edges. Dampen the tip.Pay particular attention to the tips at both ends.
Roll the pastry so the tip of the triangle is underneath.Curve edges to form a crescent. Double pan.
Repeat with remaining two pieces of dough.
Bake for 15 to 18 minutes until golden brown.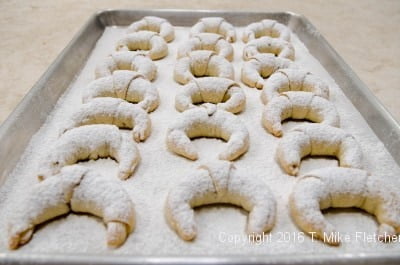 Sprinkle with powdered sugar while warm.
Yield: 24 Kifle with Walnut Filling