I first became acquainted with baking through watching my grandmother and mother bake the most amazing desserts. But that's not when I decided I wanted to make baking and pastry my career. Growing up I wanted nothing to do with food and eating. I could use a little more of that nowadays.
When I finally got interested in food after I was married there was no internet and not much in the way of schools – at least close to me. However,  the St. Louis Community Çommunity Çollege at Forrest Park  was highly regarded for their Restaurant and Hospitality school.  While it did not concentrate on baking and pastry, it gave me access to food science books. At the time professional books were not available to consumers like they are now.
So, I started on the journey to teach myself. I wanted to learn not only good recipes and different types of baking and pastry but I wanted to be able to create my own and therein lies the problem. Baking and pastry are more science dependant than is food. If you don't know where to use baking powder instead of baking soda or ratios to flour, it is a lot of trial and error. The books listed below became my teachers in one way or another.
There are professional books as well as consumer books from which I learned. It could have been a lot or maybe just a thing or two but they all had something important to add to my education.
When I opened my bakery, the learning intensified as I needed not just good recipes that yielded consistent results but there was so much of the business end I needed. I wrote "Baking as a Business" to give others the help they need as they went down this path also.
Today there is so much available in the way of books, schools and the internet – although the latter is not my first recommendation. There is much on the web that needs to be sifted through.
Although many of these books were written years ago, the information is still valid. Some of them have been updated, some are just classics.
I have broken them into two categories. Professional books - those that were written by professionals in the business and those that were written for the consumer market – all of which have value. You will note the covers of some of these show their age and use, but I still cling to them scotch taping the brittle shards to keep them in tact. You will also see notes, markers or research papers still saved within them.
To say I love these books is an understatement. They were, and still are, the underpinning of my business and love of baking and pastry. You may find a few in here that are in your collection also. If so, you will know what I mean.
In our society today, a degree in any field is almost a requirement to get a job. However, I think in the world of food it is still possible to rise to great heights without a formal education - just the drive to learn, the passion to succeed and the knowledge found in books and/or with mentors.
The books I have listed below gave me the science of baking and/or the techniques I needed to learn in order to go from an avid home baker to a professional. That I found easier or faster ways of accomplishing some of the tasks in baking does not take away from the classic methods. Had I not learned those, I could not have found newer, updated methods, many of which I share in this blog.
PROFESSIONAL BOOKS
Understanding Baking, 4th edition by Joseph Amendola and Donald Lundberg – The original edition is the first book I bought to help me understand the science of baking. It was definitely the light at the end of the tunnel. I currently have the updated version. This book talks about ingredients, categories of baked goods, technique as well as why and how ingredients work. It has charts and also addresses what happens if the ingredients aren't properly incorporated, the oven is to high or low and myriad other things important to baking and pastry.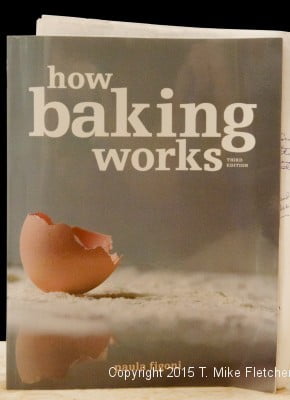 How Baking Works, 2nd edition by Paula Figoni – A professional friend of mine introduced me to this book and it's subtitle, "Exploring the Fundamentals of Baking Science" says it all. The back cover explains that this books "thoroughly ocvers the entire baking process, emphasizing the "whys" at work behind basic techniques. The book takes the user through he major ingredient groups, explaining how e, fat, mil, leavening agents, and other ingredients affect the appearance, flavor and texture of the end product. The coverage also includes scaling and measurements, heat transfer and sensory properties in baking. If you have a problem, or something didn't come out right, chances are you can find the answer in this book."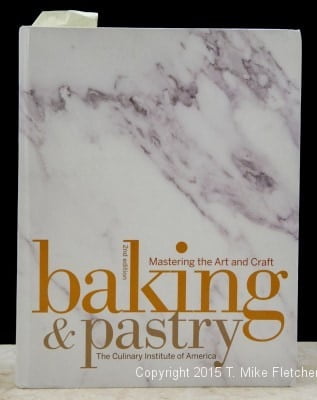 Baking & Pastry, Mastering the Art and Craft by The Culinary Institute of American, 2nd Edition – The recipes in this book contain ingredients in grams and ounces. But that is how professionals work and this is a professional book. The book contains 625 recipes from simple breads to wedding cakes and ranges from basic to advanced. It also has information on ingredients and tools as well as modern methods and techniques as well as beautiful photographs.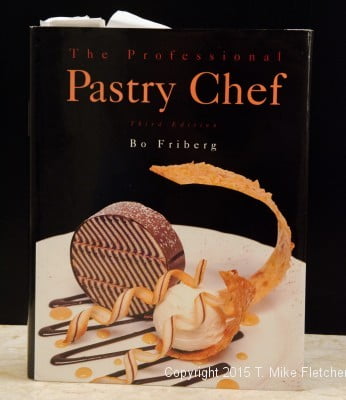 The Professional Pastry Chef by Bo Friberg, 3rd Edition – This is perhaps the most comprehensive book on pastry to be found. A master pastry chef, Bo Friberg explains the proper blending of ingredients, use of pastry equipment, alternate presentations, ingredient substitutions and professional techniques to produce professional results. The origin and history of the classics are also revealed. With 1000 recipes and the most charts and graphs of any pastry book I have seen, this book is a comprehensive referernce for all aspects of the art of baking and pastry.
MORE BOOKS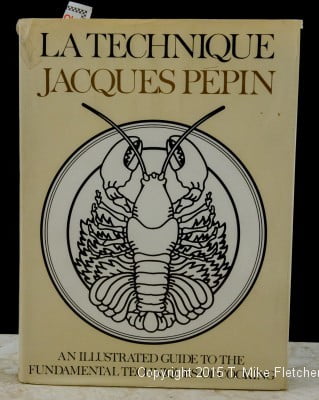 La Technique by Jacques Pepin – In the ensuing years, Jacques Pepin has become respected for his ability to convey his considerable knowledge in an easy to understand way. La Technique brought, to many of us, our first look at how the techniques of cooking and baking were preformed by a consummate professional. I practiced and practiced until I learned, with the help of all the step by step black and white photographs, how to execute the techniques, although I was never very good at carving the mushroom caps. However, since my career didn't rest on that, everything turned out well. As the back cover reads, "La Technique is a teaching book dedicated to self-sufficiency, economy and fine food prepared and served elegantly. With more than 150 techniques and 1500 photographs, the book succeeds very well.
La Methode by Jacques Pepin – This is not a book of recipes but rather the methods of preparing recipes. In this book he shows the methods of making croissants, baguettes, madeleines, fruit tarts, chocolate truffles and a fondant glazed cake. Whether sweet or savory, there was much to learn from both of his books.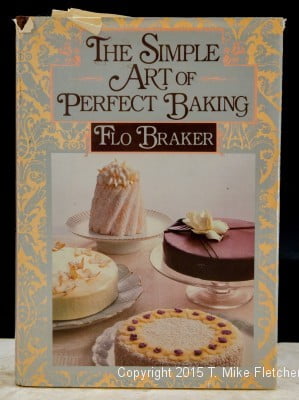 The Simple Art of Perfect Baking by Flo Braker –This was one of the first consumer books to specialize on high end baking and pastry. While I would no way consider the art of baking either simple or perfect, Flo Braker brought recipes, many of them classic and unheard of to light. While photos were not provided, there are many drawings to help explain the techniques and finished desserts. This book came out in 1985 and gave me a source of wonderful recipes and insight as I was just starting my career.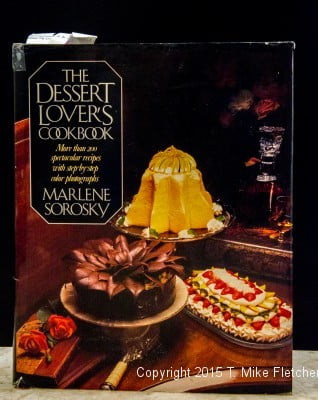 The Dessert Lover's Cookbook by Marlene Sorosky – This book came out the same year as Flo Braker's and Marlene Sorosky became an instant favorite of mine. The recipes worked flawlessly and added to my growing repertoire of baking and pastry. This book featured how to photographs as well as finished product photos that I appreciated.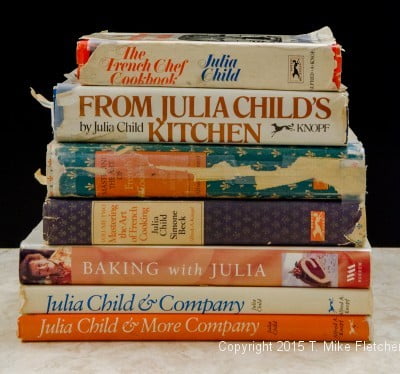 Anything from Julia Child – If you mention the name Julia in the world of cooking, only one name comes to mind and that is Julia Child. She was responsible for showing us a world outside of American cooking, which was nothing to brag about. She gave us recipes and showed us how to make them in her many TV shows and all of her books.
I learned to debone a chicken (well actually it took about 4), make crepes and find in myself a love of cooking, baking and food I never knew I had. And she did it in a way that was amusing and self-deprecating. There was no stuffiness to Julia and she encouraged you s to never apologize for your food. She must find it hysterical that we pooh-pooed butter for so long, only to discover the alternative was worse. I wonder if she would have said "I told you so". I subscribe to her belief that moderation is the answer to most things in the world of food. Everything was more fun with Julia and to this day there is no match for her infectious enthusiasm, knowledge and sheer love of food.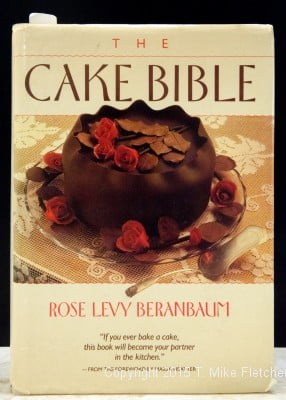 The Cake Bible by Rose Beranbaum – This was a landmark book from this prolific baking author who wrote many more books after this one. However, this remains, to me, her best. It gave us a new way of looking at baking and was one of the first, if not the first American book, to list grams and ounces as well as volume. She included great recipes that work, explanations that are understandable about the particular cakes as well as baking in general. The book is well researched and well written. It belongs in the collection of anyone serious about baking.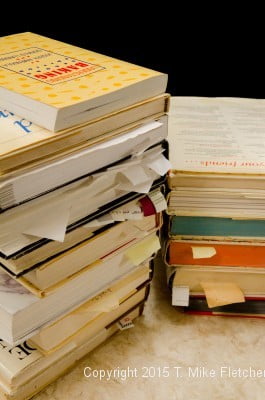 A much loved and marked stack of books.