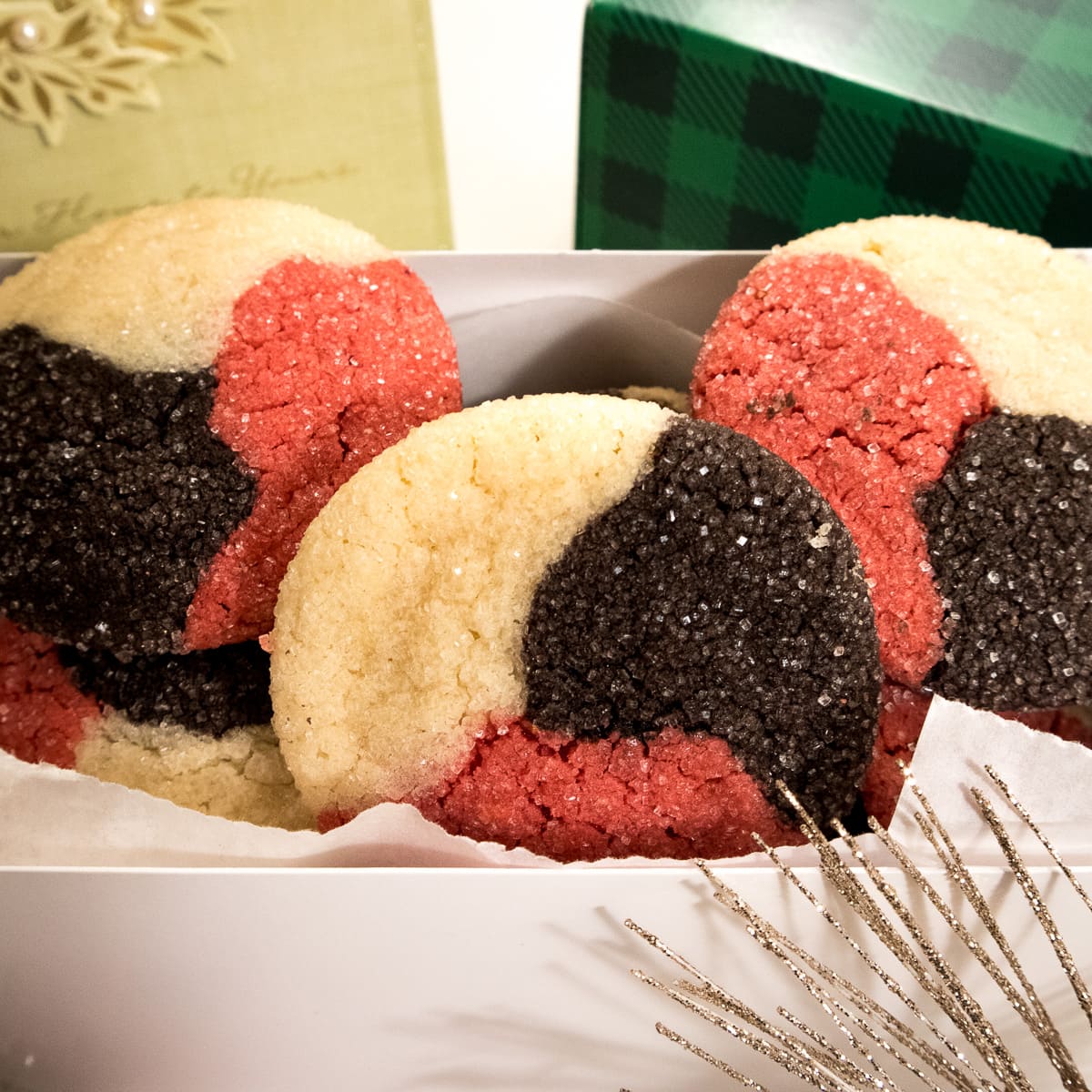 These Neapolitan Butter Cookies are three flavors in one and so unusual, I decided to throw one more cookie at you for the holidays.
Originated by Amy Hoan avid baker in Canada there are myriad variations on Instagram. These are a simple butter cookie that goes together without effort and is easy to shape. The dough itself is a breeze to work with right out of the mixer. You can vary the flavors by substituting other powders for the cocoa and strawberry.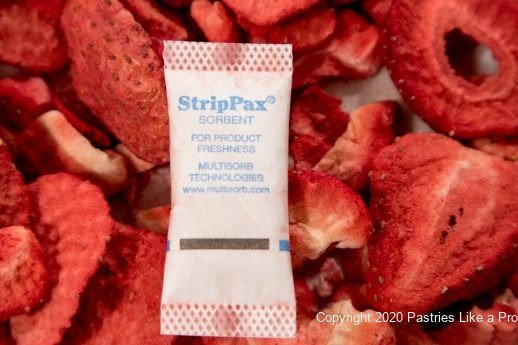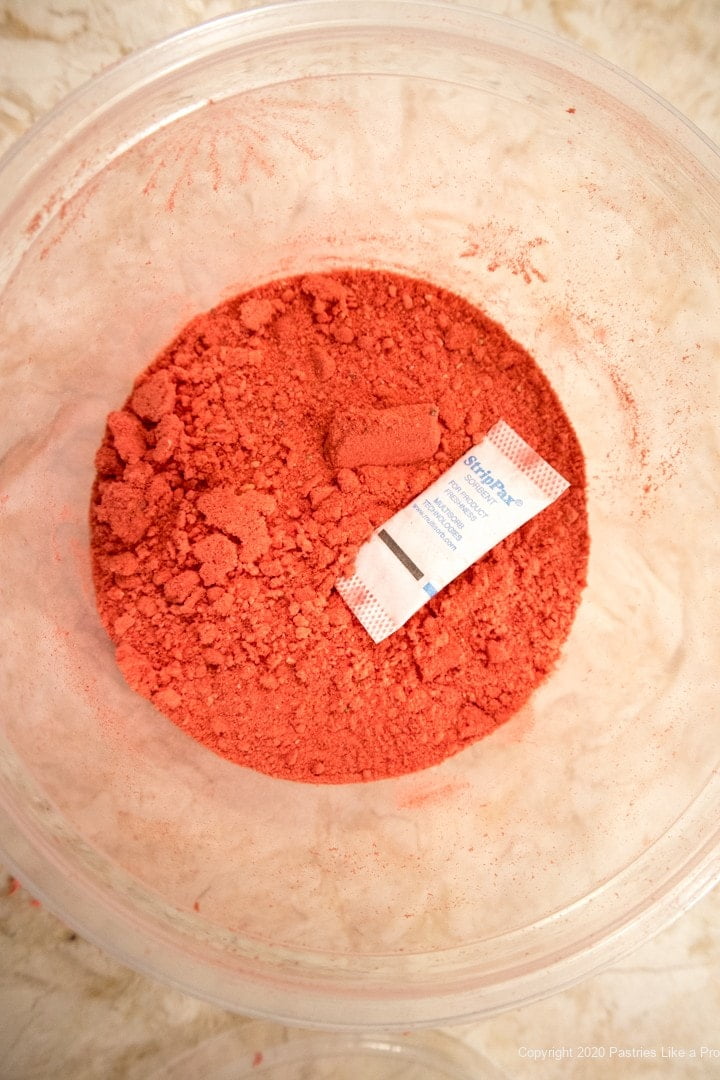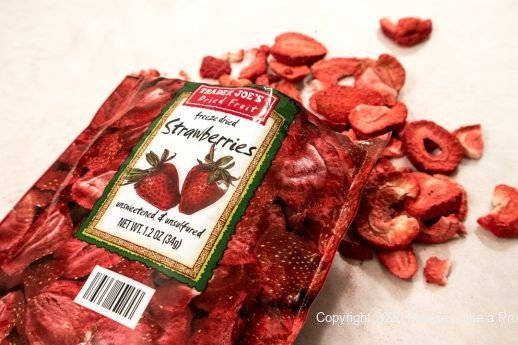 To obtain the strawberry powder, I processed freeze dried strawberries in the processor. However, be sure to remove the package of desiccant that is in the package. I failed to do that once and when I saw the shreds of paper in the powdered strawberries I had to throw the whole batch out. If you process the whole package, store the leftover powder in an airtight container with the desiccant to keep it dry. Trader Joe's has these and other flavors.
It is important not to over bake these Neapolitan Butter Cookies or they lose the balance of flavors. The bottoms should be barely browned. The cookies will have crisp edges and soft centers.
Neapolitan Butter Cookies
1 cup butter, softened (225 grams, 8 ounces or 2 sticks)
1 ¼ cups granulated sugar (250 grams or 8 ¾ ounces)
2 teaspoons vanilla
1 large egg
2 cups + 3 tablespoons all purpose flour (300 grams or 10 ½ ounces)
½ teaspoon baking powder
¼ teaspoon baking soda
½ teaspoon salt
2 tablespoons freeze dried strawberries or raspberries, powdered
2 tablespoons cocoa*
Red food color, optional**
Sanding Sugar or granulated sugar as needed
*Any cocoa will due but there are color variations. Black cocoa is what I used and it gives the darkest color of all the cocoas. Dutch cocoa would be next and natural cocoa gives the lightest brown. For a deeper understanding of the types of cocoa, please see Cocoa Fundamentals Natural vs. Dutched.
** The use of red food coloring is optional but the cookies will look drab without it.
Preheat the oven to 350°F. Line two baking sheets with parchment and set aside.
Combine the butter, sugar and vanilla in the bowl of a mixer. Beat just to combine. Add the egg and mix until blended.
Whisk together the flour, baking powder, baking soda and salt. Add to the butter mixture and beat on low speed until everything is incorporated.
Assembly
Divide the dough into 3 parts about 270 grams or about 9 ½ ounces each. Return one batch to the mixing bowl and add 2 tablespoons of strawberry powder. After the powder is mixed in add red food color to get a vibrant red. (Some of it will bake out so it needs to be darker going into the oven.) Remove to a bowl.
Wipe the mixer out with a paper towel if needed. If a bowl scraper is used to remove the dough, it should be clean enough to continue.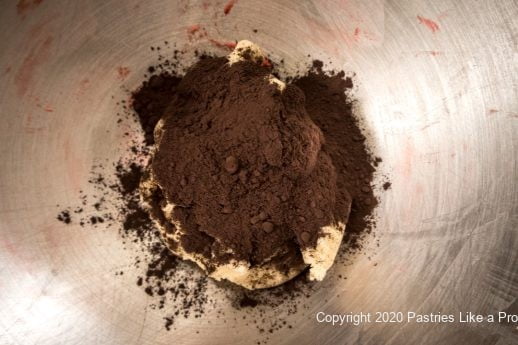 Place a second portion of dough in the mixing bowl and add the cocoa powder. Blend in completely.
It is easiest to scoop one flavor all at once then put them together. Wash the disher/scooper in between.
Using a #100 disher/scooper, or about 2 teaspoons each, scoop each of the doughs and line them up on a baking sheet. Cover each batch with film as you go along so they don't dry out.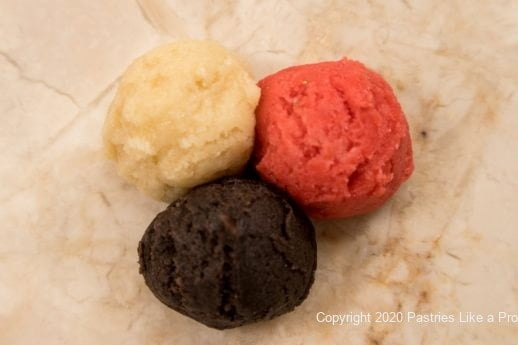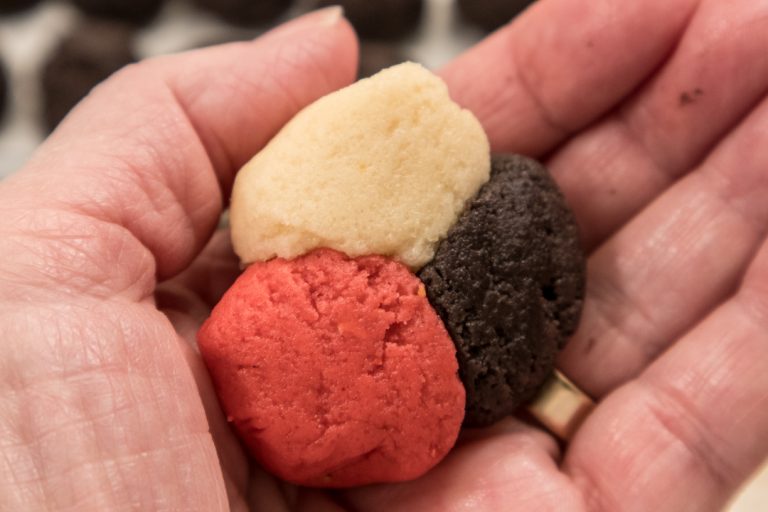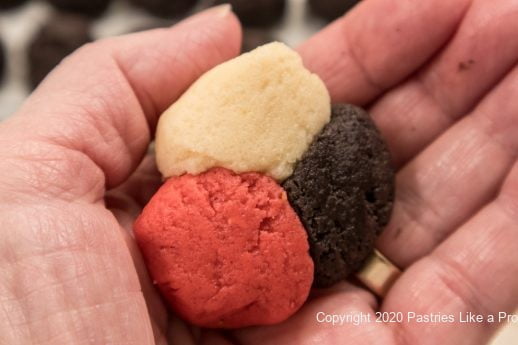 Place one of each color before you.Gently push them together so they are one. Roll them between the palms of your hands to form a ball.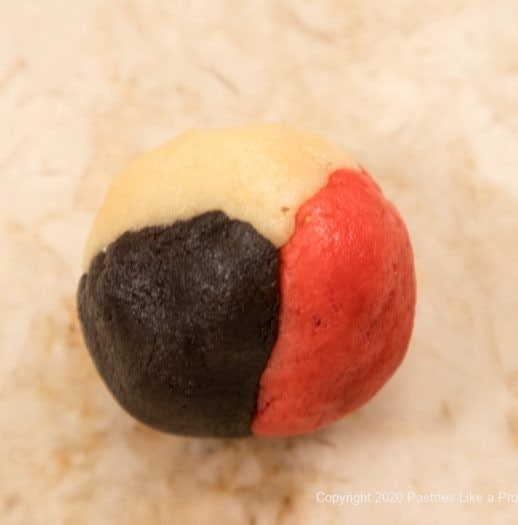 Roll the ball in the sugar and place on a baking sheet.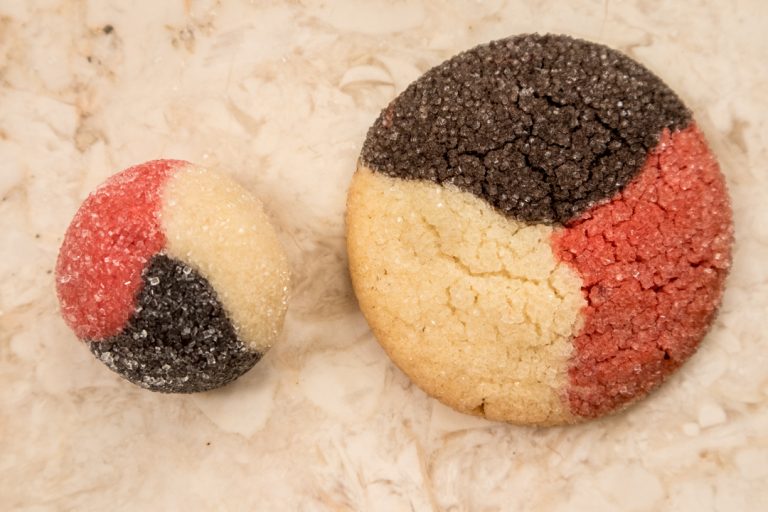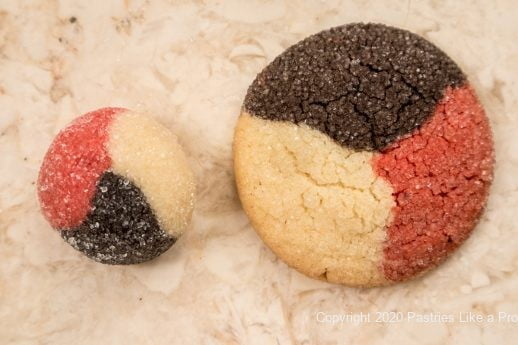 These cookies will spread considerably so place about 3 across and 4 to 5 down on a baking sheet. Below is an unbaked cookie next to the baked cookie.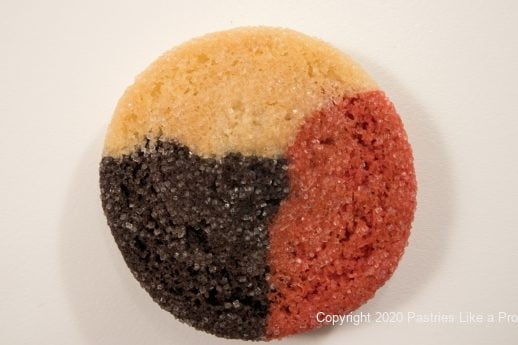 Bake for 10 to 13 minutes. The white part will barely be brown and they will be slightly soft in the middle. Do not over bake.
I'm not sure why this is necessary, but as the cookies come from the oven, bang the pan on a counter to flatten them. I did with one pan and I didn't with the other – it didn't make a big difference.
Yield: About 26 Neapolitan Butter Cookies. Store in a covered container at room temperature for 4 to 5 days.
If you enjoyed these other cookies: