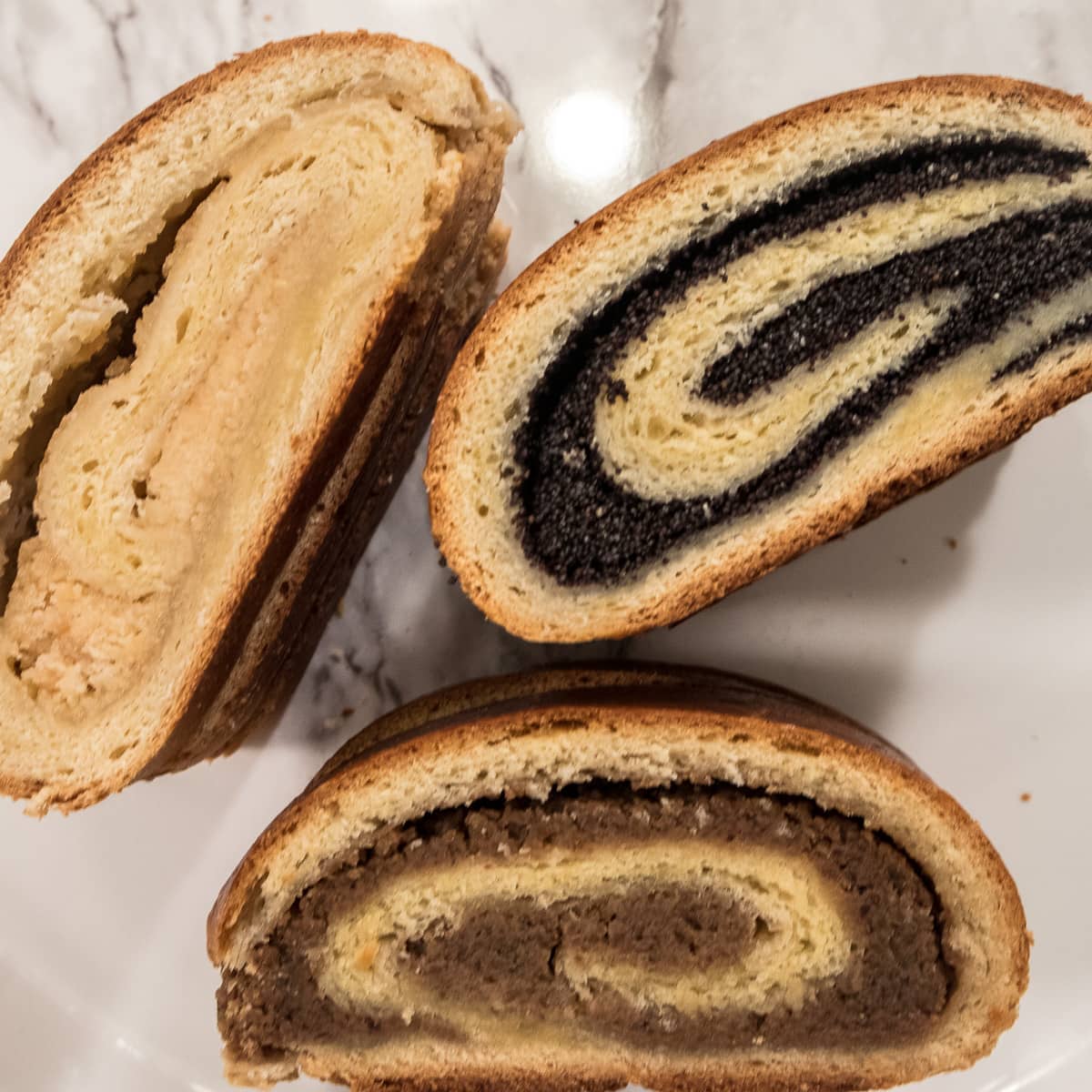 This European Nut Roll with Three Fillings is a recipe long in my family. My parents were from the former Yugoslavia and every household had their own version of the nut roll. Nut rolls are especially popular during holidays and celebrations in Central Europe.
This enriched yeast dough with lots of butter and eggs is the easiest dough of its kind I have ever worked with. When you roll it out there is absolutely no recalcitrance or spring back when rolling out the dough. I recommend you make the dough a day, or several days, ahead and work it cold. It truly is a joy.
The almond filling was the favorite in our house. In fact, to this day, I mail the Almond European Nut Roll to my son in Los Angeles for his birthday and Christmas. It travels well and stays moist for days. This filling is uncooked whereas the walnut and poppy seed fillings are the traditional cooked versions from Europe. Europeans cook their fillings a lot, where here we combine the nuts and sugar, rarely cooking them. Both ways are wonderful.
Poppy Seeds
Poppy seeds are very popular in the old world and rarely used here as a filling. In the states we find them mostly on rolls and bagels, or scattered in cakes and teacakes. They add crunch and texture to baked goods. Blue poppy seeds, grown in various parts of the world, are deemed to be sweeter and used for baking. However, most poppy seed is unmarked as to origin so it can be difficult to tell. The blues are also considerably more expensive than regular poppy seed. I used poppy seed with no other description on the bottle.
It is important when making the filling to crack the poppy seeds to release their oil. I put mine in the processor and processed them until I could see they had turned a darker color which happens from the release of the oil. It did take a bit of processing to get to that point so don't be discouraged.
One last thing - it is important to have a high ratio of any of the fillings to dough as you can see above. It's what makes these the wonder they are!
European Nut Roll Dough
½ cup milk
¼ cup sugar (50 grams or 1 ¾ ounces)
½ cup unsalted butter (114 grams, 4 ounces or 1 stick)
½ teaspoon salt
1 egg
1 egg yolk
2 ¼ teaspoons instant yeast (7 grams, ¼ ounce or 1 package)
1 teaspoon vanilla
Zest from ½ large lemon
2 ½ cups bread flour* (350 grams or 12 ¼ ounces)
All purpose flour can be substiuted but the dough will not rise as much.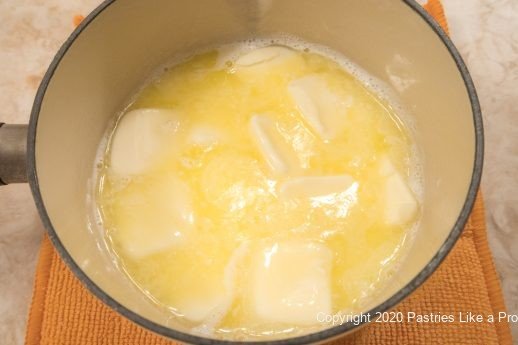 Heat milk to simmering. Add the sugar, butter and salt. Stir to dissolve; cool to lukewarm. You can speed this up by transferring the hot mixture to the mixing bowl right away.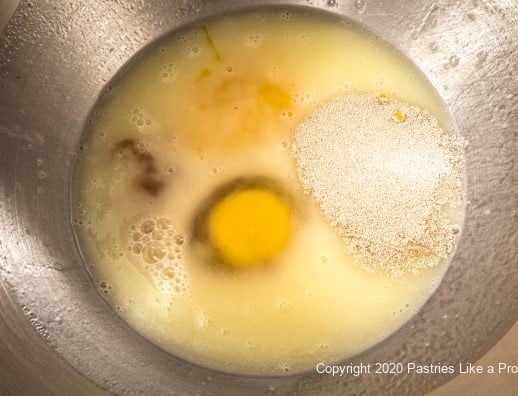 Whisk the egg, egg yolk, yeast, vanilla and lemon zest into milk mixture.
Add half the flour and beat until smooth.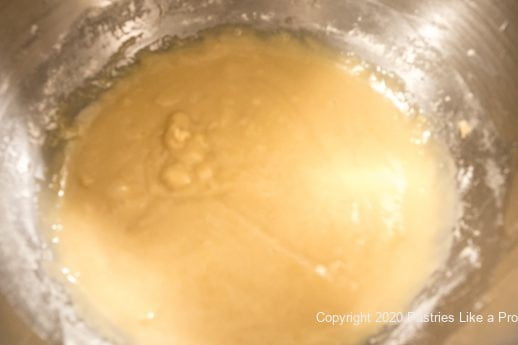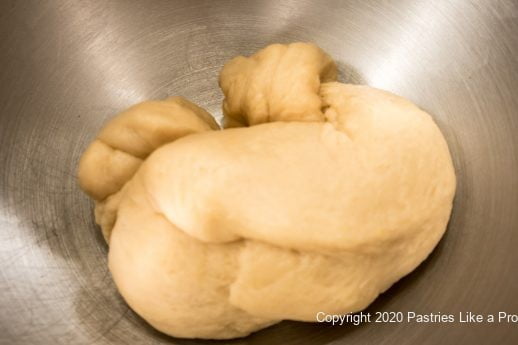 Add the remaining flour; beat until smooth and it cleans the sides of the bowl. Knead in the bowl for 3 to 5 minutes. Because the dough climbs the dough hook, I stop about half way through and turn the dough, removing that stuck on the dough hook so the dough on top is now on the bottom of the mixing bowl to get evenly kneaded.
Remove from the machine and place in a large, greased container at least 2 ½ to 3 times larger than the dough. Turn the dough immediately to grease the top. Cover with plastic wrap and mark the time on it. Let it rise until it is doubled in bulk, about 1 ½ hours. Punch it down and use immediately or refrigerate up to 3 days. It is easiest to roll if refrigerated.
Line a baking sheet with parchment paper. Set aside.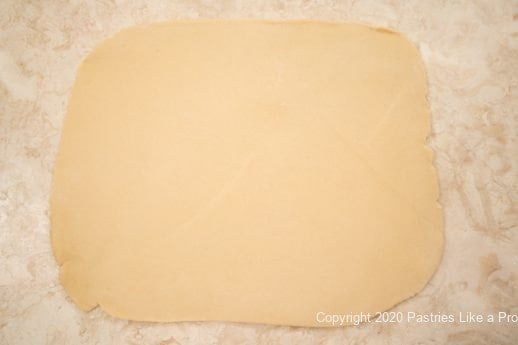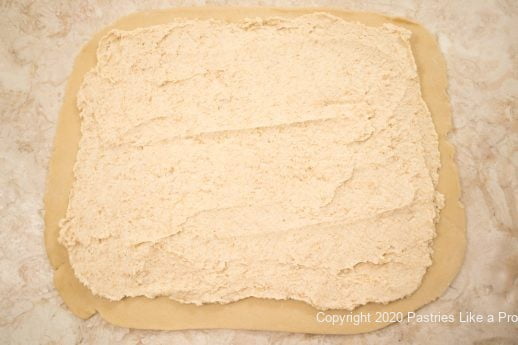 Roll the dough into a 13x14 inch rectangle; spread one of the fillings below to within ½" of all of the edges. Brush the edges with water. Roll up tightly from the 14" side. Pinch the bottom seam together.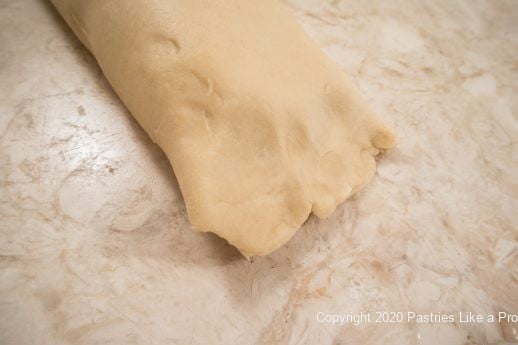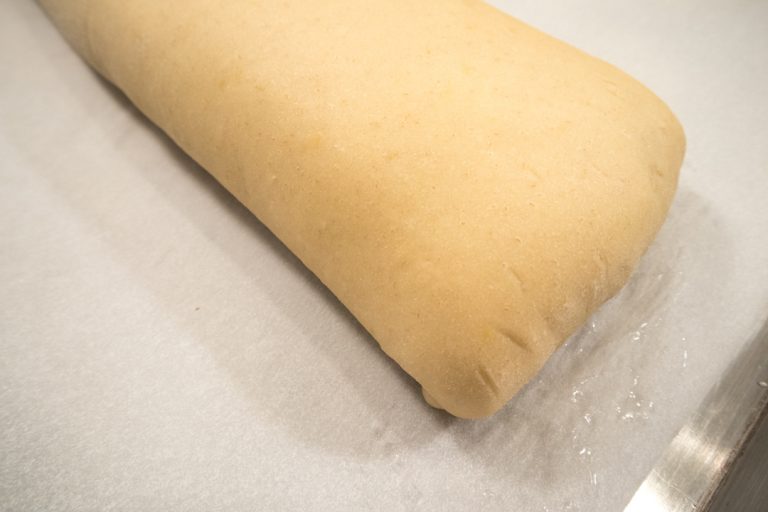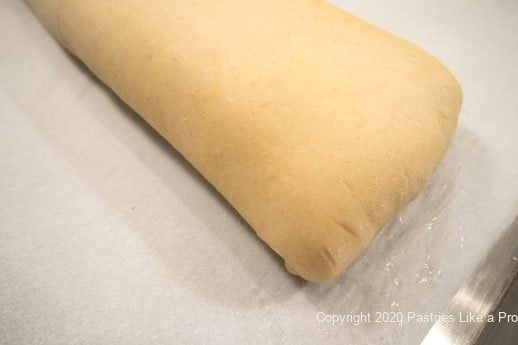 Pinch the side edges together to seal them extending them outward slightly. Wet the underside of the extension and tuck it underneath. Place on the prepared pan. Cover and allow to double, about 1 ½ hours.
Egg Wash and Baking
1 egg
Beat egg until the yolk and white are completely mixed.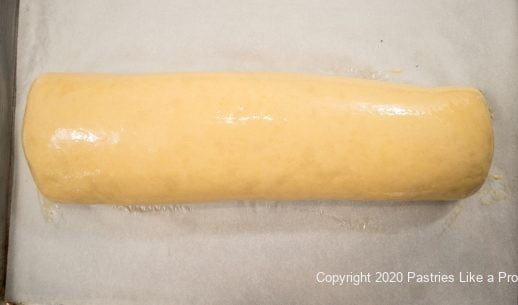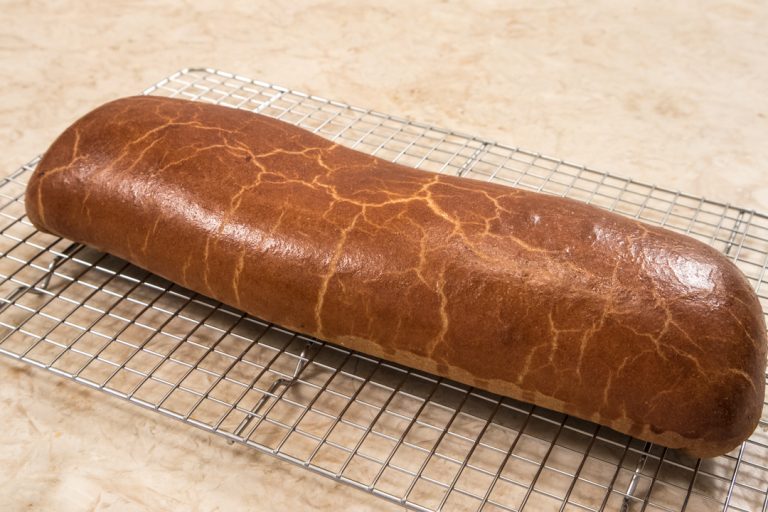 Preheat the oven to 350 degrees. Brush with egg wash twice; bake for 35 to 40 minutes until deeply browned. Cool.
Almond Filling for the European Nut Roll
6 ounces almonds (170 grams)
1 ⅓ cups powdered sugar (170 or 6 ounces)
½ cup unsalted butter, refrigerated (114 grams or 4 ounces)
2 tablespoons egg white
1 teaspoon vanilla
Preheat the oven to 350 degrees. Spread the almonds on a baking sheet in a single layer and roast for 7 to 10 minutes or until medium brown, stirring half way through. Cool completely.
Place the almonds in a food processor and process until finely ground. Add the powdered sugar and process again. Cut the butter into pieces and place in a circle over the dry ingredients. Process until the butter is indistinguishable.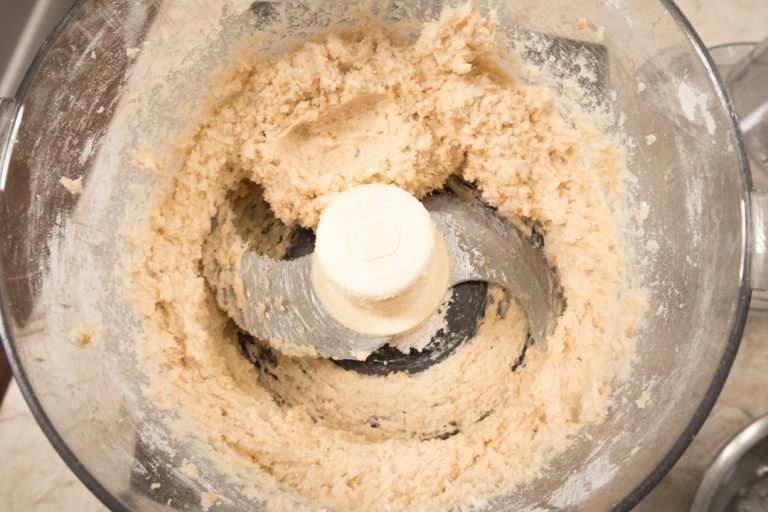 Beat the egg white with a fork until foamy. Add 2 tablespoons of it and vanilla; process. It will never be completely smooth because of the almonds. But it will be smoother.
Walnut Filling
¾ pound walnuts (340 grams)
¾ cup sugar (150 grams or 5 ⅓ ounces)
1 stick butter, cut into 4 pieces
1 egg
1 cup milk
1 teaspoon vanilla
Combine nuts and sugar in processor bowl. Process to chop the nuts very finely. Add the butter; process until indistinguishable. Add the egg and process until smooth.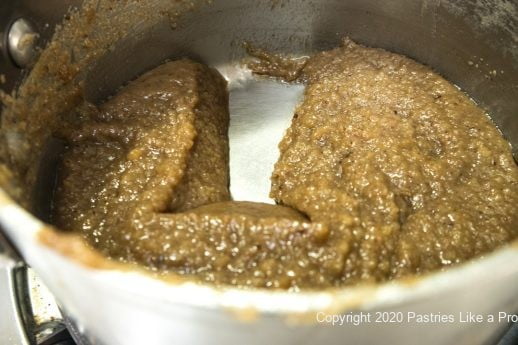 Empty into a heavy saucepan and add the remaining ingredients; bring to a boil, stirring frequently. Reduce the heat to a simmer and cook, stirring constantly for 10 to 15 minutes until a spoon can be drawn through it and it stays separated. Remove from the heat and cool.
To quick cool, spread it thinly in a single layer on a baking sheet. If you're really in a hurry, refrigerate it.
Poppy Seed Filling
8 ounces poppy seeds (225 grams)
½ cup milk
½ cup sugar (100 grams or 3 ½ ounces)
7 tablespoons butter (100 grams or 3 ½ ounces)
1 teaspoon vanilla
1 tablespoon dark rum, optional
1 tablespoon lemon juice
Zest from 1 lemon
Place the poppy seeds in a food processor or small grinder. Process them until they crack and become darker and oily looking.
Mix the poppy seeds and the remaining ingredients in a heavy saucepan and bring to a simmer. Cook, stirring constantly, 10 to 15 minutes until it becomes very thick. Cool completely. See above for quick cooling method.
To Make Ahead: The dough may be made and refrigerated up to 3 days ahead. Use immediately upon removing from the refrigerator. The fillings may be made and refrigerated up to 3 days ahead. Bring to room temperature before using.
These freeze extremely well. After baking, cool and wrap well in foil; place in a freezer proof bag and freeze up to 3 months. Thaw at room temperature. I usually preheat the oven to 350°F then wrap the European Nut Roll in foil, leaving a small opening at top. Heat for about 20 minutes to refresh.
Storage: Covered or wrapped in plastic wrap, these keep for up to 5 days at room temperature.
Take a look at these too - perfect for the holidays