Holiday baking is like no other time of the year. With the holidays upon us, I thought it might be interesting to go back into my past blogs and pull up some of the best holiday baking.
There is a cheesecake, pie, cakes, muffins and a lot of cookies that might be new to your Holiday cookie selection. I've even included my favorite Cranberry Relish which is really easy, has nothing to do with baking but is one of my best holiday dishes.
Holiday baking needn't be stressful. Many of the recipes here can be made ahead in whole or in part. Many can be frozen. All will add to your holiday baking repertoire and I hope become traditions for you.
Almond Macaroons - a really easily made recipe that ranks high on the list of almond paste lovers.
Apple Crisp Cheesecake - This unusual cheesecake features and apple filling on the bottom, cheesecake and is finished with a crunchy crisp topping
Buche de Noel - The height of a holiday dessert, this French Fantasy is always a delight to behold.
Chocolate Spice Olive Oil Biscotti - While this may not belong strictly to holiday baking, it's a very worthwhile addition to your holiday cookie recipes. A hint of pepper gives this cookie a warm finish in your mouth.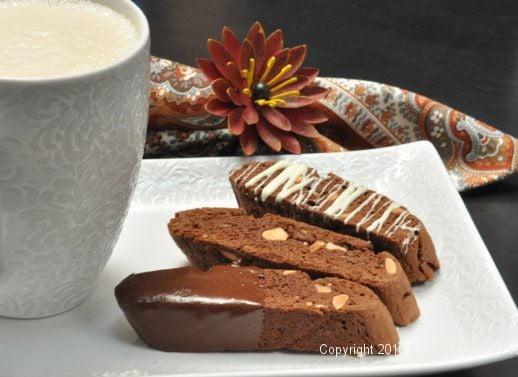 Cranapple Pie - This pie features and easy to make pleated crust filled with apples, cranberries and highlighted with brandy. Serve slightly warm with ice cream.
Cranberry Fresh Pineapple Relish - Really easy to make, this fresh take on cranberry relish may just end up your favorite.
Fall Muffins - Three muffins use the bounty of fall - apple, pumpkin and cranberry.
Holiday Cookies - Three unusual cookies, Sienna Lace, Chocolate Dipped Cappucino Rounds and Anise Swirls.
Murbteig Pastry - The Germans are known for their fine pastry skills and this pastry proves it. This cookie was one my mother made and I have loved it ever since. An easy sugar and nut topping turns this into a spectacular for your cookie collection.
Pfeffernusse Cookies - Another German speciality for the holidays. These are the perfect cookie at this time of year as they need to be made ahead for the spices to meld.
Pumpkin Mousse Torte - This is the quintessential holiday dessert. A gorgeous almost no bake dessert with pumpkin and cheesecake, we sold many of these from the bakery.
Orange Cranberry Cake - A combination of orange chiffon cake, cranberry filling and a dark chocolate ganache says Holiday Baking.