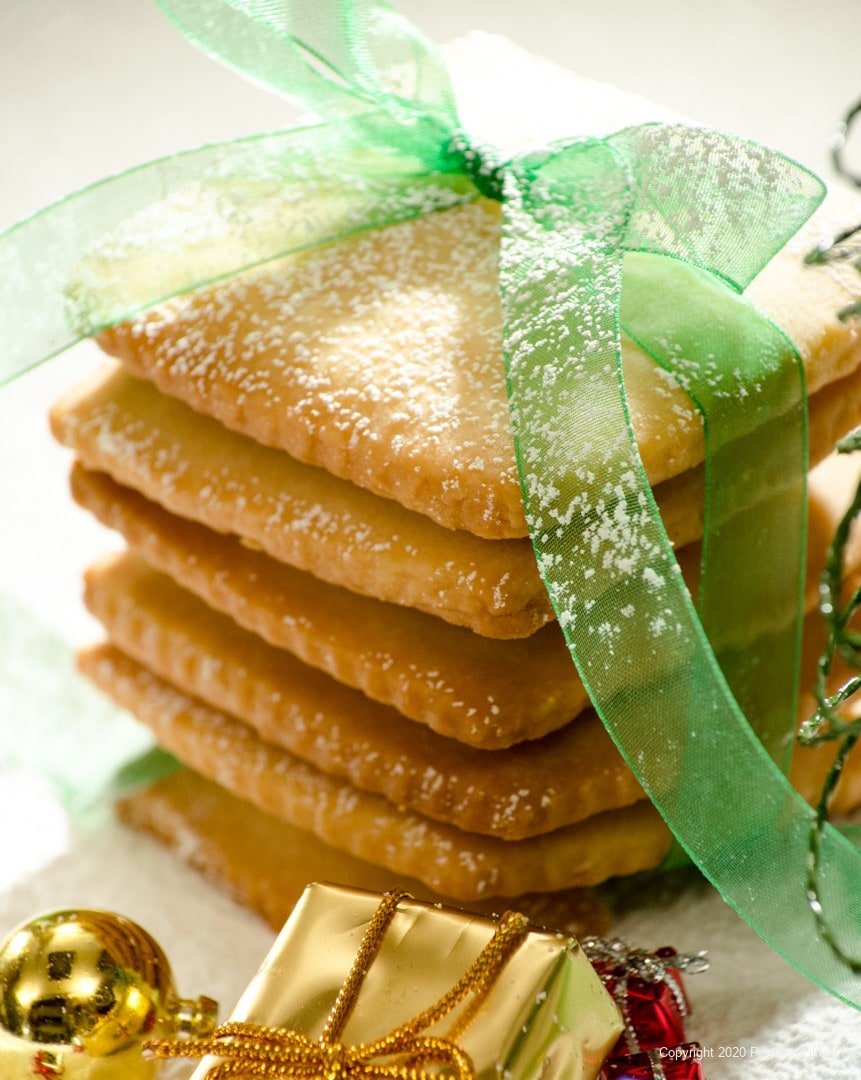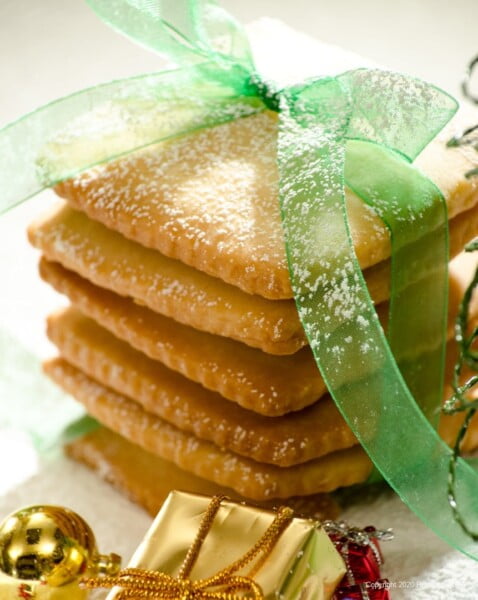 These Cookie Tips come during cookie baking season to help you get your best cookies ever, but they are good all year long. These are things I've thought of while making cookies myself. Some are old, some new, but I hope you will find a few that will help. These Peppermint Ravoli Cookies are an ideal example of a perfect cookie with a surprise inside.
Ensuring all cookies have chips or other add ins
Save some chips or add ins until the last of the cookies are being dropped. Often, add ins at the end of the dough are sparse. Holding a couple of tablespoons out will solve this problem. Just stir them in at the end and finish dropping.
Piping stiff doughs
This cookie tip is especially helpful if you are piping a heavy dough that is rather stiff and is hard to push out. Place in a microwavable container only as much dough as you a pipe at once and microwave it very briefly – 5 to 10 seconds for a half filled bag. Do not soften too much, or it will change the texture of the cookies. Chill the cookies before they are baked. We used this technique with the Anise Swirls to great advantage at the bakery. One other thing, don't fill your piping bag too much. The fuller it is, the more difficult it is to pipe.
Uniform Piped Cookies
If piping cookies, keep them uniform in size by making templates. Draw circles on parchment, preferably with a sharpie or other dark marker. Place the parchment in a baking pan and top it with another piece of parchment. Pipe the cookies. REMOVE THE TEMPLATE. (This is the part I always forget until I have to retrieve the cookies from the oven, so I can use it again.)
I mark my templates for whatever I used them and store them to be used again. I store mine between 2 half sheets corrugated baking pads to keep them flat. They can also be rolled up. Just try not to fold them if at all possible, or they won't lie flat when you need them.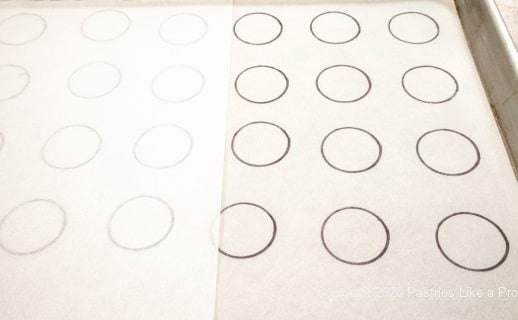 Cookie Tips For the Best Cut Out Cookies
See Cut Out Cookies using the Wax Paper Technique. The photo below is for Murbteig Cookies from my childhood.
Stamped Cookies
If making stamped cookies, shape the raw dough slightly smaller than the finished unbaked cookie since stamping it will cause it to spread slightly, as for these Lemon butter Crisps.
To Keep Cookies from Excess Spreading
Cookies heavy in butter should be chilled before going into the oven to prevent them from spreading too much. This is especially important if you want them to retain their shape.
Cookies spread more on pans coated with non-stick baking sprays or butter so use parchment paper instead. The cookies will release, but will not spread as much.
These Chocolate Dipped Sweet and Salty Butter Cookies are a good example of not spreading. The recipe is designed for little spreading, and the chilled rolls are cut and immediately baked.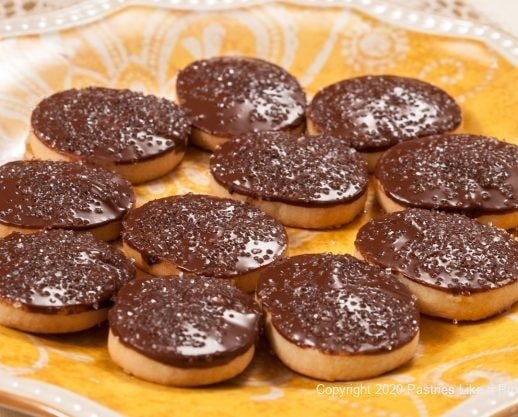 Why Double Pan
Here is another cookie tip when using brown sugar, honey, molasses, dark corn syrup, chocolate or cocoa. They will bake up better if they are double panned. This slows the heat to the bottom of the cookies, so they won't burn before the cookies are baked so the cookies will take a few more minutes to bake. Below are the Chocolate Spice Olive Oil Biscotti.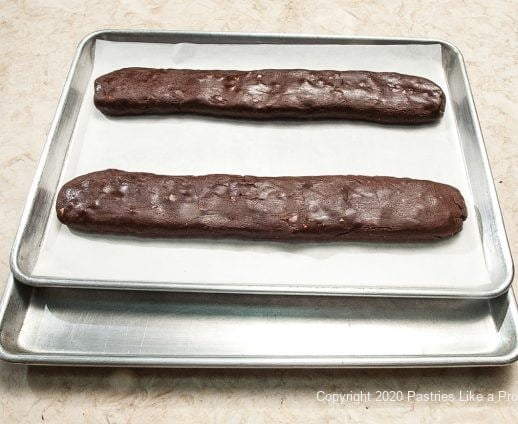 More Cookies to a Tray
To get more cookies on a tray, flag or stagger them. (There is no recipe for these.)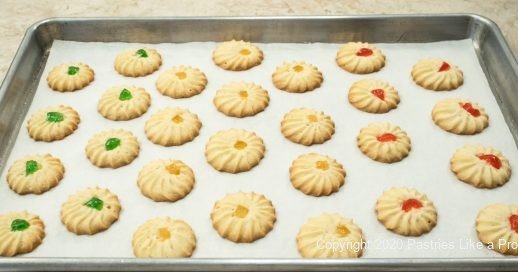 Best Pans to Bake Cookies
Light colored aluminum baking sheets that are not thin do the best job of uniformly baking cookies. Dark baking sheets and pans absorb more heat than light colored ones and brown products too quickly, often before the insides are done.
I use half sheet pans at home and line them with parchment paper. Pictured below are quarter sheet, jelly roll, and half sheet baking pans. For more information on sheet pans.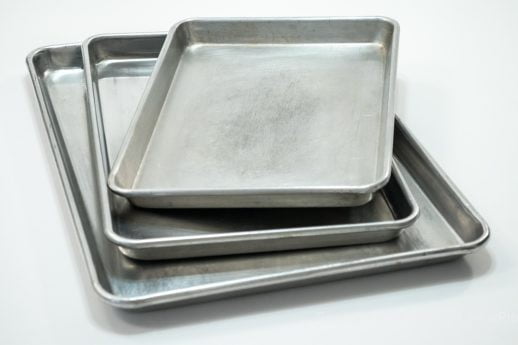 All Important Butter
There are three posts on this blog relative to butter, including how to soften butter without over doing it. Please see American Butter vs. European Butter, Better Butter for Baking, and Softened Butter
Measuring Equipment
One cookie tip that is often overlooked is the need to carefully measure, just as any baking does. To that end, I will mention my strongest recommendation that ingredients be weighed. Volume measurements are not as accurate, which is why I list ingredients in grams and ounces as well as volume. Scales are very inexpensive now and should be in any kitchen where someone bakes.
However, dry measures without a lip and wet measures with a lip, as well as measuring spoons are also necessary. A simple scale is all that is needed.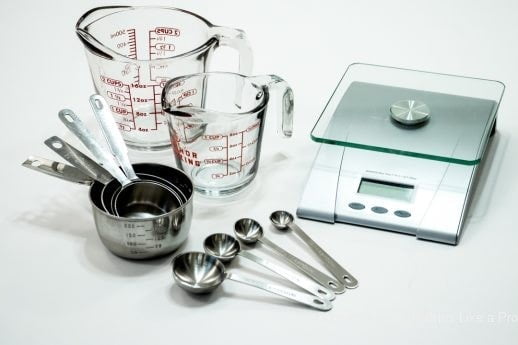 Mixing Cookie Doughs
If a butter and sugar mixture curdles or breaks when adding the eggs, raise the speed of the mixer. If that doesn't work, adding the flour will, so there is no need to be concerned.
Mix the flour in on low to keep the gluten from activating, creating a dense cookie.
Uniform Drop Cookies
For uniform drop cookies use disher/scoopers. These are used widely in professional kitchens to make sure cookies are the same size and bake evenly. Often called cookie scoops, they come in a number of sizes. Below is a chart. I find my most used dishers/scoopers for cookies are numbers 100, 70, 60, and 40. For monster cookies I use #40. The larger the number of the disher/scoopers the smaller the amount it will hold.

Numbers and Sizes of Disher/Scoopers
Numbers and Sizes of Disher/Scoopers
Number of disher/scooper
Approx. Tablespoon or Teaspoons or cups
Fluid Ounce
100
2 teaspoons
0.25
70
2 ¾ teaspoons
0.375
60
1 tablespoon
0 .5
50
4 teaspoons
0.625
40
1 ½ tablespoons
0.75
30
2 ¼ tablespoons
0.1.125
24
3 tablespoons
1.5
20
3 ½ tablespoons
1.875
16
¼ cup
2
14
⅓ cup
2.375
12
⅓ + cups
2.875
10
⅜ cup
3.25
8
½ cup
3.75
6
⅝ cup
4.75
5
¾ cup
6.0
4
1 cup
8.0
Cutting Nuts
Often I have to buy nuts that are whole, halves or halves and pieces which are larger than I want for cookies.
By and large, unless I am pulverizing nuts, I don't like to use the processor to cut nuts. They inevitably have a lot of powdered nuts, which aren't the same as nuts cut by hand. But I also don't like cutting nuts by hand. Picky – I know. So the solution I found was after toasting and cooling to lay the nuts in a single layer.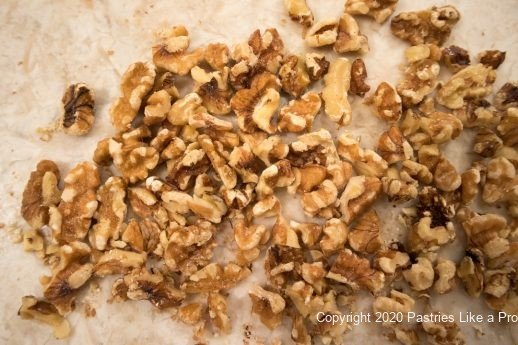 Then take a meat tenderizer or small pan or skillet and just whack 'em.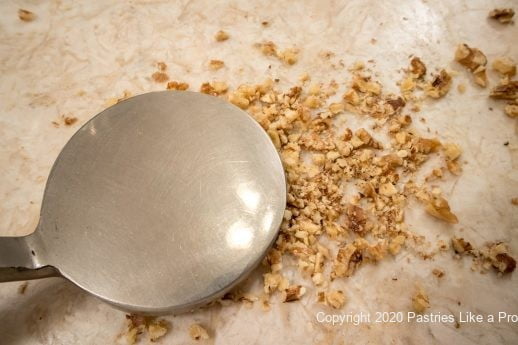 Not small enough? Hit 'em again. So fast and perfect for cookies.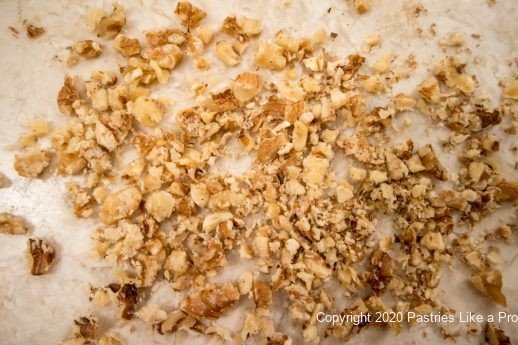 Using a Food Processor
If you use a food processor when baking, my Food Processor Tips When Baking has a lot of information that is useful. I was a consultant to Cuisinart when the company was fairly new. I learned a lot then and have developed more tips since. I'll bet you'll learn at least a thing or two.