Due to the confusion over adding the gelatin in last week's post on Peach Curd Tart, I thought it might be a good idea to post a complete tutorial on Lemon Curd. This actually applies to most curds I have made with the exception of the Cranberry Curd which does not need a boost from gelatin because it has a lot of natural pectin which sets it.
When I first started making large batches of Lemon Curd at the bakery, we piped it into small pastry cups for petit fours. I noticed that towards the end of each piping bag, it would lose its stiffness. So I started adding a bit of gelatin to help keep it stable and allow it to keep its shape when piped. I find it makes all the difference in the world and use it in all of my curds today.
Lemon Curd can be made and used immediately. Or, It can be made up to a week ahead and refrigerated. It can also be frozen for several months. Just thaw in the refrigerator prior to use.
Lemon Curd, or any curd for that matter, is simple once you have made it. Using a thermometer takes all the guesswork out of when it is done. The fact that curds make such wonder fillings for tarts, cakes and as is on a scone or biscuit is reason enough to master this basic technique for baking. In late 19th- and early 20th-century England, homemade lemon curd was traditionally served with bread or scones at afternoon tea as an alternative to jam.
The amount of the ingredients can change for various recipes, but the technique remains the same. This is part of a recipe for a Lemon Meringue Loaf that will be blogged at a later date. Feel free to get this made and in the freezer for later use.
Lemon Curd
1 teaspoon water
1 teaspoon gelatin
3 whole eggs
4 egg yolks
¾ cup sugar (150 grams or 5 ¼ ounces)
¾ cup lemon juice, freshly squeezed - do not use the bottle version
¾ cup cold butter, cut into 6 pieces (170 grams or 6 ounces or 1 ½ sticks)
Dissolve the gelatin in the water then set aside.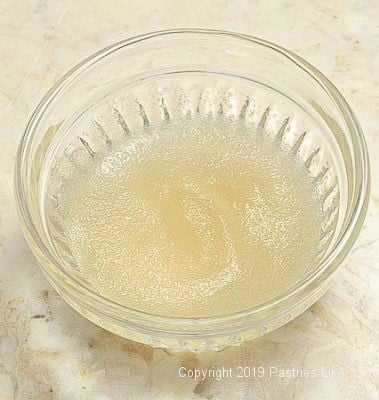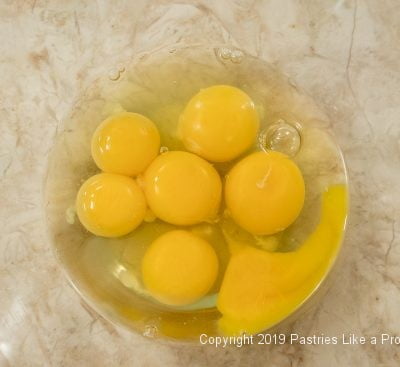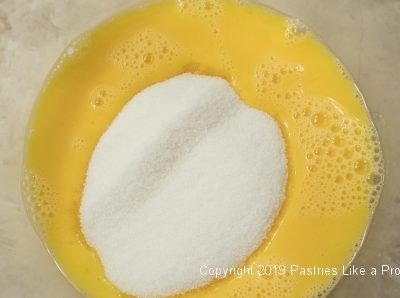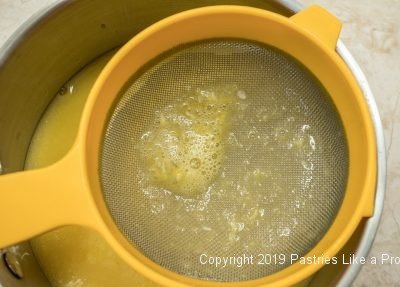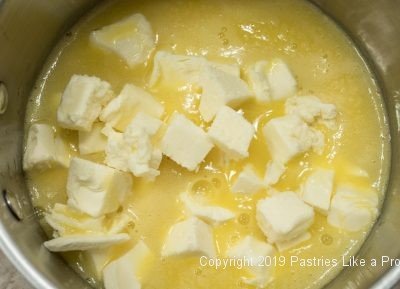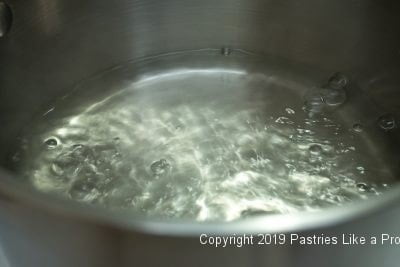 Place the eggs and yolks in a bowl. Whisk to combine. Whisk in the sugar and lemon juice. Strain the mixture into the top of a double boiler or a bowl that will fit over a pan with water in it to remove the chalazae which is the hard, stringy egg white that suspends the yolk in the middle of the white. If it is not strained out, it cooks up hard and ruins the smoothness of the Lemon Curd. Add the butter. Place over gently boiling water and, stirring constantly, bring the curd to 172°F on a candy thermometer.
The gelatin will have solidified into a wiggly blob by now. You can see me holding it.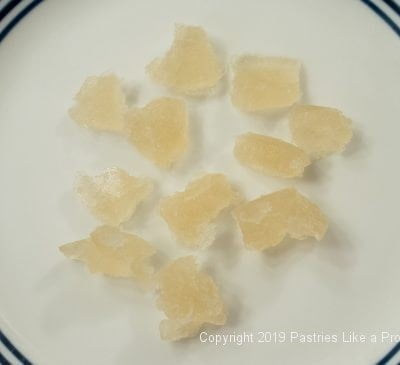 Tear the gelatin into small pieces and add it to the lemon curd, whisking to dissolve it. There is no need to liquefy it first, the heat of the curd will do that.
Use at once or pour into a storage container, cover the surface with plastic wrap; poke a few holes in it and refrigerate to cool.
Yield: 2 ⅓ cup or approximately 680 grams.
Other recipes using curds are:
Lemon Butter Cake
Poppyseed Cake with Orange Curd and White Chocolate Buttercream
Chocolate Cranberry Curd Tart