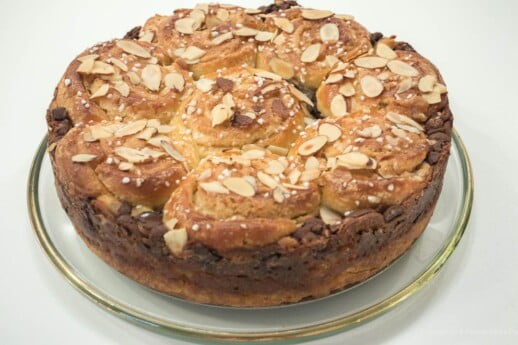 Quick Danish Pastry dough is based on the same technique I found for making faster croissant, without sacrificing any quality. I have used that method for all my laminated doughs including puff pastry, cronuts, and Kouign Aman. This technique cuts way down on the time and it's much easier to incorporate the butter without the dreaded breakthrough of butter when rolling out.
Bread flour is preferred for laminated doughs as it has more strength than all-purpose. It can rise higher and obtain a crispness that all-purpose doesn't have. See my blog, A Discussion of Laminated Doughs for more information. Another preferred ingredient is American butter instead of European Butter. American butter is not as soft as European butter and holds up much better when rolling and shaping.
Scandinavians are particularly fond of the spice, cardamom. It comes as a seed and ground. I use the ground and, because it is expensive, I keep it in the freezer and not in my spice cabinet.
The photo at the top of the page is the Danish Butter Cake which looks a lot better than the raw dough. It is filled with everything wonderful - Danish pastry, remonce, pastry cream, and a bit of chocolate. Definitely not your everyday coffeecake.
Next Week
Next week I will be posting a Danish Butter Cake which uses this pastry and pastry cream as well as remonce which includes100 grams or 3 ½ ounces of almond paste. This Danish Pastry, as well as the pastry cream, can be made ahead and frozen. Just thaw for one or two days in the refrigerator.
I will be posting the cake next Thursday which gives you time to make the two items and buy the almond paste. The rest of the ingredients are very common and most likely on your shelf.
Note about ingredients
One note: You can substitute all-purpose flour if the only thing you will use the bread flour for is this recipe. The cardamom is optional but really good. You could also make one of these every week and use up the remainder of the bread flour! Just a thought.
Quick Danish Pastry
¾ cup unsalted butter (170 grams, 6 ounces or 1 ½ sticks)
2 ¼ cups bread flour* (315 grams or 11 ounces)
¼ cup granulated sugar (50 grams or 1 ¾ ounces)
2 ¼ teaspoons instant yeast (1 packet, 7 grams, ¼ ounce)
¾ teaspoon cardamom, optional
½ teaspoon salt
¼ cup water
¼ cup milk, room temperature or slightly warmed
1 large egg
*All-purpose flour can be used but bread flour is preferred.
Cut the butter into small pieces and freeze.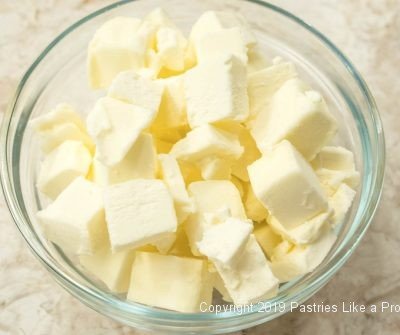 Place the flour, sugar, yeast, and salt in the bowl of a processor. Process about 5 seconds to mix.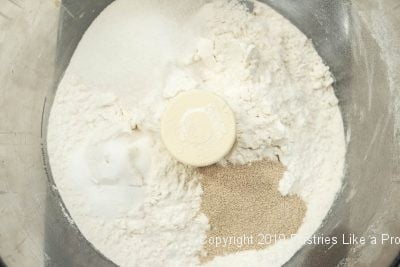 Whisk the egg, water, and milk together.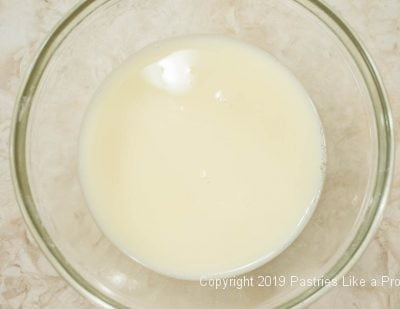 Pour it over the dry ingredients and process until the dough comes together into a ball.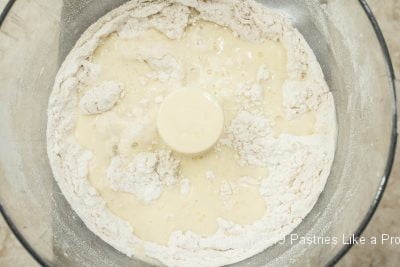 Process for 30 seconds more until it balls up.
Knead by hand 5 or 6 times to smooth out. Flatten into a disc about ½ inch thick.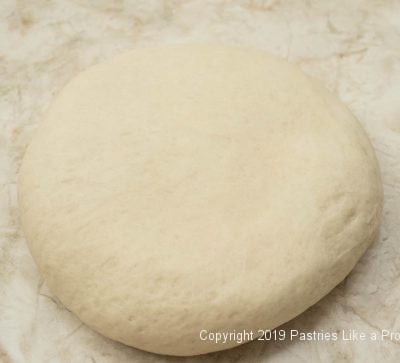 Wrap in plastic wrap and freeze for about 2 hours or until it is frozen about an inch in from the edge. Do not freeze the entire disc.
Cut the dough into fourths. Cut each fourth into 3 pieces making 12 pie-shaped wedges of dough.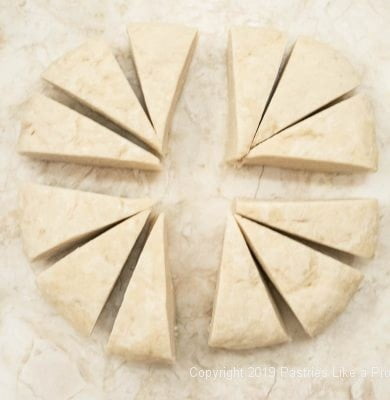 Place 4 wedges and ⅓ of the frozen butter into the processor bowl.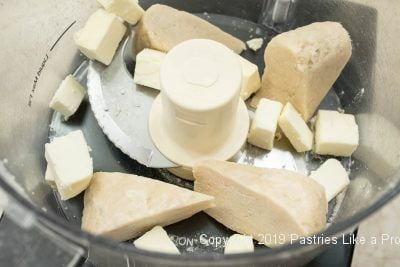 Process until the dough and butter are cut into various size pieces no larger than the size of kidney beans.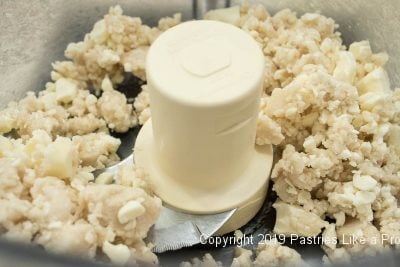 Pour onto a work surface.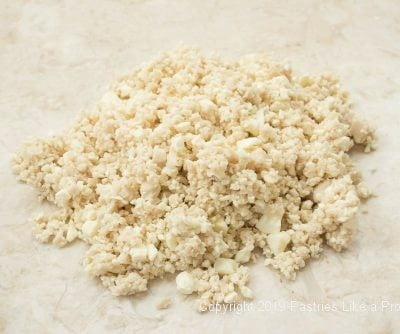 Repeat twice more with the remaining ingredients.
Push the dough into a rectangle, about 10"x6".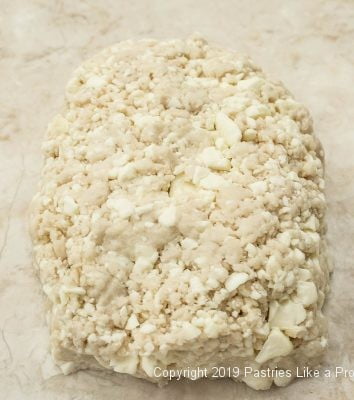 Dust the work surface with flour and roll the rectangle to about 6" x 18".
Brush any flour off the surface of the dough and fold the top and bottom to the center.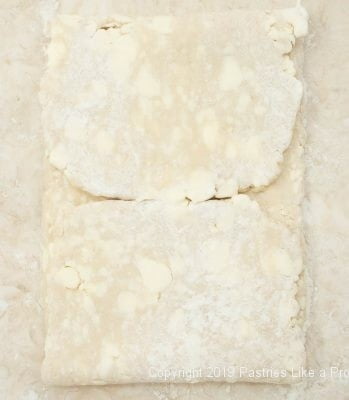 Fold the top down make a book turn. The butter will look very ragged at this point. That's as it should be.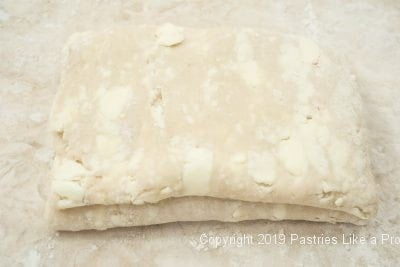 Turn the dough package 90° with the seam on your right.
Scrape the work surface with a bench scraper and dust again with flour. Repeat the rolling and folding of the dough twice more. You can see how the butter in now incorporated and the finished dough is smooth and not raggey looking.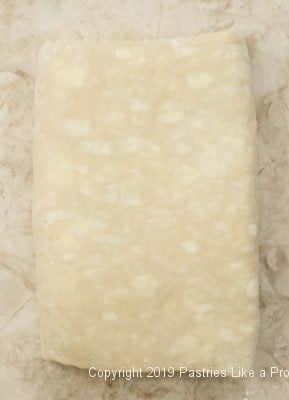 Wrap in film and chill for several hours if using immediately or freeze, well wrapped up to a month.
Dough weights about 490 grams or about 17 ⅕ ounces.