I was once asked where creativity comes from. It can be found anywhere and everywhere. A pot of basil can inspire pesto but then what to do with it. Why turn it into a Goat Cheese Pesto Tart of course. A great dessert you tasted can make you think of what you would do with it – how you would tweak it.
I always mean to start early when I have designed something on paper but not tested it in the kitchen. I usually don't. As the days counted down to the class, I tried every lemon mousse I could think of and made some up myself. In the end, I reverted to my go-to recipe for the most lemony of all fillings – lemon curd. It was a simple matter of folding in beaten egg whites and whipped cream to give the Lemonade Cake a smooth, luxurious feel in your mouth. There is just enough gelatin in the curd to have the mousse set up perfectly.
The warm blueberry sauce is the perfect accompaniment. Everyone in the class loved the clean cut of this cake with the deep purple sauce running down the pale yellow sides of the Lemonade Cake.
It is important to make the curd and let it cool until just barely cool at room temperature. If it gets to set, just put it in the microwave for 10 to 15 seconds at a time until it is still thick and cool but will blend well with the meringue and whipped cream.
Originally, I didn't bake the crust and you don't have to if you are going to eat it within a day. If you want to make it a few days ahead or simply want a crisper crust bake it, then cool it completely before continuing. I chose vanilla wafers over graham crackers for the crust because I felt the graham crackers would overpower the delicate mousse.
I have to admit this Lemonade Cake is even better than I imagined. So much so that I walked down to the kitchen one night when I couldn't sleep, cut a sliver of the cake and happily walked back up eating . Now if I could only start testing earlier!
Crust
1 ¼ cups vanilla wafer crumbs (about 40 wafers or 140 grams or 5 ounces)
Rind of 1small lemon (about 2 teaspoons)
4 tablespoons butter, melted
Preheat the oven to 350 degrees.
The wafers may be processed to make crumbs or placed in a plastic bag and crush them with a rolling pin until very fine.
Mix the crumbs and the lemon rind to distribute the rind evenly. Add the butter and mix with a fork.
Press into the bottom of a 9x3" cheesecake pan or springform pan.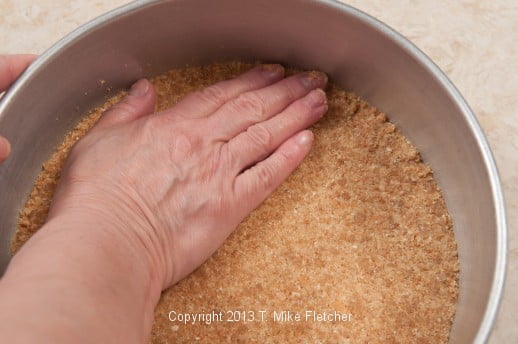 If baking, bake for 8 minutes. Cool completely.
Lemon Curd - For how to photos, use the ingredients listed below and see Lemony Gooey Buttercake in a Brioche Crust.
1 tablespoon water
1 ½ teaspoons gelatin
2 whole eggs
3 egg yolks
½ cup sugar (100 grams or 3 ½ ounces)
½ cup lemon juice, freshly squeezed - do not use the bottle version
1 stick cold butter, cut into 6 pieces (114 grams or 4 ounces)
Dissolve the gelatin in the water. Set aside.
Place the eggs and yolks in the top of a double boiler. Whisk to combine. Whisk in the sugar and lemon juice. Add the butter. Place over hot water and, stirring constantly, bring to 172 degrees on a candy thermometer. Tear the gelatin into small pieces and whisk into the curd (no need to liquefy it). Cover surface directly with film and let cool to room temperature.
Lemon Mousse
1 cup 40% or heavy cream
2 egg whites (leftover from above)
¼ cup sugar (50 grams or 1 ¾ ounces)
Lemon Curd
Beat cream to medium peaks. Set aside.
In a clean bowl, whip the whites to the soft peak stage.
Slowly add the sugar and beat to medium peaks.
Fold into the lemon curd.
Fold the cream in.
Pour over the crust
spread out and smooth top.
Chill 6 hours or overnight to firm up.
Blueberry Sauce
⅓ cup sugar (65 grams or 2 ounces)
1 teaspoon cornstarch
3 tablespoons water
1 teaspoon lemon juice
2 ½ cups fresh or frozen blueberries (12 ounce bag of frozen)
Whisk the sugar and cornstarch;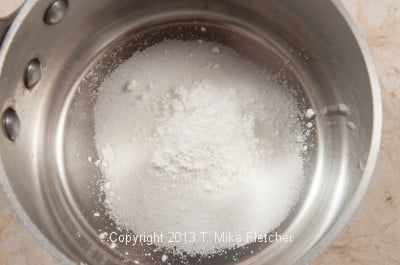 stir in the water and lemon juice and mix well.
Add the blueberries.
Cook over medium heat, stirring constantly, until mixture comes to a boil.
Continue cooking and stirring for 2 minutes more.
Transfer to bowl and cool. Makes 3 cups.
To serve, warm slightly.
This can be made a week ahead and stored in the refrigerator. It is fantastic over pancakes or waffles if you have any leftover.
SaveSave